Oh, Cancun – from crazy Spring Break parties to gorgeous beaches – this city has something for everyone. Whether on a one-week vacation or a long-term backpacking trip, Cancun welcomes all visitors with the same level of energy and adventure. Though many are perfectly content to spend their time in Cancun relaxing on the beach, Cancun holidays are really about action – from the beach parties to deep sea diving to day trips out to the old Mayan temples – making it a nice destination for backpackers.
Getting There
Cancun is perfectly located on Mexico's Caribbean coast on the Yucatán Peninsula. The region is a short flight from the United States, which makes it a great place to get away for both backpackers and more traditional travelers. Being such a popular area for international travelers means Cancun is extremely easy and affordable to reach, whether by plane, boat, or bus.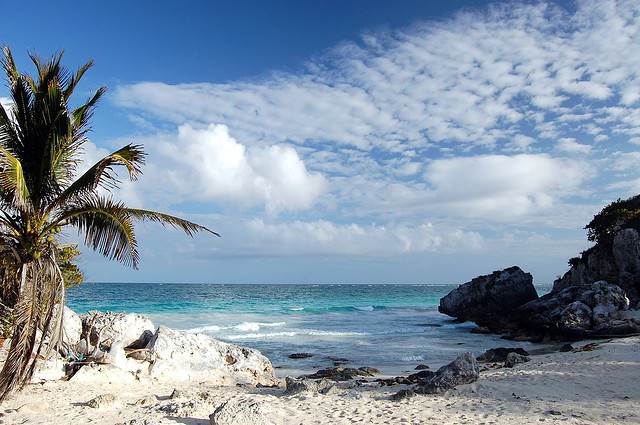 If you are backpacking long-term through Central or South America, you can also consider starting or ending your trip in Cancun to score some great discounts on airline tickets. There are frequent airline ticket sales for this region however if you are visiting during the high season, spring break especially, you will need to plan ahead to ensure you find both a flight and accommodations.
Staying on a Budget
Cancun is definitely a place where you could blow a backpacker's budget. With all the great entertainment, bars, alcohol, parties, beach resorts, restaurants, and more, you're money will disappear faster than you'd believe. Thankfully you can still travel to Cancun as a broke backpacker and survive.
A few tips to stretch your last dollar:
Hostels are always a good option for backpackers but Cancun is also a great place to rent a hotel room, if you can get enough friends in on the plan. There are many affordable hotels in Cancun and they often run deals in low season. The hotels are quite use to college spring breakers packing 5+ to a room and splitting the cost which is a good way to drive the price down to less than the cost of a hostel dorm bed per person. Plus, you'll be right in the center of the action.
No matter where you end up staying, head out to Parque de Palapas for a super affordable dinner. You can snag a decent sized taco dinner for a few dollars and save the rest of your cash for the nightclub or bar hopping later.
Cancun is definitely not the "cultural" experience most backpackers crave but thankfully there are great sites, from ancient Mayan temples to underwater caves, all no further than a few hours drive away. Leaving the city will also likely save you money as the food and transportation gets cheaper the further away you travel. So save a day or two of your Cancun backpacking trip for an adventure outside of the city.
Have Some Fun
Don't forget you are in Cancun to enjoy yourself! It might be best to just throw out your backpacker budget, plan on spending a bit more, and enjoy your trip to the fullest extent. Cancun is filled with once-in-a-lifetime fun and missing the party because you're counting pesos is completely missing the point. Plus, if you're continuing your backpacking trip through the rest of Mexico or Central America, you will more than be able to recover your expenses in the less expensive areas of the region.
Enjoy your backpacking trip to Cancun!
Related Posts