One of the fun things about visiting a new city is finding something perfect to bring back with you that reminds you of where you've been. Maybe it's something small, like jewelry, something you forgot to pack, like a sun hat or an exquisitely woven or knitted sweater, or something you thought you'd never buy, like an antique milk bottle, scale or even a chandelier.
Santiago has a neighborhood for everything, and in fact, souvenirs aside, much of the commerce in the city is arranged in zones, where certain streets have certain items, such as Bandera for used clothes, 10 de julio for car parts, and San Diego for bicycles. And while you might not need any of the above items as souvenirs from your trip to Santiago, the following three neighborhoods might yield something more memorable or useful. And if not, or you're just not a souvenir person, all three are also pleasant places to stroll.
Bellavista
This neighborhood, just across the river from the Baquedano metro stop, has long been considered bohemian, and has one of the city's first boutique hotels, as well as Pablo Neruda's house-turned museum La Chascona. It's also got lots of stores selling memento-worthy items, like woven goods, copper pots, enameled copper, and perhaps most famously, lapis lazuli. Lapis lazuli is a deep blue stone that is used in home accessories (inlaid salad servers, for example), small statues (often penguins), and in jewelry. There are several different options to choose from in Bellavista for lapis lazuli items, from the least expensive at the open air crafts market on the west side of Pio Nono, to individual shops on the street, to some of the more elegant jewelry shops in Patio Bellavista, where many a visitor to Santiago wiles away an hour or two before heading to one of the neighborhood's other attractions, such as Cerro San Cristobal.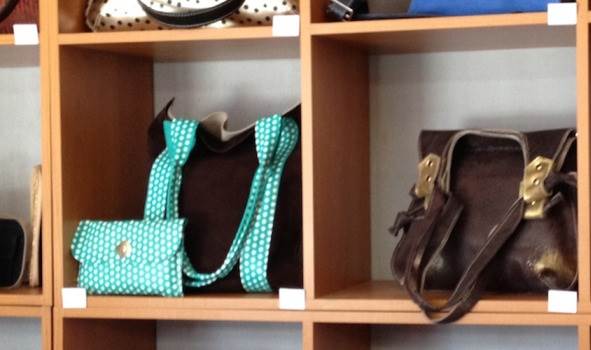 Barrio Italia
This area, which is in the southern reaches of Providencia, was historically a neighborhood where car repairs were done, though before that, it was a residential area. Now it is back in the public eye, with sets of stores set back from the street inside of brick facades, in which architects have left features such as interior walls and the original tile, making for plenty of shopping real estate. Barrio Italia is considered Santiago's "design neighborhood," and you'll see a lot of home décor on sale, from sofas to mirrors to cushions to lamps, though there is also clothing, handmade purses and other fashionable items. There are also many antiques shops to peruse as well. These are mainly open-air, and you can see the restorers at work on their wares, stripping furniture on the street as people coo over old telephones, postcards, shoe forms and other random antique items. This is also a great place to have a meal or snack, as there are bakeries, cafés, ice cream shops and many sit-down restaurants in Barrio Italia.
Alonso de Córdova
This Vitacura street is where the moneyed go shopping for high-end, brand name items. It's a wide, leafy street, and the kind of place where you may ring a bell before being escorted inside. There is some furniture, some jewelry, some kids' shops, and upscale clothing, with cashmere sweaters, silk ties, and the like. Even if you're not interested in shopping for any of the above items while in Santiago, this neighborhood is worth a look to see where elite Santiago shops. Here you're also close to the street Nueva Costanera, which is wider and leafier still, has many boutiques well-reviewed, world class restaurants. Nueva Costanera ends at one of the city's prettiest parks, Parque Bicentenario. Here there are places to sit in the shade, walking paths, ponds where kids (and adults) can feed the goldfish, black necked swans and flamingos. There are also a couple of impressive climbing structures for kids, a few of food carts (weekends only) as well as a sit-down restaurant.
Related Posts