SANTIAGO — Looking for something new to do on your day off? Maybe an adrenaline pumping thrill? With a side order of magnificent views? Head to the Cajón de Maipo River, one of the bests for whitewater rafting in Chile!
Three weeks ago my friends and I wanted to discover more of what Chile has to offer. We had heard from many expats and tourists that Chile was a great place to try out whitewater rafting, and they weren't wrong.
We all discussed the different parts of the country to do the extreme sport, and all agreed that it should be near Santiago. That's when we found Ruta Vertical Rafting. Located an hour from Santiago and on one of the best rivers for rafting, it was clear Ruta Vertical was the best option for our hectic schedules.
The company offers three different options of the whitewater rafting experience; power rafting, traditional rafting and extra rafting.
Power rafting
Level 3 and 4, 12kms and lasts 1 hour.
This option takes you on many rapids, in a narrower and steeper section of the river making it fast and demanding. The different sections of the river have certain names which reflect their characteristics, names include "The Queen" and "Pinocchio."
You are also given the opportunity to jump off a rock, the "Canyon of Pinocchio," which is 3 meter drop into the Maipo river!
Price per person: CL$18,000. If you're in a group, get in contact with them for a group discount. This is available for all three options.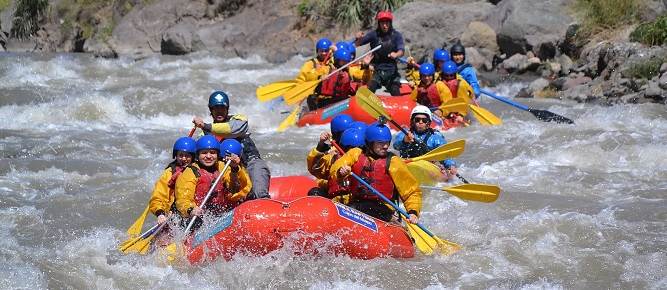 Traditional rafting
Level 2 and 3, 12 kms and also is an hour-long.
Want a more relaxing option? I'd suggest choosing this as even though you have to paddle fast in some areas, it is less likely for your blood pressure to rise. Additionally there is a possibility for you to take a dip in the river. As it's an easier alternative, it is perfect for families with young children.
Price per person: CL$17,000
Extra Rafting
Level 3 and 4, 24 kms, but for 2 hours.
If you want to raft for longer and do both the traditional and power rafting routes, then this one is for you! With this combination, you can enjoy the best of both worlds.
Price per person: CL$26,000.
Ruta Vertical Rafting has incredibly friendly staff, both on the water and in the store. But they also make you feel safe with their professional care. You are kitted with all the necessary gear, all you need to bring is a swimming costume and towel!
Times
The options are at 10:30 a.m. / 1:30 p.m. / 4:30 p.m. (You must get there half an hour before your session starts)
Related Posts