Hidden away in the Colombian jungle for hundreds of years, there lies a small community alive with African heritage. Located less than an hour from Cartagena, in the foothills of Montes de María, and protected by a combination of swamps and jungle, Palenque has been the home to Afro-Colombians, the decedents of the country's first slaves, for hundreds of years. Now a days, it is a popular destination for travelers looking to see a different side of Colombia.
A Safe Haven for Escaped Slaves
Palenque was thought to have been founded sometime in the 16th century by the escaped slave Benkos Bioho and is considered the first free town in Latin America. Today a statue of Benkos Bioho stands in the center square and shows the founder of this proud community breaking from the chains of slavery.
In the beginning, Palenque was far from unique. In fact, the name Palenque originally referred to all "fortified" communities of escaped slaves that surrounded the port of Cartagena. Cartagena was the main slave port in this region of Latin America and as such, there were a number of slave revolts and quite a number of slaves were able to eventually escape into the surrounding jungles. Palenque communities offered a safe haven for these escaped slaves; a place where they could form a community as free men. That being said, out of the dozens of escaped slave communities in this region, only Palenque was able to survive until the present day.
Masterpiece of the Oral and Intangible Heritage of Humanity
What makes Palenque an amazing place to visit is the unique cultural traditions that have been able to survive here for hundreds of years. At times you feel like you are walking through a villages in Africa, not one in Colombia.
Palenque was declared a Masterpiece of the Oral and Intangible Heritage of Humanity by UNESCO in part because of the African traditions that still survive here. The Afro-Colombians who currently call Palenque are tied to their past African ancestors through dance, music, and language.
The language of Palenque, called Palenquero, is perhaps the only surviving Spanish-based Creole language though it is so far from Spanish that every few Spanish speakers can understand it at all. The language has fascinated linguistics, combining African Kikongo languages from Congo and Angola with Portuguese (which was spoken by the slave traders who brought the slaves to Cartagena) and Spanish. Today, less than half of the community's 3,000 or so residents speak Palenquero though it is being revived through the local school, which has introduced Palenquero classes.
Traditional African dance is also an important element to this community and a way for them to stay connected to their African roots. The local dance school teaches classes for over a 150 of the community's school children, from kindergarten to teenagers, and has had participated in dance competitions and performances throughout Colombia.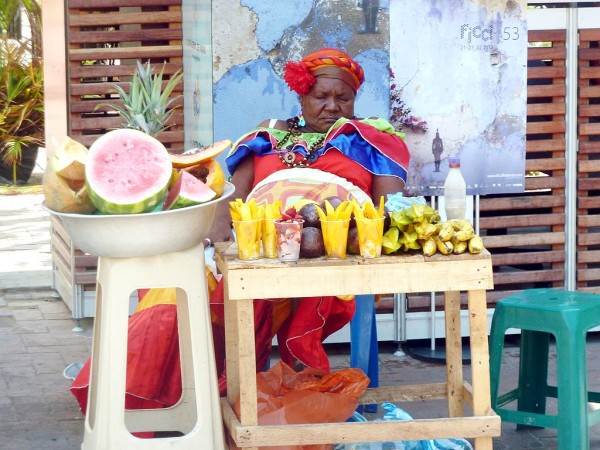 Couple Travel Tips
The best time of year to visit Palenque is during the annual Festival of "Drums and Culture" which usually happens in early October.
Many of the people in Palenque have suffered extreme racism and prejudice when venturing into the city of Cartagena for work. While the community is usually quite welcoming be aware that as an outsider you might be viewed as part of the problem.
If you don't have the time or opportunity to visit Palenque you can still get a taste of the community's culture in the old city of Cartagena. Look for the women in bright colored dresses selling fruit (they are usually from Palenque and even referred to as Las Palenqueras) or head to the Clock Tower just after sunset where you can usually see a performance by one of the local Palenque dance groups.
Related Posts