Caye Caulker, an island with the motto "Go Slow" and not a single paved road, has become Belize's own backpacker paradise. With cheap accommodation and reasonably priced tours, the Caye offers backpackers a chance to experience Caribbean living without going over budget.
Prices are rising as more and more developers move in but for now, Caye Caulker still remains a relatively calm, laid back island retreat. Located a short 45 minute boat ride from Belize City, Caye Caulker is filled with activities that could easily keep you busy for a week or more… or you might just want to spend that week lounging on a beach hammock.
What to Do
The island is small, around 5 miles long, and unfortunately doesn't have any real beaches. That being said, there is plenty to see and do.
To start with, you have to check out the island and the best way to do that is by renting a bike or for a bit more speed, a golf cart. Cars are kind of pointless on an island this small and you can actually easily walk to most of the main "attractions" from the center of town.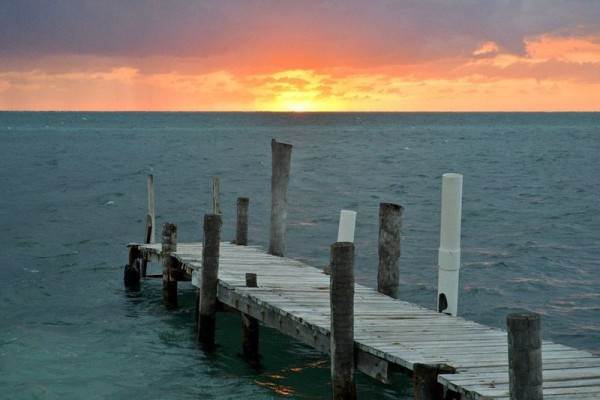 Most people come to Caye Caulker for the incredible snorkeling and diving opportunities. Located just a short distance from the Mesoamerican Reef (second largest reef in the world) and not that far from Belize's famous Blue Hole, Caye Caulker offers countless diving options. Front Street is where most of the snorkeling and diving shops are located, which arrange half and full day tours. You'll want to check a few days before to see what trips are being planned as they change out the destinations and dive stops depending on demand. You can also take PADI courses at a number of the local shops.
Besides great reefs, the sea around Caye Caulker also is home to a manatee reserve. You can take tours out to the reserve but you won't be able to swim with the manatees. Dives at the nearby Hol Chan Marine Reserve are a better option if you want to actually swim with the animals, though most are cautions of humans and will avoid the divers.
Finally, take a trip out to the mangroves in the Forest Reserve in the northern part of the island. The mangroves form a dense forest that is a great place to bird watch or just to get away from the crowds.
After exploring the island and surrounding reefs, it's time to eat. Caye Caulker might be small but it is filled with great food and even better bars. Nothing beats fresh, right out of the water fish or lobster which can be found in nearly every local restaurant and beach shack bar. Caye Caulker was actually originally a fishing village and though it is now know far more as a tourist destination, the locals still know how to bring in a good catch. Lazy Lizards is the island most famous bar/restaurant but there are an unusually high number of options for such a small island. The nightlife is pretty relaxed and this is more of a – hammock on the beach with a cocktail – kind of place than a real party destination.
Couple Travel Tips
There is only a single ATM on the island that accepts foreign cards and it runs out of money most busy weekends. Stock up on cash in Belize City before taking the water taxi out to the island.
Coming from Mexico? Skip the trip to Belize City and take a water taxi straight from Chetumal to Caye Caulker, with a short stop in San Pedro. The ride is a little more expensive but you'll save the time traveling overland to Belize City.
Feel like splurging on a nice room? Caye Caulker has a number of high end but well priced hotels and if you find another couple to share with, the timeshare-type apartments on the island can also be a great deal.
Related Posts