I had the pleasure of interviewing Gonzalo Montayo, an outdoor guide in the "adrenaline junkie" heart of Chile, Pucón. Here's what he has to say about the outdoor guiding industry in Chile and what he recommends for those wanting to explore the Chilean outdoors.
Tell me a little bit about you. Where did you grow up? How did the outdoor guiding interest spark?
I grew up in Concepción, the second biggest city in Chile. I was not at all involved with the outdoor, my first approaches where because I had an uncle who was living in Coyhaique, in Northern Patagonia.
I always wondered about the scenic beauty of landscapes but I was really, really lazy. I started the interest in guiding when I decided to make a life change, leaded by a spiritual master, I decided to leave my studies of Sociology to come to Pucón, to study how to become a mountain guide. Without knowing much, I fell in love with it.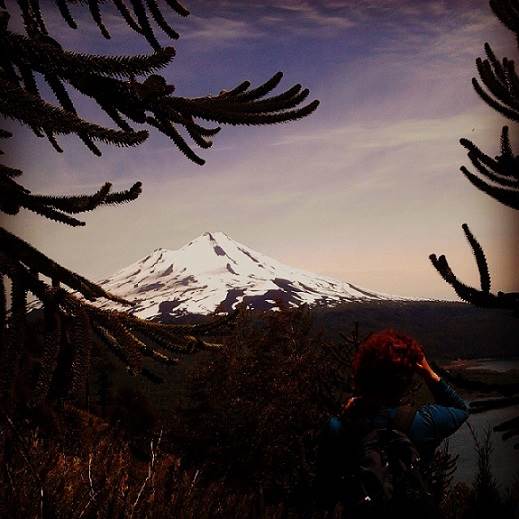 You used to grow quinoa. What other work did you do previous to outdoor guiding?
I did it at the same time as I was guiding, as I am a freelancer. I can manage my time as I want so my wife and I decided to grow our own vegetables and support our community with fresh food. I have also worked selling vegetables in an organic store in Pucón and worked in a Rental Ski, but that was basically only in the low season.
You said you got a degree from an outdoor guiding school. Tell me a little bit about your favourite experiences from this. What kind of outdoor activities did your class adventure through?
I went to the Universidad de la Frontera in Pucón. They have the degree of Adventure Tourism Guide and you can choose between being a mountain or a river guide. We all had lessons in rafting, kayak, trekking, alpine ski, rock climbing, etc. And then you choose. I'm very thankful for my teachers because they were very enthusiastic, they did their best for us to learn new things and taught us that we can go thru our limits. We climbed several volcanoes during our career and we did a lot of exciting stuff, two times a week, we had approximately 330 hours of outdoor adventuring per semester!
What is your favorite nationality to lead tours for and why?
That's a hard question, I think every nation has something great and I enjoy guiding with everyone. Most of my clients are from Germany, Netherlands, the U.S., the U.K., and a few from other places such as New Zealand, Australia and Canada.
What tour gets you out of bed the fastest in the morning to go guide? Why is this your favorite one?
I'm divided between Full Day Conguillío National Park, and Pichillancahue Glacier with Geometricas Hot Springs. Both are great, but I think if you have to choose between both I'll choose the first one, because its like a summary of all the best of this region: two volcanoes, four lakes, lava fields, glaciers, and ancient forests. It's an awesome trail.
What tour do you recommend everyone must go on while in Chile?
I think besides the obvious highlights that are Torres del Paine, San Pedro de Atacama and Easter Island, the Lake and Volcano District is an amazing place to visit. Day tours such as the ones I mentioned in my last answer are great alternatives.
Switch the roles. If you were to have your own personal hired guide, where would you want them to take you?
Torres del Paine is one of the things in Chile that I really want to get to know and to be there with an informative guide would be great.
You mentioned you just started an outdoor guiding company. Tell me a little bit about your visions, your clientele and how people can find you.
We created Seeking South because we love our country and we want to share it with others, so our clients can discover this wonderful land full of beauty and uniqueness, we look for people who want to explore and discover new places, people who come to Seeking South come because to us specifically over others because they are looking for something that not everyone is looking for. As Pucón is a very touristic place, it's hard to get a name and become known, so tourists finding smaller ones online can be difficult.
Related Posts