Why not take a walk along the hills of Valparaiso, whose historical center is now being proposed to UNESCO's World Heritage list. Here we tell you how.
Start by Plaza Sotomayor and the buildings that surround it. In 1994 it was declared National Monument as a typical zone. Over the square there is a natural museum with traces of Valparaiso's first pier. There you'll find the Monument to Iquique's heroes, which contains the mortal remains of captains Prat, Condell and Serrano, among others. Front of it, there is the building that formerly held the Intendancy, now used by the First Navy Zone's Command. It is also a National Monument (DS 170 del 23/01/1979).
Continuing to the hills, one finds de Plaza Justicia, from which you can see a statue at the front of the Court of Justice. If one looks at it on detail, one finds it is a parody of Justice, since the bandage does not cover the eyes and the balance is completely dissembled. The story says that, after loosing a trial, a foreign man donated this statue to symbolize the injustice he had gone through.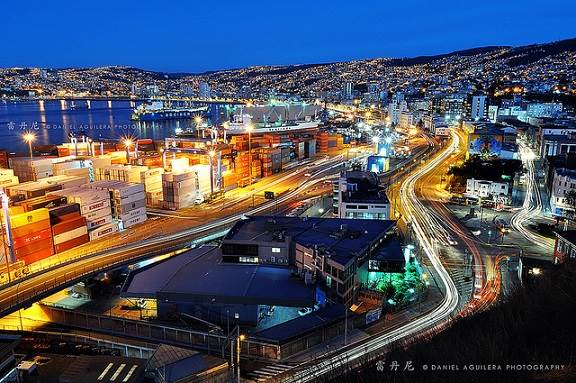 Then you can take the elevator called El Peral, recently remodeled, which is at Court of Justice's side. This elevator was declared National Monument in 1998 and it will take you to Cerro Alegre. It was founded in 1902 and used to work with just one car, moved by steam and a water weight. During the 30s, it was electrified and a second car was added. The elevator is 180 feet long and 127 feet high. A brief lift of about two minutes will show you the port's wonderful view. The lift during the week costs 70 pesos (and 60 pesos downhill).
Once at the elevator's terminal you'll get to the Yugoslavian path, built in 1929 and named after the immigrant Pascual Baburizza, born in 1875, who made a fortune on businesses related to niter. In this path you can find Valparaiso's Fine Arts Museum, also called Baburizza Palace. It is a construction that was finished in 1916 for the wealthy Italian businessman Ottorino Zanelli. In 1925 this Palace was sold to Mr. Pascual Baburizza.
The Baburizza Palace is a wide building, of irregular proportions and a ground built size of 2,300 yards. It was created under the sign of the Art Nouveau, then an alternative for the neoclassical and neogothic expressions. Currently, this Museum cannot be visited due to repairs.
—The Yugoslavian path ends up in a beautiful square with ancient trees, benches and tranquility, apt to take a rest. There you'll find the restaurant and pub "La Colombina".
—You can go on through the Pasaje Miramar (not longer than 15o feet) till reaching the Alvaro Besa Street. Immediately you'll see a pretty construction made on wood, which was the scenery for the filming of a TV show called "Cerro alegre".
—There are two options next: to go down Besa Street, through a small "ecological reserve" made in the middle of a residential area, or to walk down the steps of a gray building called Bavestrello. It would be a nice idea to buy some fruit from a store at the first floor. It is worth taking a look to the several houses around because of their construction: they seem to be suspended on air.
—Walk to Pasaje Gálvez. You'll have to cross the Urriola Street, then begin a four-blocks path very different to the previous one. A lot of the houses here are in very bad shape, some being restored (like the Somerscales Hotel, at the corner of Gálvez and Papudo). This is a part of Valparaiso that takes us to the 19th Century with all its ancient constructions.
—At the end of Pasaje Gálvez, there starts the Papudo Street where we'll find a stairway at which side there is three-story house painted in orange. One has to walk through Gervasoni (not Papudo) where we'll reach our second vantage point. There is the Paseo Gervasoni, where we'll find the Concepción elevator, at the front of the Turri Clock, declared a Historical Monument in 1998. The elevator was inaugurated in 1883 and its wooden cars were managed by weights according to a hydraulic system made of water tanks located at the extremes. This elevator is 209 feet long and 154 feet high. It costs 120 pesos up and 100 down. The Concepción Hill was declared National Monument in 1979 in the category of Typical Zone. It is a good alternative to reach the city's center and the busy Esmeralda Street.
In this path there stand some mansions built at the end of the 19th Century. In one of it currently functions the Renzo Pecchenino Foundation, named after one of Chile's most famous cartoonist, AKA Lukas. At this building one can see a permanent exhibit of drawings, books and watercolor paintings (Tuesday to Sunday, 11 am to 8 pm, $500-adults and $250-children). At one of Paseo Gervasoni's extremes, there stands the Turri Café, with an unbeatable view over the bay. It is also usual to see Mr. Juan Torre Barca selling his books and drawings about the history of Valparaiso's elevators.
—Go ahead through Templeman Street (at the entrance of the Turri Café) and turn on Papudo. There, you'll find a cafeteria named "Color café", cheap and good for taking a break. Walk one more block and turn right on Concepción Street, where you'll find a third vantage-point: Paseo Atkinson. There are several houses, all with a small garden up front, a beautiful place with large benches to rest a while and to look down to Plaza Aníbal Pinto, a National Monument since 1976 in the category of Typical Zone.
At the end of the Paseo Atkinson there is the Brighton Hotel, with beautiful architectural lines, live colors and a wonderful view of Valparaiso's center.
—Almost at the end of this walking path, you should go along Beethoven Street where you'll find some stairways up hill, all painted by the area's neighbors.
—Also at the Concepción hill there is the beautiful German Evangelic Church, founded in 1897 and rebuilt after 1906's earthquake. It stands in Abato Street 689. Mass is the first three Sundays of each month at 10:30 am.
—Our path finishes at the Anglican Church of San Pablo, a Historical Monument since 1979. Located at Pilcomayo Street 566, corner of Templeman. Of neogothic style, it was founded in 1858 and is characterized by its stained-glass windows and a large polychrome organ that was installed in 1903, and that can be heard for free every Sunday at 12:30 pm.
To go down there are several choices:
1. Go back to the origin of this journey (El Peral elevator), but this may be boring.
2. Go down through Concepción Elevator.
3. Go down walking through Almirante Montt Street (check it out in a map). You'll reach Plaza Aníbal Pinto and Esmeralda Street and then you may continue by the San Pablo Church (Beethoven St.) to the elevator of El Peral, or the other way round.
This is a journey that may take an hour, including the stops at each of the Bay's vantage points. It is done completely by foot and partly through elevators. It is recommended to take cameras, comfortable clothes, drinks and some coins for the elevators. Along the way there are three good restaurants, not affordable for all. They are "La Colombina", "Café Turri" and the Brighton hotel. In some places (especially at the Pasaje Gálvez) there are a lot of street dogs and some of their excrement. This is a typical problem of Valparaiso. One can read this was a problem as early as 1850.
Related Posts