For many years, Valdivia, together with all its rivers, was subsumed into Chile's famous Lakes Region, leafy and splashy and beautiful, yet different. In 2007, this region got a name of its own, and Valdivia is its cultural capital, La Región de Los Ríos, or the Rivers Region of Chile.
And Valdivia is a perfect way to get to know this area, as the city itself fronts onto a river, the promenade of which is so popular that its plaza is on the quiet side, as most of the action takes place riverside. There's a fish and vegetable market, a handicrafts market, more sea lions than most of us have ever seen in an urban setting, and across the river, Isla Teja, with parks, gardens and houses, the occasional rodeo or fair, three museums and loads of restaurants serving Chilean-German specialties, including crudo, a dish made from raw meat, and the area's dessert specialty, the kuchen, or German-inspired fruit cakes. Here are some things to put on your list for when you get down to Valdivia.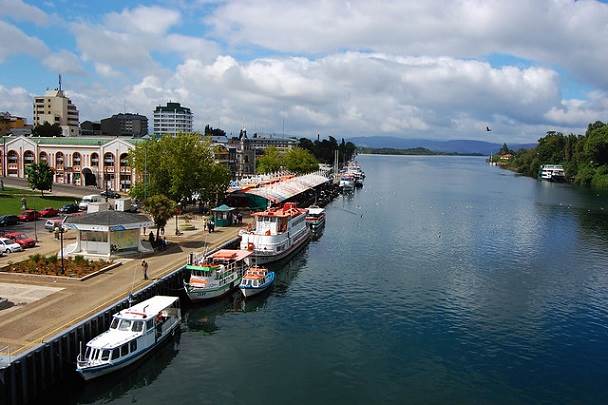 Feria Fluvial
This market is on the riverfront, so close so that the fishmongers throw the bits they've cleaned off of fish directly into the river, much to the contentment of lazy sea lions, sea gulls and a type of vulture that occasionally swoops by.
Inside the market is the local catch, with a wide selection of seafood, including fish and several types of clams and mussels, and even the piure, or red sea squirt, either fresh or dried.
On the opposite side of the market, local fruit and vegetables are on offer, including (in season) berries, the edible pod of a local bromeliad called chupones, and rounds of cheese, as well as elephant garlic.
Crafts Market
Just across the street from the feria is the market, where local crafts and souvenirs are on sale, including wooden and stone mortar and pestle sets, carved wooden items, bowls and woolens. There is a natural Mapuche (indigenous) pharmacy where you can get herbs for whatever ails you. There is also a store selling local jams and teas flavored with local fruits like the maqui berry, a Chilean superfood.
Isla Teja
When you cross the bridge over the river to Isla Teja, which you can easily do on foot, you're in botany country, with an interesting selection of urban trees, as well as two spots worth checking out if you want a bit more nature. The first is the botanical garden, located on the Universidad Austral's campus, which has sample forests of several types, as well as a river walk lined with blackberry bushes and blooming fuchsia plants.
If you'd rather go to a park, pay the small fee to get into Parque Saval, which has a ring for a rodeo, the occasional fair, and all year round, plenty of park space for kids to run and play, including swings, slides and other park equipment, as well as two water lily-filled lagoons perfect for photo ops, and blooming all summer long.
Three museums round out Isla Teja's tourist spots, showcasing early (German) explorers, early settlers and contemporary art, in three period houses just on the far bank of the river from Valdivia proper. Even if you're not a museum-goer, it's worth peeking around the outside, at the carriages and other historical items outside these houses, to imagine how this area used to be, long before there was even air travel in Chile.
Related Posts