Our time enjoying San Francisco travel has come to an end, and we have formed some positive opinions about this top travel destination. San Francisco is a must visit for those looking to experience the best travel cities in the world.
San Francisco Travel
San Francisco has a lot to offer, which is why we consider it one of our best travel cities.  We had the benefit of getting a lot of information from our two, originally east coast, friends Samit and Greg who have lived in this city for many years.  Our information kit from San Francisco Travel also proved to be valuable, especially the CityPASS.  Here are a few neighborhoods we spent time walking during our first visit to San Francisco.
San Francisco Neighborhoods
Chinatown
Similar to many large cities in the USA, San Francisco has it's own Chinatown.  But this isn't just any Chinatown, it's the largest and oldest in the USA.
Cow Hollow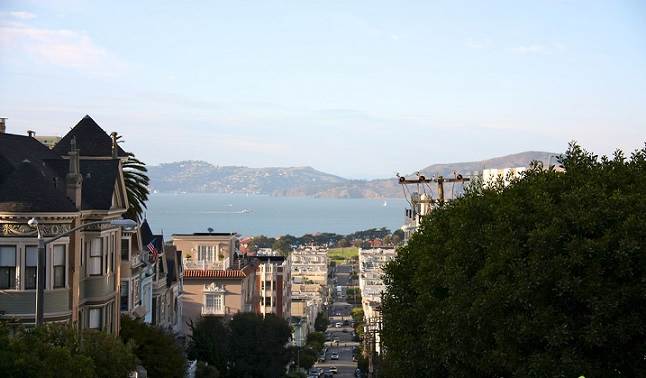 We spent much of our time walking Union Street in Cow Hollow since our buddy Samit lives just up the hill in Pacific Heights. Cow Hollow rests between Russian Hill and The Presidio, and the Marina District and Pacific Heights. Trendy shopping, restaurants, bars and spas line both Union and Chestnut Street. As you walk along Union Street, at each intersection you have wonderful views of the San Francisco Bay. Victorian style homes surround the shopping areas.
Fisherman's Wharf
A tourist hot bed, the Fisherman's Wharf swarms with tour buses, trolley's and ferries.  Here you can book any tour available in San Francisco.  Ferry tours, Alcatraz tours and open top bus tours all depart from the Fisherman's Wharf.  Bars and restaurants line the piers, but I would advise escaping the national chains and trying local restaurants in the city for a more authentic experience.  Wherever I find a Ripley's Believe it or not, I try to avoid.
Haight-Ashbury
Identified by the intersection of Haight and Ashbury streets, Haight-Ashbury is famous for being considered the center of the 60′s hippie movement. Storefronts and wall graffiti bring back memories of rockers, tie dye and drugs. Many stores sell vintage clothes, but ironically across the street from a Goodwill store you will find boutique vintage clothes priced in the hundreds of dollars.
Today's atmosphere in the neighborhood is a combination of tourists, local hippies and the homeless. As with any tourist destination, store chains have nudged their way into the neighborhood, but icons like Amoeba Music still exist.  It's a fun place to spend the day window shopping, while enjoying a giant burrito from Zona Rosa.
The Marina District
We recommend The Marina District for the best views of the Golden Gate Bridge or San Francisco Fleet Week. Look across the bay for views of Alcatraz and Sausalito. Run in the waterfront parks under the Golden Gate Bridge or take a walk out on the jagged piers for a picnic. Many photo opportunities in this area.
North Beach
North Beach, most notably Little Italy, is hot spot for tourists with their many cafes providing outdoor seating.  Identifiable by the Italy colors painted on light poles, Little Italy isn't culturally enriching like Chinatown, but it has some famous iconic buildings such as the Columbus Tower, also known as the Sentinel Building, which Francis Ford Coppola owns today.
From Columbus Avenue you are also provided great views of the Transamerica Pyramid, San Francisco's tallest skyscraper.
Union Square
Are you into high-end shopping?  Union Square is surrounded by the most glamorous designer storefronts in the world.  Accessible by bus, or San Francisco's famous trolley cars, visitors will pack them both with filled shopping bags.  We didn't do any shopping here, but as one of the most visited neighborhoods, we felt as though you should know about it.
Getting Around San Francisco
These are just a few of the neighborhoods in San Francisco, but where we spent a lot of our time. Public transportation will get you to all the locations you want to visit, but it's not quick and it's rarely on time. Express bus routes to get across town are badly needed.
Trolleys are very expensive to ride, typically a tourist experience and taxis are more expensive than those in NYC.  If you are traveling from Asia and searching for cheap flights to New York, just be sure to plan a stopover in San Francisco. If you don't have much time, book a tour bus through the city.  Yes, New York City is still the best city in the USA, but San Francisco makes our list of best travel cities.
Food, Drink and Fleet Week
It's been an exciting first few days in San Francisco, California. My best friend, Samit, lives in the Pacific Heights neighborhood, which is an ideal location for a 15 minute walk down to the bay where the San Francisco Fleet Week Air Show takes place. Peering through the streets of Victorian mansions you are rewarded with views of the Golden Gate Bridge.
Once down to the Marina Green in the San Francisco Bay, I realized how lucky I was to have such clear skies. The pictures of the air show are going to be fantastic!
After a day of catching up on some well needed sleep, I went out to explore Pacific Heights and it's surrounding neighborhoods.
I have also been testing out some vegan restaurants. For dinner on Thursday night I walked over to China Town to try Loving Hut. There are a few Loving Hut restaurants in the city specializing in vegan food. I won't be coming back. The menu is typical Chinese, with a lot of vegan meats. The Chinese entres were heavy on the oil and salt. The TV that played vegetarian propaganda was a bit creepy too.
After dinner I stopped off again at Nook Cafe and Wine Bar to enjoy some after dinner drinks. This is my favorite cafe in Pacific Heights. I had a sake drink with orange juice and soy milk.
I scheduled my visit this week specifically to attend San Francisco Fleet Week. I have never attended a Fleet Week before, nor I have ever seen the Blue Angels perform. Practice was today, and that alone, was enough to excite me. The loud roar of the jet engines gets your adrenaline pumping.
After capturing a bunch of pictures from the Blue Angels practice, we searched for some food and drink on Chestnut Street. Tacolicious was jammin with crowds, so we decided to join them. C'mon, you know we love tacos! This place is a lot of fun with delicious Mexican foods! I enjoyed a giant Tecate beer, grilled corn, tacos and some sweet plantains with refried beans. Actually, that's not true, my buddy Samit ate my tacos. This is how it went down. I ordered two vegetarian tacos, while Samit says to the waitress, "I can't eat that vegetarian sh|t, I'll have some meat tacos." Well, all the tacos came on one plate, which led us to assume they were all his. After 10 minutes, I asked the waitress where my tacos were. She replied that they were included on the taco plate that Samit ate. I took a look at his plate and only meat tacos were left. So, Samit actually ate all the vegetarian tacos and left the meat tacos, because he was full. Remember, this was after claiming that he couldn't eat that sh|t.
The evening ending in the Brickyard Restaurant and Bar where I watched my Philadelphia Phillies lose and get knocked out of the playoffs. Not good at all.
Saturday begins the real Fleet Week Air Show, one that I can't wait to photograph and film. Stay tuned!
Related Posts