Buenos Aires has so many great neighborhoods to explore, from the old architecture of San Telmo to the fun nightlife of Palermo. One of the city's most exclusive neighborhoods brings together the modern and the old with incredible architecture, parks, and some of the city's best hotels and restaurants – Puerto Madero.
History of the Old Port
The port was first built in the late 1800s by British engineer Sir John Hawkshaw to accommodate cargo ships which couldn't dock in the shallow river water. It took 10 years to complete but unfortunately just 10 years after opening, the Puerto Madero was made obsolete by the development of even larger cargo ships, which could not dock in the narrow port.
In the early 1900s a new port was built, Puerto Nuevo, which is still used today. Puerto Madero was still used a bit for smaller vessels but over time the area became more and more rundown and abandoned. By the middle of the century, the Port was one of the worst, most dangerous, and most neglected areas of the city. Large empty lots, old abandoned warehouses, and an unused port all made Puerto Madero an eyesore for the city. Being so close to the old historic and political center of the city, made it the perfect place to revitalize and early on developers and city council members saw the potential.
Revitalizing Puerto Madero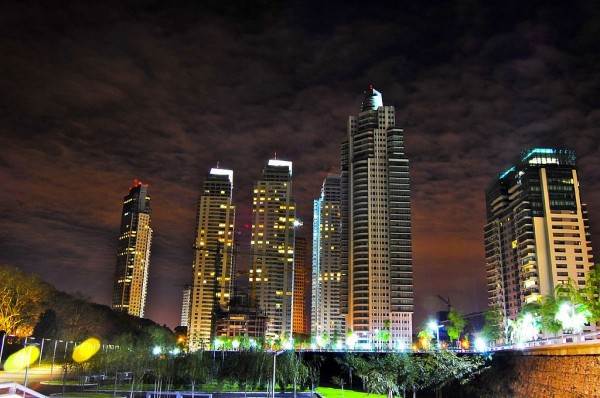 While revitalization and urbanization plans were put forth for the Puerto Madero area as early as the 1940s, a plan was not agreed upon and started until the early 1990s. Finally, 170 hectares of the port area where transferred over to the Old Puerto Madero Corporation S.A. with the city overseeing the urban development and design.
Famous architects and developers quickly saw the potential. The old warehouses were turned into high end homes, offices, and hotels. Modern skyscrapers started popping up and exclusive hotels and restaurants moved in. The famous bridge, Puente de la Mujer, was used to span the east and west sections of the port and the large empty eastern edge was turned into a great ecological park.
Puerto Madero honestly feels like it belongs in a different city. It is a neighborhood of expats, wealthy part-time residents, and plenty of hotel guests. You lose some of the authentic feel of Buenos Aires here but gain a bit of class and elegance over other parts of the city. It is worth checking out, at least for an afternoon, but I would suggest returning to nearby San Telmo for a much less expensive and uppity hotel night.
Couple Travel Tips
Looking for the perfect romantic escape and have a few hundred dollars to blow? Book a night or two in one of Puerto Madero's many exclusive, high end hotels.
Be careful when walking into or out of the Port area. While it is relatively safe and the neighboring neighborhood of San Telmo friendly to tourists, the few streets in between are not the best place to walk alone or at night.
Missing home? Don't worry; here you can get a TGIF restaurant, a Hooters, and Starbucks all within a few blocks of each other. Or, you can get out of Puerto Madero and experience the real Buenos Aires…
Related Posts