Few artists have made such an impact on their country's identity and ideology as Pablo Neruda. A Nobel Prize winning Chilean poet, his work is celebrated both locally and distributed across the globe. But it was his personal life, which captivated audiences and grabbed the headlines. From scandalous affairs to assassination rumors, Neruda's life was an infinite source of intrigue. Hailing from the beautiful port city of Valparaiso, we can gleam a bit more about him from his adopted home, which no doubt inspired much of his work. Here's how to explore Valparaiso and witness the impact it had on his life.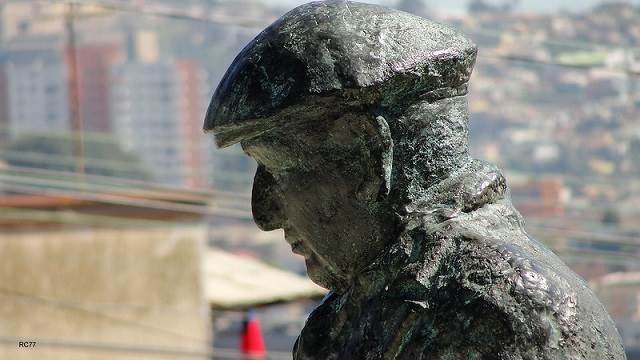 The Piano Steps and Graffiti
Neruda was more than just a poet to Chileans — he a man of the arts and a political force. Neruda stood firmly against the military coup led by Augusto Pinochet and during his reign, graffiti became a popular understated form of protest. Chief amongst Valparaiso's graffiti is the Piano Steps. It's only natural that in a city full of steep hills, ample stairs abound and the artist used the natural environment to inspire the work. Neruda's expression led generations of creatives to showcase their message vibrantly and without fear, regardless of the medium.
La Sebastiana Cerro Bellavista
In 1959, Neruda and his third wife, Matilde Urrutia, purchased La Sebastiana to escape the chaos that had become Santiago. A peaceful respite to enjoy their last years together, they completed renovations In 1961, and began throwing lavish parties that would become their calling card.
From the moment you step onto the well-preserved funicular, the vibrant neighborhood of Cerros Bella Vista has you in its charming clutches. To get a good overview of the area, Museo al Cielo Abierto is ground zero for tours. Once you reach Neruda's house itself, take note of the building, designed to mimic an elegant ship at sea. A lover of maritime tradition and history, there is an entire room dedicated to entertaining, while an office serves as a reminder of his illustrious craft and career. You'll even find tributes to the greats like Picasso and Edgar Allan Poe adorning the walls.
Explore the Historic Quarter
Recognized as a UNESCO World Heritage site in 2003, the area is remarkably well preserved, making it easy to see the impact the architecture had on famous residents such as Neruda, Salvador Allende, and Augusto Pinochet. Located between the equally historic harbor and the city's first terrace, to truly understand what Valparaiso is and was, you must visit both Plaza Sotomayor and Muelle Prat.
Muelle Prat acts as a bridge to the past, offering you a glimpse into what maritime life was like in the early 1900s. Ships from around the world docked there, bringing with them international passengers, who would slowly begin to change the face of South America. These visitors would head to Plaza Sotomayor, the largest square in Valparaiso, to toss one back and let loose. Line with wonderful restaurants and sailor bars, the area still carries an air of intrigue.
Head to the Vineyards
Any trip to Valparaiso will take you past some of Chile's most storied vineyards, boasting hectares upon hectares of beautifully glistening grapes. Visiting one of these vineyards will expose you to an aspect of life Neruda was fond of: entertaining. So fond of, that he even wrote an Ode to Wine. Visiting one of these vineyards, such as Casas Del Bosque or Emiliana, will give you a glimpse into the lives of all Chileans.
Grab a Pisco Sour
No exploration of Neruda's adopted hometown would be complete without imbibing in at least one pisco sour from Cinzano. One of Valparaiso's most important bars, not only does it serve some of the best drinks in town, but you can also hear stories directly from the townies that knew him. Neruda frequented the establishment often and was considered a man of the people, leaving generations to recall memories of him fondly.
Related Posts