How the industrial-age history of Valparaíso has shaped its present day identity.
Valparaíso, located on central Chile's Pacific Coast, was first inhabited by the fishing and gathering natives, Changos, until the arrival of Spanish explorers in 1536. It soon became the first and most important main port for international trade and a required stopover for all ships crossing between the Atlantic and Pacific oceans via the Strait of Magellan and Cape Horn.
Valparaíso's supply and support for the California gold rush brought a boom of commerce to the city and the population grew to 55,000 as it attracted immigrants from England, Germany, Italy, and France, among others.
The influence of the immigrants is highly reflected in the architecture and identity of the city. Homes were first developed on the steep surrounding hills, providing the base for the city's unique amphitheater-like layout. Neighborhoods were built without any plans, and many streets still lack names, as people simply arrived and built homes where they pleased using aesthetics typical of their home countries.  Adaptation to the environment led to a creative urban layout and made possible the building of unique homes and structures.
The completion of the railroad to and from Santiago in 1880 further transformed Valparaíso into a commercial center for the entire Pacific Coast, raising the population to 100,000.
However, the city took some hard hits in the early 1900s, causing a fairly severe economic downfall. In 1906, a major earthquake destroyed or damaged many of the downtown buildings, though some of the original architecture remains. The second economic blow to Valparaíso was the opening of the Panama Canal in 1914, which made it possible for European ships to avoid Valparaíso all together.
This economic transformation is clearly visible in many parts of the city today. Although it is no longer the most important and wealthy port in Chile, the harbor and distinctive urban framework that have survived leave a phenomenal testimony to the cities early era of globalization.
Strolling around, you see large old buildings that look rather run down and un-kept, such as the mansion and former vacation home of Diego Rivera, once an extravagant sign of wealth that is now merely a dwindling office building and yoga studio.
The result is an original South American city with a strong late 19th century intercultural influence. Valparaíso has recovered from the downfalls of the early 1900s, and is still an important port for the Chilean navy and maritime trading, although not nearly to the extent that it used to be.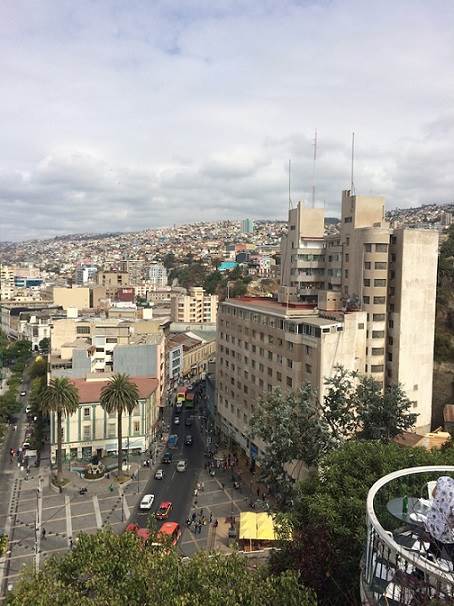 In 2003, Valparaíso was named a UNESCO World Cultural Heritage site, somewhat re-awakening its economy through tourism. The vibrant colors, lifts, restaurants, artisan shops, and endless stairs attract tourists and, recently, luxury cruise ships to the port town.
Related Posts