1. Parque Safari
The African Safari is on the bucket list for most of us and it was right there on my list too. It was the dieciocho weekend and flight fares had soared up like a rocket. As me and my husband were researching what places to hit that weekend, we stumbled upon Parque Safari, located in Rancagua around 87 km south of Santiago. While not entirely the same as the real African Safari, I was intrigued.
Turbus provides buses to and from Rancagua. From the Turbus bus stop, you can take a collective or another mini bus to the Safari. Right in the middle of the highway the sudden lush green views made us feel refreshed already.
We then led ourselves to be carried to the den of the "leons" in the safari van. After a few minutes we saw the "King of the Jungle:" for a change, we were the caged ones in the van, while the lion roamed free and even descended on top of our van. That was a hair-raising experience.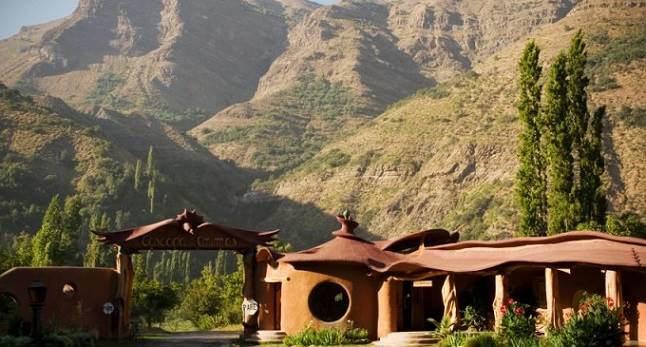 As we came back we traveled through an open train to encounter zebras, cows, giraffe and as we fed grass to these animals our herbivore safari too came to an end after around half an hour.
2. Casacada de las Animales
Rafting, canyoning, horse riding in the Andes was always on my list of the things I wanted to do from the time I reached Santiago. But heading down south, all this looked like we needed at least a week-off to experience everything. Our next find was Cascada de las Animales.
This is a resort situated in San Alfonso, which is 100 km west of Santiago. Buses from Las Mercedes bus terminal take you straight to Casacade, but I recommend a collective (a shared taxi) from Las Mercedes as they are much faster; though it does cost more than a bus ticket, it's not that much more expensive (around 1700 pesos per person).
The resort was again very scenic and plenty of facilities such as a spa, restaurants and pools. It also offers canopying, rafting and horse riding; these should be booked around 2-3 days beforehand.
We were a little late for the safety speech for rafting, but we did get a brief in the end, and in English (there are guides who speak both Spanish and English)! Just before lifting anchor from our raft boat we had paddling practice only to find ourselves fighting through the waves of the Cajon Del Maipu a few minutes later. We passed through many rapids and after an hour and a half we climbed back to the resort tired but happy after a mindblowing experience.
Related Posts