Think Chile. What comes to mind? It won't be long before those picturesque towers pop up. Torres del Paine is to Chile what the Great Barrier Reef is to Australia, what the Amazon is to Brazil: a natural wonder so striking that it comes to define what makes a country worthwhile. And rightfully so; Parque Nacional Torres del Paine encompasses glaciers, snow-capped mountains, pristine lakes and those awesome pillars you need to see for yourself to truly appreciate.
With over 150,000 visitors per year, and most of those coming in a 3-month span, it might seem as if Torres is more densely populated than Santiago. And, sadly, in the case of the popular "W" trek, it will feel that way when you are looking for a patch to prop up your tent, especially during peak season. However, the park isn't completely jammed just yet; for real oneness with nature and far less crowded trails, head for the less popular "Circuit," which circles the entire mountain range. As for kid-friendly and less physically demanding activities.
The Circuit
Besides bestowing a feeling of one-upmanship over the hoards swarming the W, the Circuit will take avid hikers through a true Patagonian wasteland, around windswept lakes, to camps where the sound of crashing glaciers might be mistaken for rolling thunder, over a magnificent, 1,200m pass overlooking the enormous Glacier Grey, into winding woods, and across rope bridges dangling over shimmering waterfalls. Flora and fauna observers will appreciate the wide range of species present in the park, including the rare possibility of encountering a puma near Campamento Seron (Camp Seron). Football lovers might get involved in a game with the friendly rangers at Campamento Dickson. The likely-to-be-wet guests will appreciate the hut at Campamento Perros, where a tiny stove warms up tired bones and dries the dripping gear hanging from the rafters – seriously it looks like a hobo's attempt at making Christmas decorations. And oh, the feeling of oneness . . .
Virtually all trekkers on the Circuit go in a counter-clockwise direction. This creates a lovely effect: throughout the day, as walkers walk in the same direction, it's possible to walk an entire segment without running into anyone else. It might even feel like the park is your own private property. Then, at camp, familiar faces show up smiling, ready to retell of the glories and difficulties of the day's trek. Friendships are made and plans are hatched. There are few places where such solitude can be shared. Once the backside of the circuit is completed by reaching Refugio Grey (Grey Shelter), though, get ready to reconnect with . . .
The W
With so many stunning sights and at a pretty low level of difficulty, it's easy to see why the W is so popular. Unlike the Circuit, people will hike the W in just about any direction, east to west or vice versa. Get ready to say Hola frequently, regardless what direction you choose. The camps will be full, the crowd will be a bit less wilderness-savvy, but the views and paths will be no less magical.
As with the majority of the park, the weather forecasts for the W are quite unreliable; while meteorologists might be able to predict what the next day will bring, usually any predicting after that is pointless. And when it comes to breathtaking views, clouds tend to be a bit too suffocating. So halfway up the infamous Valle Frances (French Valley) with clouds limiting visibility to less than 20 meters, I wondered if the tales of its majesty were true. But at Mirador Base de Las Torres (Las Torres Viewpoint) after a very cloudy morning and a not so hopeful prognostic, I found the towers all golden and splendid and, even better, all to myself. Note: many early risers try to see sunrise at the mirador. Between them and a lunchtime rush, there is a lull where few people go up.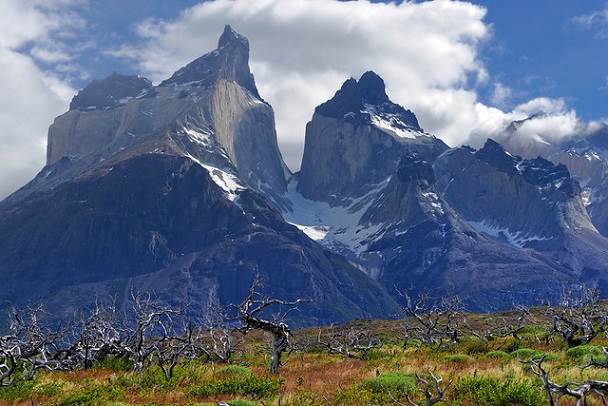 A little lesson in geology and history:
Quite recently, some tens of thousands of years ago, the Paine Massif and its surroundings were covered in glaciers and ice. While that sounds all snugly and nice, such a phenomenon slowly eroded all but the sturdiest of materials from nearly all of the mountains. Take a look at Cerro Paine Grande, or Cuernos del Paine, and you'll notice black peaks: sedimentary deposits too high to be disturbed by the violent glacial erosion. Otherwise, many peaks, including the stars of the show, Las Torres del Paine, are nothing but the durable igneous rock granite, grey and stoic.
What to bring
If you are going for the Circuit or the W, you'll need to bring plenty of food along. Think light, easy to make foods: powdered milk and soups, oatmeal, nuts, pasta, cheese and salami. Yes, in the mild and cool weather way down at latitude -52, cheese and meat should hold over well. You'll need gas and pots, though I got lucky when I forgot my pot and just borrowed from others (tip: offer to wash up afterwards) As for water, just bring a small bottle along: the rivers are abundant with some of the freshest, tastiest water on earth (filter not required). If all that sounds like too much, you could just pay to have ready-made meals at the refugios. Most offer breakfast, lunch and dinner for between CP$8.000 – 12.500, though this is only at the refugios, so camps like Perros, Paso, Italiano and Torres won't have meals. Basically, if a site is called campamento, it won't offer meals, except for Seron, which has all three meals. Last but not least, it never hurts to bring MORE chocolate.
You'll also need to bring gear. A tent that can resist winds of 50+ kph and a sleeping bag graded for at least -10°C is recommended. If you prefer to camp in shelters, they are available at certain sites, but prices can soar and you MUST book in advance (you can do that at the park entrance and at certain camps) Please don't think your sneakers are going to get you anywhere – invest in a decent pair of boots and break them in before a big trip like this. A rainproof, light jacket and pants go a long way – bring some extra big garbage bags to throw over your backpack in case the rain gets particularly heavy. Besides that, a wide-brimmed hat, some sunscreen, gloves . . . If you need to be thorough, check out this slightly over-prepared list.
It is vital that you bring cash. It is the only way to pay for anything once you get to the park – this includes park entrance fees, campsite fees, delicious chocolate bars, etc.

Alternate Activities (Kid Friendly!)
Not going to hike the W or the Circuit? No worries, there are plenty of options available:
Horseback Riding
Fantastico Sur offers plenty of rides for kids and adults alike. You can even ride halfway up the steepest climb to the Torres lookout point, though you'll half to do some (~ 2 hours) hiking to get all the way to the lookout.
Puma Excursion
The exquisite Hotel Las Torres offers a chance to see a puma in the wild. Circuit hikers keep in mind that you will be around Campamento Seron, where a Puma is most likely to be seen.
Others
Kayaking, Glaciar walking, and boat rides are just some of the other activities at Torres del Paine.
Lastly: though pricey, Cascada Expediciones offers inclusive itineraries suited for the whole family.
Note: The W does not require incredible physical prowess. There were more than a few kiddos on the trail accompanied by their parents.
Getting There
There aren't too many options. Fly to Punta Arenas and then take a Fernandez bus to Puerto Natales. Buy round-trip to save. From Puerto Natales go to one of many agencies at the bus station offering rides to Parque Nacional Torres del Paine – however, ALL bus companies only have two trips per day – at 7:30 am and 2:30 pm.
You could also take a 30 hour bus ride from Puerto Montt to Punta Arenas for about Cp$38.000 or a boat for CP$186.000.

Info
Parque Nacional Torres del Paine
The Blue Towers
(Paine = Blue in mapudungun)
Entrance Fees:
Peak Season (October – April) Foreigners/Chileans (or with Carnet): CP$18.000/ $5.000
Low Season (May – September) Foreigners/ Chileans CP$5.000/ $3.000
Be advised: weather conditions can be very harsh during low season, and many trails, such as the backside of the circuit, will be closed.
Upon paying the entrance fee you will receive a map and watch a mandatory video for park rules and safety.
http://www.torresdelpaine.com/ingles/
There is also a free, daily information seminar at Erratic Rock Hostel at 3:00 p.m. in Puerto Natales covering just about everything you need to know before going to the park.
All gear and food can be purchased at regular prices in Puerto Natales, though selection is limited.
Shelters = offer actual beds at varying rates (~ CP$30.000+ / night): available at following refugios:
Chileno
Cuernos
Frances
Paine Grande
Grey
Dickson
Seron
Related Posts