This past weekend I escaped the bustling city of Santiago and took a trip out to the beautiful countryside in Northern Chile. I went to a little town called Pisco Elqui in the middle of Valle Del Elqui. It was definitely the best weekend I've spent so far in Chile!
VALLE DEL ELQUI – As soon as I stepped outside of the airport, I could feel that Valle Del Elqui was extremely different from the city of Santiago. There were no skyscrapers, crowded sidewalks, or taxis and buses trying to run you over. The area was peaceful and surrounded by towering mountains and vast vineyards.
Our first stop was visiting the museum of the Nobel Prize winning poet, Gabriela Mistral. She was born in a small town in Valle Del Elqui, and then grew up there her entire life. As we drove on the narrow winding roads we noticed that a lot of schools, cultural centers and museums that were named after her. We browsed through the museum, reading her eloquent poetry and learning all about her impressive biography. Then we stopped by the small house where she was born.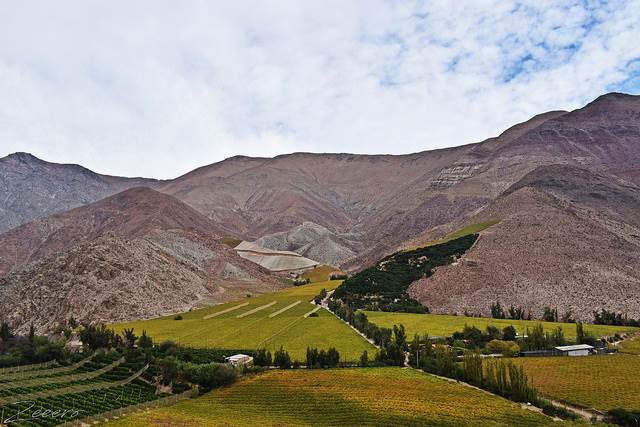 Afterwards, we made our way to the town of Pisco Elqui where we would be staying for the weekend. We had planned our trip with Turismo Migrantes, and we were staying in a bed and breakfast called El Tersero del Elqui. We stayed in a cabin with a private bathroom and room that could fit up to five people. Outside there was a patio with chairs and tables, our own private porch, and a swimming pool. It included a wonderful home-cooked breakfast in the morning.
In the evening we went to the mountains with a private guide that showed us the stars. We all sat around a campfire drinking pisco sour while the guide pointed out numerous constellations and taught us about astronomy. The sky was so crystal clear that you could see the outline of the Milky Way. We also got the chance to use a telescope to see star clusters, planets and distant nebulas.
On Saturday, we toured Los Nichos, a pisco distillery where we sampled two kinds of pisco and afterwards toured the facilities. This particular pisco distillery produces the same amount of pisco in a year that most distilleries produce in a day. Some of its high-quality pisco can only be bought in specialty stores or at the distillery itself. We learned about the history of the distillery and how pisco and the wine industry contributes to the local economy in Valle Del Elqui.
Our next stop was a bike riding tour through the valley. We were driven up to the last town in Valle Del Elqui, and then began making our way down the mountains on bicycles.
As we navigated our way down the roads along the sides of the mountains, we made numerous stops to take pictures of the spectacular landscape. There was absolutely no one on the roads, making the trip incredibly peaceful and serene. You had time to look around and just enjoy the beautiful nature all around you.
Along the way, we stopped at an a market called Pueblo Artesenal de Horcón to buy souvenirs and eat at an amazing local restaurant.
On Sunday, our final activity was horseback riding through the valley. I had never been horseback riding before, but our tour guide gave us multiple instructions to make sure we felt comfortable on the horses. We rode horses for two hours through the valley, taking  a short break to enjoy a snack of cookies, oranges and the Chilean tea mate.
All in all, it was an amazing weekend in Valle Del Elqui. I got the chance to relax, learn about the area and appreciate the natural beauty of the valley. I would recommend Valle Del Elqui to anyone who wants to travel to an exotic getaway and see a whole new side of Chile.
Related Posts