Located in the northern part of Chile, about 45 minutes from La Serena, Tongoy is a place that has so much to offer.
TONGOY — As I was driving into the city of Tongoy, passing the Cordillera de la Costa, I saw a small peninsula with thousands of lights. When I entered, there were people in the plaza, drinking and dancing to the "indigena" band that played classic songs of Chile. The house that I stayed in was literally 2 minutes away from everything, from the beaches surrounding Tongoy, and from the plaza where everyone hangs out in the night.
Tongoy is famous for two of its beaches, Playa Grande, which is about 26 kilometers long, and Playa Socos, where almost everyone goes to swim. In Playa Socos, sometimes people can see penguins swimming in the water. In Playa Grande, people camp out for various amounts of days and practice windsurfing and many water sports. The third beach that surrounds Tongoy is called Playa Negra for its black sand. This beach is too hard to find for tourists, so only people who are really from Tongoy can get to see it.
Guillermo Vasquez is originally from Tongoy but now lives in Santiago. He and his family come to Tongoy every February for vacations. I stayed with him and his family throughout my visit in Tongoy and he explained to me why Tongoy is famous.
"The seafood in Tongoy is very famous. People all over the world come to Tongoy just to eat the fresh seafood. They have some types of fish you can only find in this part of Chile."
Every Monday and Friday, there is a feria (market) in Tongoy. Tourists and natives go to the feria to find fresh seafood, vegetables and clothes for a cheap price.
But Tongoy has changed, explained Guillermo. Talking with people who are originally from Tongoy helped me discover how this beautiful city has changed over time.
On the other side of Playa Socos is a resort called Puerto Velero. This resort was just put in recently and it is very exclusive. Near Puerto Velero is another beach called Playa Blanca, which is known for its white sand. One of my days in Tongoy, my friends and I wanted to go to Playa Blanca. When we went to Puerto Velero we were caught into some trouble. At the end of Playa Socos is a bridge in Puerto Velero which connects to Playa Blanca. A guard was working at the entrance of the bridge and wouldn't let us through.
Guillermo's daughter Sofia explained to me why we had so much trouble crossing to the beach.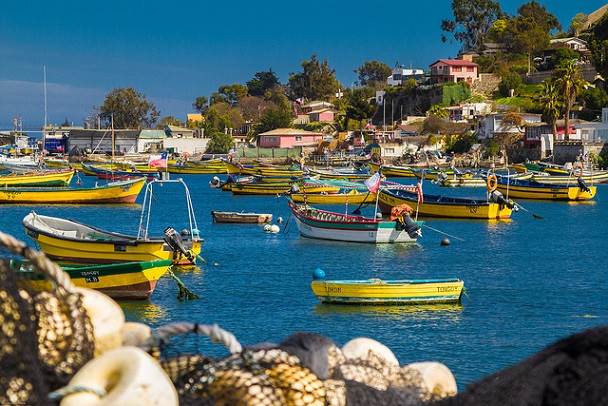 "Before, the resort did not exist. My friends and I used to walk over there at night and we would make a bonfire, play music, drink, and have a really good time. We would also walk to Playa Blanca, but now it's so hard to cross Puerto Velero. There is always a guard at the opening of the path to the beach and he doesn't let anyone cross to get to Playa Blanca, even if the beach is a public beach for everyone."
Every night in Tongoy people have parties on the beach. They make bonfires and some people bring their musical instruments. People drink and dance and enjoy themselves. Going to these parties is also a good way to meet new people. When I went, I met many people who are originally from Tongoy. They explained to me how Tongoy has changed throughout the years.
"Sometimes when we are out on the beach, police officers come and tell us to leave. But before no one really said anything. We always clean up after ourselves at the end of the night so I don't know why there is such a problem now."
When I talked to Guillermo, he explained to me that they will be a new airport in Tongoy.
"They have been planning on building this for a long time. I am not so happy about this. We already have so many tourists here, so I really don't want more of them. The true feel of Tongoy will be lost. "
Knowing how Tongoy was before makes me wish that it didn't change. But even with the change, Tongoy really surprised me. It is an amazing city with a lot to offer. Anyone who visits the north of Chile should stop by for a visit.
Related Posts