I had the chance to visit two of these National Parks. The first one in Atacama was organized with a tour, the second one in the South was a happy coincidence during my trip in Puerto Varas and Chiloé, and the third one is on my schedule in a month with a trekking trip through Torres del Paine. Here is some advice and an opportunity for you too to share in an experience and fabulous memories.
Los Flamencos National Reserve
Located in San Pedro de Atacama in the Antofagasta region, Los Flamencos National Reserve is the second most visited park according to CONAF. It has more than 70 thousand hectares that cover seven different sectors. Each one of these sectors has a different height, thus, a different weather condition which makes that each sector possess different plant and animal population, among those stands out the zorro culpeo (fox that lives in the north of Chile), the vizcacha (a type of rodent that lives in the south of Perú, west Argentina, Bolivia and Chile), the greater rhea, the cóndor, the Chilean flamingo, the breas (type of plant) and the tamaguro (also a type of plant).
HOW TO GET THERE
From San Pedro de Atacama there are two ways to arrive there: the 23-CH and the 27-CH routes , both go throughout the seven sectors of the park. I went there with a tour which organized everything (from the breakfast with flamingos in one park to the Pisco Sour at sunset on a dune). This is a nice way for tourists to discover the Park and to get more information on the history 0f Las tres vírgenes, for example.
WHAT TO SEE
One of the most popular sectors of this national reserve is Valle de la Luna, located 13km away from San Pedro de Atacama, this valley was declared as a nature sanctuary. The air erosion has carved the soil of this sector into particular patterns along its esplanade.
Another great attraction in this zone is the Salar de Atacama, located 55km away from San Pedro; it is the largest salt deposit in the country and there you can find a large amount of Chilean flamingos.
My favorite experience was the Valle de la Luna and Valle de la Muerte, an extraordinary landscape and marvelous stretch of sands and rock, with the sunset, and an exchange of colors between the day and night (that only happens in the northern skies). It´s a unique experience, unforgettable and highly recommended. You can admire Laguna Miscanti at more than 3,000 m high. And of course a fun way to discover the Salar is to swim in a natural pool with a concentration of 80% salt, a natural flotation device.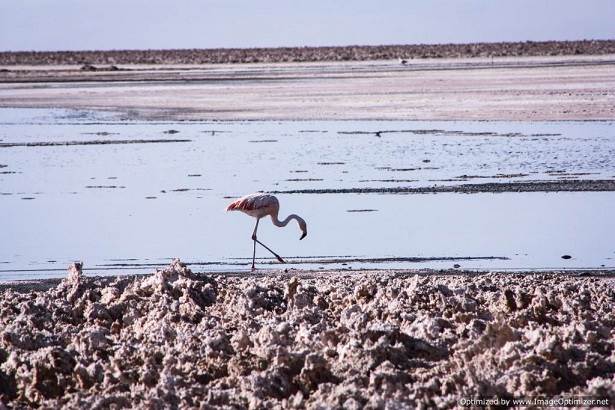 GENERAL RECOMMENDATIONS
Due to the high solar radiation, the use of sunscreen is advisable, and so it is the use of clothing with protection against UV rays. Also, there is a strong thermal variation, thus the use of light-weight clothing for the day, and at night the use of parkas and trekking shoes is recommendable.
Vicente Pérez Rosales National Park
It's the oldest, yet the most visited park in Chile with more than 330 thousand visitors in 2012. It has a total surface area of 253.789 hectares and it is located in the province of Llanquihue, in Región de los Lagos. It is part of the Biósfera Bosques Templados Lluviosos de los Andes Australes Reserve. I was there one month ago, but it wasn't the best time to visit because of an "invasion" of a giant fly.
HOW TO GET THERE
First, you have to arrive to Puerto Varas, located in the 10th region, at approximately 1,000 kilometers from Santiago. Then you have to take the 225 national route, which goes through Puerto Varas, Ensenada and Petrohúe. I took a little bus from Puerto Varas to Petrohúe and on the way back I stopped at the waterfalls Saltos de Petrohué before going back to Puerto Varas.
WHAT TO SEE
Todos los Santos Lake, placed in the center of the park, has a total surface area of 175km². This lake constitutes one of the greatest touristic attractions, with its emerald-green waters and three magnificent volcanoes: the Osorno, the Puntiagudo and the Tronador volcano. Another great attraction is Saltos del Petrohúe which possesses clear, almost transparent, and torrent water which you can appreciate from different platforms located right above the river. And if you are brave you can go closer to the waterfalls with a boat. Many activities are available around the lake, like canoeing, rafting, horse-riding, biking or just trekking at the foot of the volcanoes.
I walked a half day around the foot of the volcano Osorno, but as I said I was "attacked" by dozen of flys, which spoiled my walk because I had to shake my arms the whole time (which is apparently a big mistake). But I enjoyed a boat tour on the lake near to Petrohúe.
GENERAL RECOMMENDATIONS
Keep in mind that trekking is the majority of the attractions inside this park, thus it is recommended to wear light-weight clothing, but at the same time it has to be water-proof, also wear shoes designed for trekking, sunglasses and sunscreen.
Torres del Paine National Park
According to CONAF, this is the third most visited park in the country, with more than 140 thousand visitors during 2012, located in Magallanes region and the Chilean Antarctic in Torres del Paine municipality , and is known worldwide for its magnificent towers that give it its name. It covers more than 180 thousand hectares.
HOW TO GET THERE
First, you have to arrive to Punta Arenas, where different transport services to Puerto Natales are available. From this place, you will have to take a bus that will drive you to the entrance of the park which is 80 km away.
WHAT TO SEE
Near Torres del Paine, we find Cueva del Milidón, which is a natural monument that 100 years ago sheltered mylodon sloths (extinct for over nine thousand years). Another great attraction in this zone is the Grey Lake (where you can find a camping zone with the same name). The water of the lake comes from the thaw of 49 glaciers that compose Campo de Hielo Sur (a group of continental ice masses) which extend over 16.800 km². This is the third largest group of ice masses in the world.
GENERAL RECOMMENDATIONS
If you visit Torres del Paine, keep in mind that experts recommend to pay attention and have a special care regarding the clothes you wear. The recommendation is "less clothes, but of good quality". To do trekking, you have to do seven days of hiking, this is why the weight is vital, it is highly important to properly distribute the baggage and carry just what you need and nothing more. At night, a warm and water-resistant sleeping bag is advisable due to the low temperatures.
Related Posts