Anyone who's been in Chile for more than a few days has probably been urged to try the famous terremotos. No, not the Earth-rattling, geological phenomena– though Chile has plenty of those too. Terremoto, the Spanish word for earthquake, is a fitting name for the drink that will make the ground seem to tremble beneath your feet by the time you reach the end of it.
The drink is a blend of pipeño (a particularly strong version of unfiltered white wine), pineapple ice cream, and sometimes grenadine or fernet, that results in a sweetly-dangerous concoction. On your first sip you'll be hit with the drink's overwhelming sweetness, halfway through you'll find yourself wondering why you're downing a glass of liquid sugar while simultaneously wishing you had more pineapple ice cream to subdue the overpowering grenadine and pipeño, but by the time you're sucking up the final drops of your terremoto, you'll be ready to order round 2. But careful with that impulse, two terremotos and you might not remember what happens next.
Chileans across the country love to recommend terremotos to foreigners. So to get you started, here's a list of some of the best places to try terremotos in Santiago.
La Piojera
This one's a classic. If you've heard of anywhere to try a terremoto, it's probably La Piojera. Almost everyone, foreigners and locals alike, insist that when in Chile, you've got to try a terremoto here. Located just a few blocks from Plaza de Armas, you'll find La Piojera crowded with locals talking loudly, maybe even singing, with terremotos in hand. You enter into a dingy, seemingly run-down space where all eyes will turn to you if you look vaguely foreign. At the bar, the bartender serves up endless cups of terremotos, you need only tell them how many you'd like. The terremoto here has a more intense flavor than others, with more of a slosh of grenadine than a dab. Grab your drink and find a spot to sit, sip your cocktail, and chat with your group. More likely than not you'll find Chileans coming over to strike up conversation with you "newcomers" to their local bar. By the end of the night you'll have plenty of new friends and the taste of terremoto in your mouth 'til morning.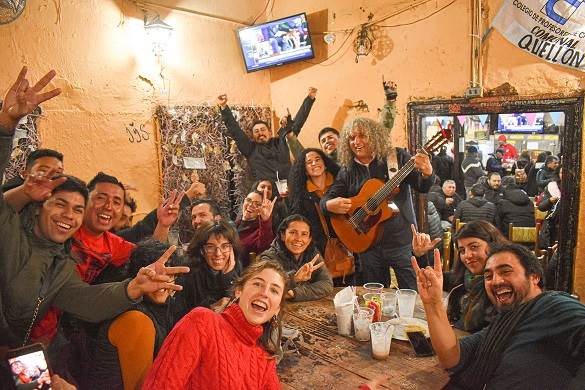 La Gloria
For a more relaxed experience, try La Gloria, a quaint restaurant with walls covered in antique decor and televisions tuned to soccer games. Take a seat at one of their long wooden tables and place your order with the friendly wait staff. In accordance with the atmosphere, the terremotos here have a more subtle flavor, their sweetness less of a shock to the senses than what you experience at La Piojera. Come for drinks or accompany your terremoto with a selection of traditional Chilean foods, and spend the evening enjoying the best of Chilean cuisine in a pleasant, homey locale.
Bar La Nona
Bellavista is known around Santiago as the place to be when the sun goes down, so of course terremotos can be found all along Pio Nono, making it hard to choose where to go. Try starting your night at Bar La Nona. On a Friday night the place is loud with music and voices as groups of friends prepare to celebrate the weekend. While terremotos are popular in this neighborhood, Bar La Nona takes care to make theirs special with an extra large glob of pineapple ice cream. Share a pitcher for only 5.500 CLP and bask in the exciting atmosphere that is Bellavista on the weekends.
El Huaso Enrique
If you're looking for a side of true, traditional Chilean culture with your terremoto, you'll find it here. El Huaso Enrique is located in Barrio Yungay, one of Santiago's oldest neighborhoods, and hosts a clientele who come to dance cueca, Chile's national dance, to the beat of live music. The terremotos here come in pitchers to share, and are truly delicious, with only a hint of alcohol flavor reminding you that it's not just fruit juice you're drinking. As you enjoy your terremoto, watch Santiaguinos dance the cueca, and if you're lucky, one of them might even invite you to join in. You'll leave feeling that you have experienced the deeper roots of Chilean culture.
Related Posts