One of the biggest draws of the Atacama Desert is the flawless viewing of the expansive night sky. Of all tours, stargazing is always highest rated.
When it comes to stargazing, there are a variety of options. For those interested in constellations and astronomy, there is a late night tour into the desert where the guide will point out different constellations and the focus is on discovering more about the night sky. A slightly more affordable and adventurous option is the Valle de la Luna tour (be sure to wear sneakers and dress warm!).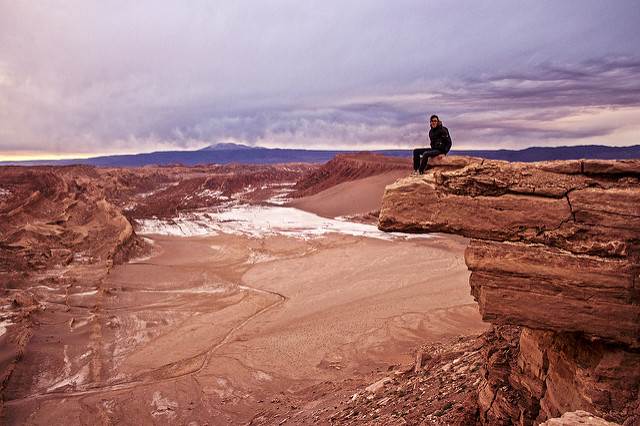 The Valle de la Luna tour leaves around 8:30 and returns at 11:30. The tour begins at the Valle de la Muerte where the group will be able to sit and look at the stars while exploring the desert scenery. This tour becomes more adventurous because after relaxing for a little while the group ventures down into the valley and walks to the Valle de la Luna. The walk is not strenuous but a "tranquillo" stroll through an expansive valley with a clear view of the night sky above. This allows time to meet fellow group members, talk with friends, or cuddle up with a partner.
Once in the Valle de la Luna, people are able to lie down and look up at the voluminous sky, continue walking around the area and enjoy some snacks and pisco! For those looking for a romantic night out, this can become one easily. But, it is also a fun group activity for friends. If there are ten or more people in a group they are able to take a private tour with a guide. Of all the tours in Atacama, this is one of the "can't miss."
Finding tours is one of the easiest things possible in San Pedro. Almost every store in the small town offers the same tour options but, with the company Corvatsch, having a large group will provide a discount. Other than that, the best option is to spend the first day in San Pedro shopping around and finding which companies provide the best prices.
The number of tours in Atacama is overwhelming. When the prices start to add up, it is possible to cut costs further. The Valle de la Luna is a couple of miles outside San Pedro so renting bikes or walking are more time consuming but practical options. For those wanting to enjoy the stars without the cold or trip, there is an observatory on the edge of the pueblo of San Pedro that is also available for stargazing. When in Atacama, stargazing, one way or another, is a must.
Related Posts