We'd hoped to visit San Pedro de Atacama on our first trip to Chile, detouring off the main road from Santiago to the border to see what this desert town has to offer.  But while we were in the south of the country, Chile was rocked by the 8.8-grade earthquake that killed more than 500 people and left thousands more homeless; it was a sad time for the country.  The quake caused major damage to roads and highways, and airports and bus stations in several cities were closed for several days.  Even in the south where we were, far from the epicenter, transport came to a complete halt for a couple of days – you couldn't travel in any direction.
It took us a week to get back to Santiago, partly because of the damage to the roads, and partly because the bus companies weren't very helpful in re-booking tickets.  During this time, we were overwhelmed by the hospitality offered to us by the family of one of my travel companions – his aunt took us in and was happy to let us stay for as long as we needed to.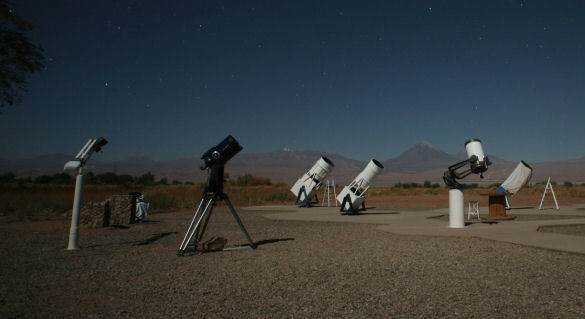 We were lucky, but we were a week behind schedule and had to make it to Lima to meet friends on certain date, so San Pedro de Atacama was off the cards.
Luckily, later in our trip we had the chance to finish our salt flats tour either in Bolivia, where it started, or in San Pedro.  It was a great opportunity for Ange (the friend we'd met in Lima) to have her first taste of Chile – and I'm not just talking about food.  We planned to spend two days in the town, and on arrival immediately booked our tickets out again – this time to Argentina.
As it turned out, we weren't actually too enamored with San Pedro de Atacama – it's expensive and touristy and everyone wanted to speak to us in English (I'm learning Spanish and am always keen to practice).  The only activity we wanted to do was the astronomy tour, which is similarly expensive, but we'd heard that it was worth every penny (sorry, peso).  But sadly, the snowstorm we'd been in as we arrived had left the usually-clear sky cloudy, and the tour was canceled on both nights of our stay.
On the third day, we packed up and headed to the bus station, only to find that the border with Argentina was closed because of snow.  That's right, snow in the desert.  Sure, it had snowed as we arrived, but the deepest ground cover we'd seen was about one or two inches thick – not enough to stop a bus.  But, apparently it was enough to stop not only our bus, but all traffic through the border crossing.
We were stuck in San Pedro de Atacama, but there was some good news – the astronomy tour was on!  We booked into a new hostel, bought our tickets, and turned up at 8 o'clock to start the adventure.
You might also enjoy… Discover San Pedro de Atacama
About 20 of us piled into a bus and were driven about 25 minutes into the desert, past the border control station and along an empty road.  We were met by our host, an effervescent Frenchman, and his Chilean wife.  The tours are conducted in English, French, or Spanish, and there didn't seem to be a fixed schedule as to which language is spoken on which tour – it's all pretty flexible.
We started inside, in a purpose-built classroom where Alain explained what would happen next, offered us jackets (it was very cold) and took our orders for the drinks we'd get at the end of the tour.  Then he started talking about stars.  It was impossible not be inspired, his passion for all things celestial was evident in the way he spoke – it felt like he would talk all night if only he could.  He jumped from one topic to another, giving us a brief but comprehensive crash-course in astronomy.
The lesson continued outside, as he pointed out stars and constellations of interest with his laser pointer, explaining difficult topics clearly and smoothly.  He welcomed questions, and often answered at length – always with something interesting to say.  After an hour or so we moved over to the telescopes, which his wife had positioned so that they each showed something different – Mars, Saturn, the Jewel Box.  We all split up to look at different views, and she changed the positions of the telescopes to show more constellations.  It was amazing to be able to use such powerful equipment, and to see constellations so clearly.
After we'd all spent enough time looking at the stars, we went back inside for our hot drinks (the hot chocolate was delicious) and another talk about the stars.  Alain welcomed questions but I think we were all so overwhelmed by the amount of information that we'd ingested that we couldn't think of any, so he just talked a bit more about his favorite topic before bidding us farewell.
We headed back to San Pedro de Atacama inspired and with a whole new appreciation for the wonders of the cosmos.  The star tour is without a doubt San Pedro's must-do attraction – don't wait until you're trapped by snow to do it.
Related Posts