Rent a bike and a board and ride golden dunes near San Pedro de Atacama.
SAN PEDRO DE ATACAMA — The Atacama desert, with its rolling dunes, is the perfect place to try a new adventure sport: sandboarding. Along with two friends, I decided to rent a bike and a board and set off to find the dunes myself, rather than opting for a tour.
Bike and board rental for the day cost CL$6000 per person from one of the shops in the centre of San Pedro. At first I was a little apprehensive about cycling with the board, which was strapped horizontally onto my back so that I looked like a flying insect. Once I sorted out my balance, however, it was actually quite fun.
After a mishap where we rode unnecessarily up a mountain path, we made it through Valle de la Muerte (Death Valley) to the dunes. Cycling was tough as the path was made up of bumpy rocks and sand, which meant we occasionally had to walk.
The sand dune we chose was huge, and walking up it in the desert heat was a challenge in itself. The view of the surrounding wilderness from the top was sublime, and made our effort worthwhile.
Then we started sandboarding – it was tricky at first to stay upright, but falling over was part of the experience. By mid afternoon, after about six runs, I was thoroughly exhausted. Be prepared for a few tumbles, and make sure to take plenty of photographs!
For ease, I would recommend taking a tour where a jeep will transport you and your equipment to the dunes. For the adventure, however, I would recommend renting boards and bikes and making the journey yourself.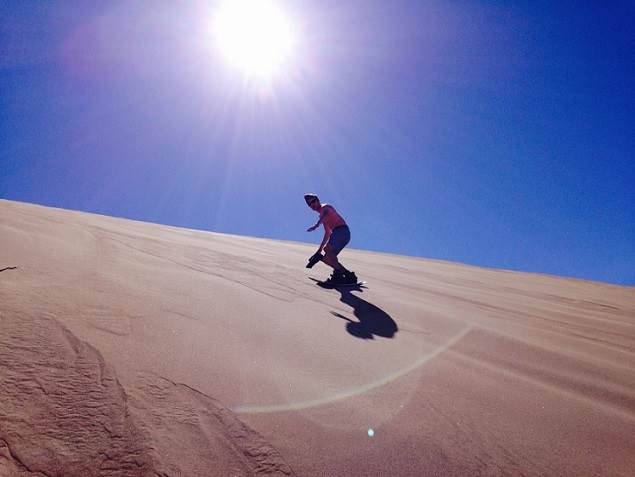 Here are some tips for anyone planning a day of sandboarding:
1. To get to the dunes:
Cycle from San Pedro towards Valle de la Muerte. Ride straight through the valley and stay on the same path until you reach the dunes – you will not miss them.
2. Be well equipped
Bring water, sunscreen, sunglasses and snacks.
3. Do not go alone
The dunes are remote, and if you have an accident you do not want to end up stranded in the desert. It is safest to go with at least one other person.
4. Sandboarding itself:
If you have ever snowboarded you use a similar technique. Bend your knees and get down low, try making a few turns as you go down, and keep your weight on your back foot rather than your front.
5. Be prepared to do A LOT of exercise
You will feel shattered by the end of the day, but it will be worth it.
Related Posts