Colombia has its own growing tourist and travel scene. People from the capital city of Bogota love to take time off of work and explore their own country. Luckily, vacation time in Colombia is plentiful and many people from the city take up weekend activities in the countryside. Whether hiking or mountain biking, fishing or horseback riding, the countryside outside of Bogota offers something for everyone.
A very popular hobby among young people from Bogota is rock climbing and there in no better place to climb close to Bogota than Suesca.
Located less than 2 hours from the city, Suesca is a small town of about 15,000. It is surrounded by Colombia's dairy land and plenty of flower plantations but what it is actually known for is rock climbing.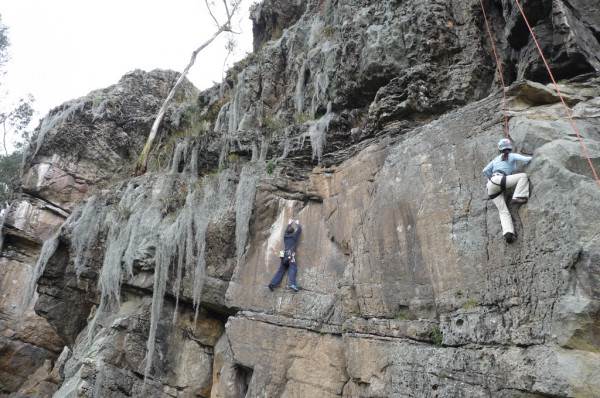 Rock Climbing
Suesca is said to be the birthplace of rock climbing in Colombia. Years ago, young people from Bogota came out this way to escape the city, camp, and enjoy nature. Soon enough, the Rocas de Suesca area was found. Located just outside of town, the Rocas de Suesca is a large 4 km long area of natural cliffs that runs along the railroad tracks. There are over a hundred climbing routes, varying in style and difficulty.
This is not a "tourist" activity and most climbers come with their own gear. You might have difficulty renting gear yourself but there are a few companies in Bogota that arrange trips out to Rocas de Suesca.
If you are visiting on a weekend and find the wall a bit too crowded, hike out to Valle de Halcones. Located about a 40 minute walk from the Rocas, Valle de Halcones is a second climbing area with incredible views. It is a located on private property though and the owner is not always willing to have climbers on his land. You might be politely asked to leave.
Spending the Night
Suesca is well off the backpacker trail. There are no real hostels or none that stick around for long and most people visiting (local Colombians from Bogota, rarely foreign tourists) end up camping.
There are designated camping sites near the Rocas de Suesca climbing wall or if you walk back into town, you should be able to find a few small, family-run hotels.
The best time to visit is on the weekends. The climbing wall might be a bit more crowded but at night all the climbers camp close together and it turns into a great little party. Colombians are incredibly friendly and if you speak a bit of Spanish, you will no doubt be invited to join in.
Couple Travel Tips
Stay in the designated camping areas near Rocas de Suesca. This area of Colombia is very safe but if you wander off too far you might end up camping on private land and run into problems with the owner.
If you are lucky, you'll end up visiting in the dry months (winter and spring). Come summer time (June) this area is hit by the rainy season and occasionally the route to the climbing wall and the camping areas get flooded out.
If you stay more than a night or two, consider skipping the wall one day and renting a mountain bike into town. There are some great trails in the area and the scenery will blow you away.
Related Posts