Starting in about October and November, the Andean snowpack in Chile starts to melt, increasing water flow to the country's many rivers. By December, they are in full force, and, not coincidentally, that is when some of Chile's best river rafting starts. There are four main places where river rafting takes place in this long, skinny country, and below are details of each, what to expect, and how long to plan for.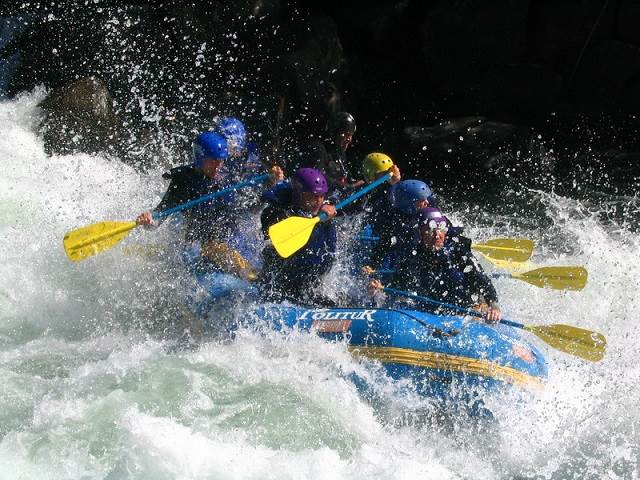 San Alfonso/Cajón de Maipo
The Cajón de Maipo is the river canyon that surrounds the Maipo river, about an hour's drive from Santiago, and a popular place to camp, hike, take daytrips and go rafting, which you can coordinate from a Santiago-based tourism company. You can also book it onsite at the Cascada de Las Ánimas a popular eco-base of operations for glamping, camping, hiking and picnicking. In Cajón de Maipo you raft the Maipo River, with class III rapids all year round, inching up to class IV in the summer months. Many people who raft on the Maipo do so for the first time, though if you're traveling with younger family members, there are easier routes to raft (see below).
Pucón
This is Chile's adventure tourism anchor town, with hikes in a couple of national parks, volcano summits, ziplining, and other adventure tourism, including, of course, rafting. The Rio Trancura sees loads of rafting outfitters, who generally offer either the upper Trancura, a 14 km stretch with 8 rapids ranging from class III to IV, and also the lower Trancura, which gives a milder ride with rapids from class II to III. The high season here is December to March, which coincides with direct flights from Santiago, otherwise you can fly to Temuco and take a bus from there to Pucón.
Petrohué
This river, accessed from near Puerto Varas (about an hour's flight from Santiago to Puerto Montt, the closest airport), is mostly seen from above, while visiting the Vicente Perez Rosales National Park, which is close to Puerto Varas, and on the way to Lago Todos Santos. There is a set of over-the-river boardwalks so you can get close, but stay dry at the same time. But if that's not enough for you, you can also arrange to raft a section of this in a half-day tour, which includes about two hours on the river in class III and IV rapids.
Futaleufú
This is the granddaddy of all commercially raftable rivers in Chile, and is considered one of the world's best, along with the Colorado and Zambezi. You can raft part of the the 27 mile course in a single day, in the most popular bridge-to-bridge option, including class IV and class IV+ rapids, or take up to a two-day trip here, even for inexperienced rafters. More experienced rafters can take up to a week to explore the river more fully, including several Class V rapids where expert guiding is necessary. It is not uncommon for rafts to capsize and rafters to end up as swimmers on the Futa. If this is a little more than you'd bargained for, nearby Rio Espolón offers a much more relaxed ride, suitable for families.
Related Posts