Hostal Pueblo de Tierra provides a pleasant surprise behind its clay and wooden walls.
SAN PEDRO DE ATACAMA — Upon opening the entrance gate you are first introduced to this scene:
Lounging chairs and couches, umbrellas for the hot sunny days and blankets for the chilly nights and a swimming pool: the perfect tranquil area to restore and relax after a long day in the sun in the Atacama Desert. Best of all, solar power panels line the roofs to help power the hotel.
Pueblo de Tierra is just outside the heart of San Pedro de Atacama. With about a 5-7 minute walk to the town square, it is the perfect balance between quiet seclusion and access to amenities/restaurants.
Renting one of the hostel's rugged Trek mountain bikes (for only US$5/half day or US$9/full day) can shorten this commute to the center of town even more.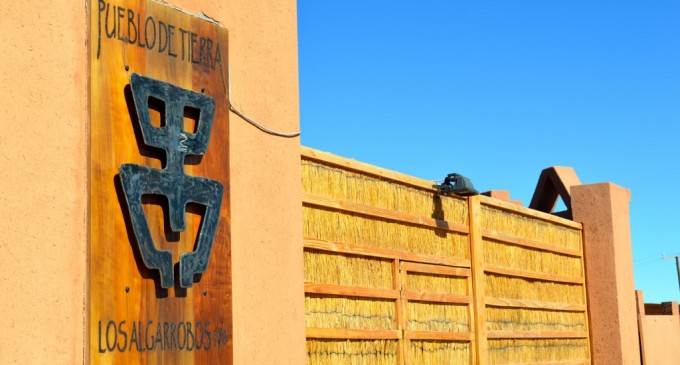 The rooms were nothing like what you would expect from a hostel. They fit in with the culture of the area; rustic-like feeling décor, wool blankets drape the foot of the bed and unique Chilean artwork on the walls.
An extra perk being in the desert was the humidifier, heater and air conditioner in the room, helping you stay comfortable despite the extreme weather conditions.
Like many hostels, a decent hearty breakfast is hard to come by here in Chile we've found. However, we were impressed by the selection of fresh food this hostel had to offer every morning. Oatmeal, cereals, fresh fruit, eggs, cookies, cakes, bread, and coffee/tea or lattes! (instant still of course). Every morning we were able to leave breakfast satisfied and fuelled to start our adventurous day in the desert.
The gentleman managing the hotel was very accommodating in asking us what we wished to do while we were in the Atacama. Besides their bike rentals, they have a connection with a tour company in town that offers special discounts for Pueblo de Tierra's guests.
There are MANY areas calling for exploration up in the North such as  the Cejar lagoon, Valle de la Luna, and the Geisers del Tatio. With limited time in San Pedro we were only able to book one and chose the Geisers del Tatio….one word: AMAZING! If you have only a short time in San Pedro, we would say this is a must-see.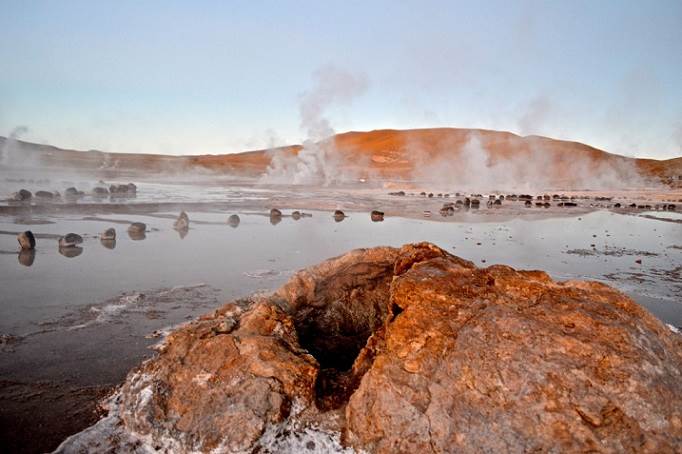 Geisers del Tatio.
If you wanted to switch scenery from the hotel's central resting pool area, climb up some stairs and you're on a whole new "level" of seclusion. A rooftop lounging area has lounging chairs, tables, and solar paneled lanterns for night time.
With the sun beaming down it's the perfect spot to work on your tan or stargaze within the Atacama's crystal clear skies. This is just one section of a large rooftop socializing area that is currently under construction and hopefully will be completed in the near future.
Pueblo de Tierra is a well-rounded hotel offering a great balance in style, location, and amenities offered. They are open year round and are a great option to look into when planning your trip to San Pedro de Atacama. To find out more details on the hotel you can check out their website here.
Related Posts