LOS LAGOS — I could not be more grateful to have been able to spend my first week traveling through the Los Lagos Ragion in the south of Chile with my beautiful grandma.
As soon as we arrived to Puerto Varas, the stress and madness of city life quickly disappeared and an immediate sense of tranquility lingered in the air.
Puerto Varas is a town in the south of Chile, located on the shores of Lago Llanquihue, Chile's second largest lake. If you are lucky enough, from the center of the village you can see a scenic view of Volcano Osorno. However, on most days the volcano is concealed by dense fog, completely wiping it away from the picturesque view.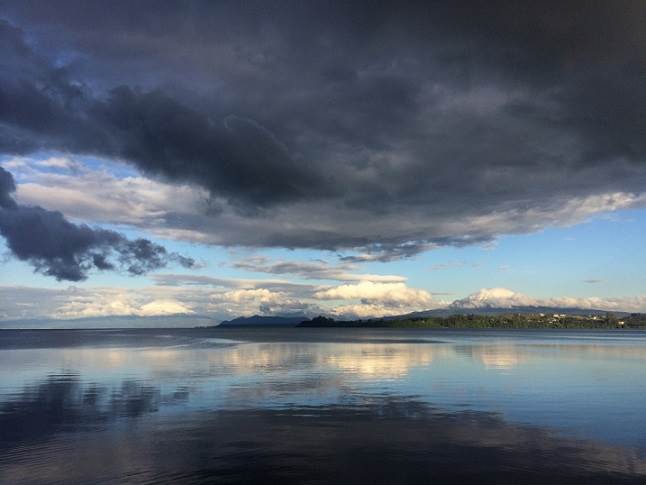 On the day we arrived we were greeted by light rain, as expected for that region. But it did not dampen our mood; in fact it felt just right. As if it would not have been right without the rain.
Puerto Varas (as well as many towns in the south) is well-known for its strong Germanic influences. Germans began settling in the Región de los Lagos from the years 1850 to 1875, setting up homes and forever engraving their traditions in the area. Although now there is a diverse range of people living in those areas, the German influences have remained prominent and iconic. From colorful architecture to exquisite gastronomy, Germany has clearly left its mark on Puerto Varas.
On the second day of our mini-vacation the sun decided to follow us from Santiago.  With not a single cloud in the sky, and the sunrays reflecting upon the lake, the Orsono Volcano appeared in the horizon. The view was magical, like something out of a fairytale book. I am pretty sure I took about one hundred pictures of the volcano, all of which look exactly the same. Yes, it's that beautiful.
Our itinerary for that day was to go to Peulla, a small port town bordering the lake Todos los Santos. We traveled there by boat, which took about two hours. The time went by in a flash, with scenic views in every direction. On the boat we decided to sign up for some activities to do once we got to Peulla, as suggested by the tour guides. There was a wide range of options ranging from helicopter tours to horseback riding. To my surprise and excitement, my grandma wanted to go on the helicopter tour. I would have never imagined myself in a helicopter flying over glaciers and volcanoes, but my grandma insisted that this was a once in a lifetime opportunity and it was now or never. She could not have been more right! The helicopter ride was incredible; flying over breathtaking views was something I will never forget.
On another day, we took a day trip to Frutillar, a small town located on the western banks of lago Llanquihue. It is commonly known for being the city of music. Its Tearto del Lago is an icon of Frutillar, being that the theater brings in musical composers from around the world every year. This theater offers concerts year round and is considered the largest and best acoustic theater in South America.
Besides the music scene, Frutillar is also known for its strong Germanic influences. Kuchen, or cake in German, is very important in Frutillar and you can find kuchen cafés on every corner. So of course, my grandma and I had to try it. We decided to share a poppy seed kuchen that was so good that it makes my mouth water just thinking about it. Frutillar is another must see place in the Región de los Lagos.
The last stop on our trip was Valdivia. We traveled from Puerto Varas to Valdivia by bus, which took about three and a half hours, which I spent reading and my grandma spent sleeping.
Valdivia is another beautiful city situated along the banks of the rivers Calle-Calle, Valdivia, and Cau-Cau. The city was named after its founder Pedro de Valdivia, who is also the founder of Chile.
After arriving to our hotel, which overlooked the river, we decided to take a float down the river on a tour boat. The rest of our days in Valdivia were spent eating delicious seafood, going on long walks by the river, and visiting neighboring towns.
Exploring the south of Chile with my grandma was an experience I will keep in my heart forever. I saw some of the most beautiful sights I have ever seen, ate some of the tastiest foods, and spent time with one of my favorite humans on this earth. There is so much to see in the south of Chile and it is a trip I would recommend to anyone who is looking for an adventure!
Related Posts