Montanita
Dreadlocks and board shorts are a staple for most of the locals here. Montanita is a small beach town along Ecuador's Ruta del Sol that only started showing up in the tourist scene 2 – 3 years ago. It is now known for its consistent surf and easy-going attitude.
The town is full of funky, colorful stores, hostels and local eats which attract a similar colorful and laid-back crowd. This is pure hammock lifestyle at its finest. When the sun is out, the beach comes alive with surfers, fresh ceviche carts and colorful umbrellas lining the sand. Be warned that due to the chilled-out attitude, many travelers tend to get stuck here for weeks or months at at time.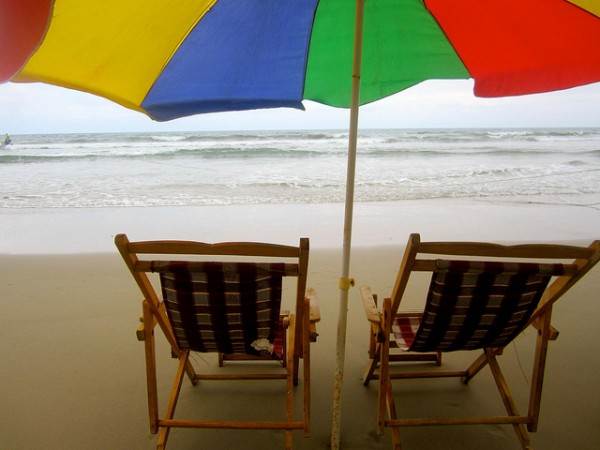 How to Get There and Around
From Guayaquil take one of the three direct CLP buses for $5.50 to Montanita. If you don't want to wait for one of the direct buses, jump on a bus to Santa Elena and you can catch northern-running buses more often.
Once you arrive in Montanita the town is a small grid that makes anywhere you want to go an easy walk. Most of the east/west roads have beach access and it's so small you could not possibly get lost.
My Favorite Things to do in Montanita
Fall Asleep in a Hammock
Outside of almost every hostel room in Montanita is your own personl hammock. Take advantage of the slow beach lifestyle and climb in your hammock at least once a day for an afternoon siesta.
Learn to Surf
You will have no trouble finding a surf shop renting out surf boards and selling lessons. Most of them include an educational hour, an hour in the water and additional time for you to use the board to practice on your own.
Another option is to meet a local on the beach, most are excellent surfers and for half the price are willing to spend 2 – 3 hours in the water with you teaching you their skill.
Tip: Ask for Oscar and his dog Willie. He has been teaching lessons for 15 years and we were lucky enough to meet him on the beach and spend the day learning to hang 10.
Eat Fresh Ceviche
Ceviche carts line the streets in Montanita. It was my favorite lunch time specialty, and for $5 you can have your fill of a fresh mixto bowl of ceviche (fish, octopus, squid, shrimp, etc.). You have to try it!
Enjoy the Nightlife
Hang around at 10 PM on the streets of Montanita and you will always get invited to a party at one of the different hot spots that evening. This is a small town, but its live music, all-night party scene and cheap prices makes it one of the top spots to visit if you love the nightlife.
Take Day Trips to Other Beaches Along the Coast
The Ruta del Sol is known for great beach hopping up and down the coast and the variety of beach towns. Other beaches in the area that I would recommend are Salinas, Puerto Lopez and Canoa (north of Bahía de Caráquez). Take a local bus for a day trip or pack up and spend a few nights at each beach.
With lazy days and active nights, Montanita is a town that is easy to fall in love with.
Couples Travel Tips
If you are staying over the weekend book your hotel or hostel in advance. The accommodations fill up quickly since locals visit the town for weekend getaways.
There is an "anything goes" attitude when it comes to most everything, especially drugs. Be careful when buying food (especially "baked goods") off the street.
Eat at the local places. The 'almuerzo' next to Charos hostel cost $1.50 for juice, soup and a huge plate of rice, beans and chicken that was delicious. If the menu is in English, assume that it is priced for the tourist.
Related Posts