One of the highest lakes on earth, volcanoes of over 6.000 mt, snowy peaks, rivers and lagoons are some of the amazing sights present in this 140.000 hectare National Park located in the Arica y Parinacota Region.More than a hundred different bird species and characteristic animals of northern Chile inhabit in its incredible trails. ChileMochilero gives you all the information you need to visit this amazing destination.
Access
There are different alternatives to get to the Lauca National Park, particularly to the Putre and Parinacota localities, good starting points to explore the park (Parinacota is in fact inside the park). From Arica (city with daily flights to and from Santiago) you have the alternative of taking a bus to Putre, CLP 4.000 one-way. Buses La Paloma is one of the companies that offer this service, with buses that leave everyday to Putre at 7:00 am, returning at 14:00. Parinacota is a really small town. Alternatives to reach this locality are tourist buses, private vehicles and hitchhiking by the CH-11 International Highway (Parinacota is located 4 km from this highway).
The CH-11 is the international highway that links Arica with La Paz (capital city of Bolivia). This road passes by points of interest like Chungara Lake, viewpoints of the Cotacotani Lagoons and close to the localities Putre and Parinacota. As mentioned before, it is possible to hitchhike along this route. However, factors like low temperatures at night and the place where you will get off have to be considered. Check the Precautions and Recommendations section at the end of this article for more details and advice, both if you plan to hitchhike or rent a vehicle.
The Park
This park of the XV Region has a huge amount of attractions: volcanoes, lagoons, lakes, hot springs and rivers, as well as an incredible variety of local fauna. It is one of the most beautiful places in Northern Chile, also having important historical and cultural attractions. Low temperatures and altitude sickness are important elements you should have in consideration if you plan to visit this park.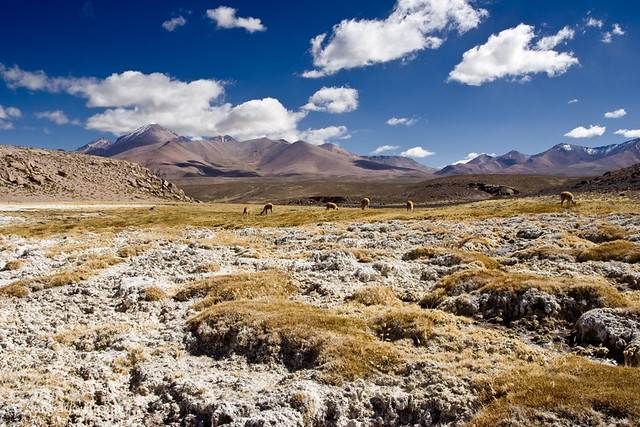 The Lauca National Park has no entrance fee. Regarding accommodation, there are hostels, refuges and inns in Parinacota and Chungara Lake (few, so it's important to book in advance). You can find economic hostels for around CLP 10.000 the night. There are as well places suitable for camping, free of cost (check the Precautions and Recommendations section regarding this point). You can find more accommodation alternatives outside the park in Putre. It is recommended to stay one or two nights in Putre to get used to the altitude before going to the park.
Flora and Fauna
Some of the wonders present in this park of Northern Chile are its flora and fauna.The "Queñoa", also known as "árbol de alturas" (tree of heights) is a reflection of the Andean biodiversity, its wide and robust trunk endures extreme weather conditions and relate to the local communities. The "llareta", compact plant that grows in difficult conditions, and the Nototriche flowers capable of growing in incredible heights are other examples of local Andean flora.Wetland vegetation occupies the swampy soil near the lagoons, native plants that manage to adapt to the humid environment.Regarding native fauna that inhabits the park, more than 130 different species of birds fly over it (condors, flamingos, giant taguas), and on the ground you can see vizcachas, large herds of llamas and alpacas and much more.
Chungara Lake
One of the highest lakes in the world (around 4.600 masl), an area of 21 square kilometers and surroundings that include snowy peaks and volcanoes make this for an amazing sight which awe hundreds of visitors each year. The panoramic view of this lake and its waters reflecting the Parinacota Volcano is spectacular.
Cotacotani Lagoons
Chungara Lake and the Desaguero river supply the group of four lagoons located 4 kms from the Chungara Lake. Characteristic wetland vegetation surrounds these lagoons and animals like flamingos and ducks swim across their interconnected waters, surrounded by snowy peaks. An amazing sight.
Lauca River
It originates in the Bofedales de Parinacota (Parinacota wetlands), crosses the Cordillera de los Andes mountain range and empties in the Coipasa salt fields in Bolivia. The successive waters that originate in the Cotacotani Lagoons allow the desolate northern Chilean territory to flourish.
Volcanoes
The twin volcanoes Parinacota and Pomerape along with the Gallatire and Acotango volcanoes are part of the park's main attractions as well. Their peaks are above 6.000 masl, and their presence in the horizon is simply majestic.
Activities
Different trails are the stage for excursions in the park. You can travel along the Las Cuevas Trail (35 min duration and 1,5 km extension), El Chacu Trail (4 km vehicle road), Parinacota Trail (65 min duration and 3,8 km extension) and the Chungara Trail (30 min duration and 1 km extension). If you are looking for a more challenging route, you can do the Parinacota-Cotacotani Lagoons-Chungara Lake Trail (red in the map). This 16 km trail passes over an old vehicle road and along its journey you can enjoy the most spectacular and beautiful panoramic views in the park. It has an approximate duration of 3 hrs one-way and 6 hrs round-trip, having the possibility to start the trail in Parinacota or in Chungara Lake indifferently.
We recommend to visit some of the local cultural heritage buildings, like the Parinacota Church built in the XVII century and declared National Heritage in 1979. This church is one of the main tourist attractions in the Lauca National Park, with its crowns made up of volcanic rock that rest on top of the church's rock walls.
As mentioned before, for those who enjoy camping there is the possibility of doing so in Chungara Lake and in Parinacota. For those who enjoy mountaineering there is also the possibility of doing this activity in the park's snowy peaks and volcanoes.
Precautions and Recommendations
1. Best season: It is recommended to visit the park between September and December, since in the months of January, February and March the natural phenomenon of the Bolivian Winter occurs (it might not happen, varying year to year). During the rest of the year there are very low temperatures during the night. The park is nonetheless open throughout the year.
2. Food: It is important to buy food supplies in Putre or Arica before heading to the park, considering the number of days one is going to spend in the park and calculate accordingly. There are not many alternatives to buy food in Parinacota.
3. Gear and clothing: The weather in this area is cold, specially during the night when temperatures can drop below -10°C. It is essential to bring warm clothing and be prepared for low temperatures. In case you plan to camp, it is important to bring a good sleeping bag that can allow you to sleep in these conditions. It is fundamental to bring sunscreen to use during the day. Thermal t-shirts are ideal since they can be used in hot days (15°C) and also when temperature drops with other layer of clothing.
4. Physical condition: This is a destination that doesn't require you to be in good physical condition in order to enjoy it. However, it is many times necessary to pass an acclimatization period to get used to the high altitude. Spending a day in Putre is recommended before heading to the park.
5. Mobilization: If you decide to rent a car to go to the park, it is really important to fill your tank in Arica, since in Putre there is NO gas station. In case you decide to hitchhike, it is important to have a good idea of where you are going to get off. If you don't have a good tent and sleeping bag it is not recommended to spend the night in the middle of nowhere (remember, temperatures below 0°C at night!).
6. Medical attention: In case you need medical assistance you can go to the infirmary in Putre.
7. Trash: DON'T leave any kind of trash or garbage in the park. Also don't interfere in any way with the local flora and fauna. Be a responsible backpacker and contribute to make sure nature is well cared for!
Related Posts