I Love Chile visits famed Chilean poet Pablo Neruda's house in Valparaíso.
"I feel the tiredness of Santiago. I want to find in Valparaíso a little house to live and write quietly. It must have some conditions. It can't be located too high or too low. It should be solitary but not in excess. With neighbors hopefully invisible. They shouldn't be seen or heard. Original, but not uncomfortable. With many wings, but strong. Neither too big or too small. Far from everything but close to the transportation. Independent, but close to the commerce. It has to be very cheap. Do you think I would find a house like that in Valparaíso?" wrote Neruda in a letter to two close friends.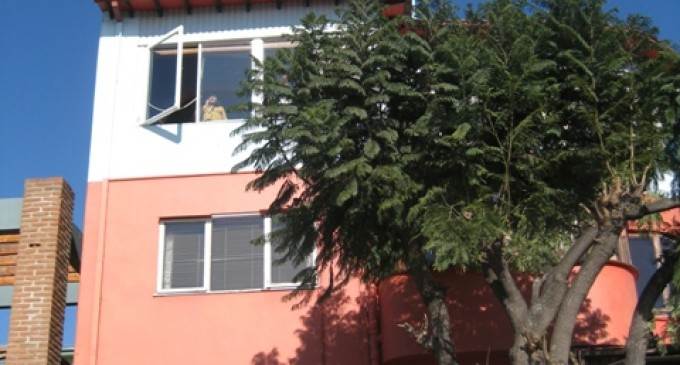 He did find it, the house he loved so much and poetically named "La Sebastiana", after the builder of this beautiful and unique building. Five floors (pisos) in total, three of them belonged to Neruda, the other ones to Dr Francisco Velasco and his wife Marie Martner.
The houses and Neruda's story starts on the first floor. Today there is a reception area and the entrance to the museum, where visitors get handed a device that tells them the poetic story of La Sebastiana. Piso two is just for a short look, as it didn't play a role in Neruda's life, but on Piso three the poetry begins.
The living room, dining room, a small bar and Neruda's beloved armchair, "La Nube". It doesn't sound very exciting at all, but in a second, the telephone-like device starts telling the story about Neruda's preference for Chilean wine, the exotic furniture he received as gifts and his devotion to Valparaiso. While looking down at the foggy harbor and the breathtaking view, the atmosphere just changes. Every piece of furniture got its own story, and Neruda, who just enjoyed collecting things, did this with incredible passion.
Piso four is next. The house is built like a tower of bricks made by a child. At the foundation it's wide, but as you go higher it gets smaller and smaller. Here is the bedroom and the bathroom of the poet and his wife. A big window of course isn't missing, because who would be able to block the undisturbed view of Valparaíso's cerros? The story continues, talking about the breakfasts Neruda enjoyed in his bed and the small make-up table of his wife Matilde.
At last, piso five. It's not really a whole floor at all, it's just this one room, Neruda's study room. Filled with books and other written pieces, the intellectual atmosphere just flows through every visitor and gives the pure spirit of Pablo Neruda, one of Chile's most famous sons.
Related Posts