Google The Galapagos Islands and your page will be bombarded with tour operators selling you 5 – 7 day cruises. You will have luxury cruises alongside budget cruises and last minute deals flashing across the screen. While boarding a cruise helps you see the farther out islands, independent travel is very possible in the Galapagos.
Independent Travel vs. Group Travel
Once you sign up for a Galapagos cruise you are signing up for scheduled meal times, wake up calls and 5 – 7 nights spent amidst the rocky ocean waves. You will join 15 – 25 other guests as you follow your set itinerary for the week. You move as slow as the slowest in the group and must be prepared to cater to everyone's interests. It is great to be able to meet friends to travel with on the road, but you risk spending a week with a group that you don't fit with. A cruise will cost you more, but it is a one time fee and all of your meals and activities are included (excluding tips and alcohol usually).
Independent travel looks a bit different in that you decide when you go and where you go. You can take lazy days and eat breakfast/lunch/dinner on your own schedule. You will still end up working with tour companies, but you can shop around and pick the locations and prices that work for you. You don't have a set group of travelers with you 24/7, but there are opportunities in the cities and on the excursions to meet other travelers. Your expenses will depend on how much you do. You could spend the week doing all of the free activities, or you could explore a different island or diving excursion each day which will definitely add up.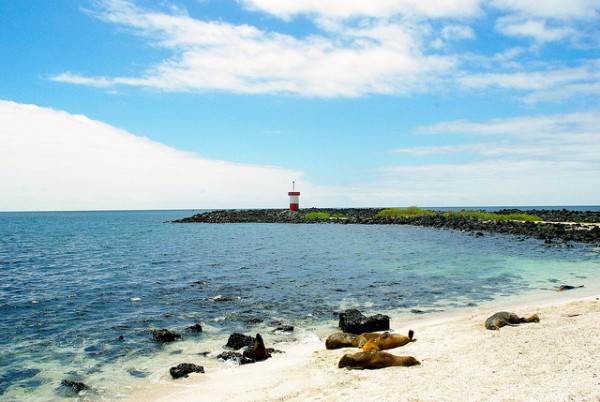 Getting to the Galapagos Islands
There are two main airports coming from the mainland into Galapagos, one on Baltra and one on San Cristobal.
The National Park Fee for foreigners is $100 pp, in addition to the $10 visa fee to enter. You will need to come prepared with cash to pay both of these fees before entering the islands.
Baltra Airport
We learned the hard way. The Baltra airport is a short bus ride, to a quick ferry trip, to another 45 minute bus ride to get to Puerto Ayora. It is not expensive, the full trip costs $2.30 per person ($.50 for the ferry & $1.80 for the bus), but it can be a bit inconvienent.
Fun Fact: The U.S. military originally built the Baltra airport as a base during WWII to protect the Panama Canal from attack.
San Cristobal Airport
The San Cristobal Airport is less than 10 minutes by car from Puerto Baquerizo Moreno. This is definitely the more convenient airport to fly into and out of. Once in Puerto Baquierizo Moreno you can take a 3 hour ferry to Puerto Ayora for $25 when you are ready to explore a new island.
The Taxis in the Galapagos are white pick up trucks. It should cost you $1 to go anywhere in the city. If you want to go outside the city, you can negotiate a 1/2 day or full day price with the driver and he can wait with you as you visit the different sites on the island.
Currency: USD, with some Ecuadorian coins thrown in for small change.
Free Activities in the Galapagos Islands
Santa Cruz
Darwin Research Center – The Research Center is a short 15 minute walk from the center of town. You can view the breeding process of the Galapagos giant tortoises and iguanas.
Ship Ports At Night – At night the ship port lights up and you can see all types of animals swimming in the water below. We were told you could see sharks if you are patient, but we saw plenty of rays, sea lions, crabs and a variety of fish.
Bahia Tortuga – 2 miles southwest of Puerto Ayora, you will often find iguanas and turtles wandering around this beautiful beach. It's known for bigger waves and is popular with surfers in the area.
El Chato Tortoise Reserve – The tortoises roam free in the highlands of Santa Cruz. This is a great chance to see them in their natural habitats.
San Cristobal
Playa Mann – This is a great starting point to see sea lions up close. For those traveling independently I suggest making a day trip out of this when you need some rest from all the diving you are doing. It is a small beach, but popular due to its close proximity to Puerto Ayora.
Interpretation Center – An informational museum that is surrounded by hiking trails. The museum offers a complete history of the Galapagos Islands and its ecosystems.
Las Tijeretas – This is a beautiful cove that can be reached from the Interpretation Center. There are lookout points and beaches to hike and relax. Bring your snorkel gear and join the sea lions and turtles for a swim or enjoy laying out on this quiet beach.
El Junto – 19 km outside of Puerto Baquerizo Moreno, El Junto is one of the few freshwater lagoons in the Galapagos. You drive through many different vegetation zones to reach the lagoon and will get a outstanding panoramic view of the island from the viewpoint.
Puerto Chino – This white sand beach is 25 km out of the city, but is a great opportunity for viewing wildlife. Plan to bring a lunch and spend the day on the beach and hiking the trails around it.
Day Tours From the Islands
There are tour companies everywhere offering different destinations daily at a variety of prices. Depending on the season and the number of tours you book with them, you should be able to negotiate a discount.
Spend an afternoon talking to the tour operators about the tours they offer and let them know what you are interested in. Book with the company you feel most comfortable with and try to negotiate a discount if you book multiple day trips.
What I loved most while visiting the Galapagos Islands is every island has its own unique terrain with animals and plant life specific to that island. I suggest visiting the islands of Floreana, Isabella or Fernandina. Scuba dive in search of hammerhead sharks and huge manta rays or simply spend the afternoon snorkeling with sea lions. Your week will quickly fill up if you want it to.
Scuba is the most expensive tour you can take usually around $130 – $150 for two dives. Other tours such as snorkeling will cost around $50 per trip and highland tours will be closer to $35 – $50.
Where To Sleep in the Galapagos
Guesthouses and hotels are plentiful on each island, but the term budget doesn't always apply. A budget hostel usually runs around $30 – $50 per person, including air conditioning and hot showers. We stayed way on the edge of the city and still paid $50 a night. Book your room in advance as you might show up and everything is booked.
Galapagos has a reputation for being overly expensive and needing to join a cruise to fully enjoy the islands. We found this to no longer be the case. We met plenty of young people touring the islands on their own terms and booking their own tours as they go from the many tour operators in the city.
The animal and plant life in the Galapagos Islands is unbelievable. Don't skip over visiting the Galapagos because you are scared off by the cruise prices or the rumored high tourist fees. Jump on a plane and visit the islands independently. Plan your own schedule and manage your own budget while exploring paradise.
Related Posts