To avoid the crowds on the beach and driving far away, the Andes are a good alternative for adventure.
SANTIAGO — Chile is known worldwide for its good quality snow in winter. Ski resorts are one of the main attractions for the country. However, in the summer there are many things to do there as well.
La Parva Ski resort this year offers its 5th season of summer activities, which you can enjoy every weekend of January and February.
Bike park: It has been open since Jan. 4, and you can enjoy in La Parva. This popular sport is one of the highest tracks in the world, it has more than 10 kilometers of paths with three different tracks. The circuits are for experts and amateurs and they have jumps, banked curves and obstacles. There are also ski-lifts specially designed to hold bikes.
Price: daily CL$12,000
Bike park in La Parva.
Photo: Facebook Ski la Parva
Trail running: You can run and jog on trails and paths through the hills, crossing rivers, boulders, trees, etc. This year, La Parva has a new circuit for sports lovers, with signs that indicate the altitude and how many kilometers you have gone through.
Prices: $9,000 for adults, $5,000 children.
The base camp:It is a sector located at the base of the ski lift "Las Águilas" and is designated for camping. It has parking, bathrooms, drinkable water, electricity, tables, grills, camp-fire, children's games, coffee shop, Wi-Fi and a slack line.
Prices: $3.000 one night only camping. $9,000 one night + Runner ticket. $12,000 one night + Bike Park ticket.
Farellones Mountain Park by El Colorado Ski Resort is only 32 kilometers from Santiago. Here, you can enjoy activities for the whole family including tubing, zip-lining, trekking and outdoor activities. One of the most attractive activities El Colorado has for the summer is "Tubing Splash". It consists of an inflatable slide that is more than 250 meters long. There is also "Canopy", a zip-line of 180 meters long , with access to 7 suspension bridges (Tibetan, Birmanian and a Tarzan bridge).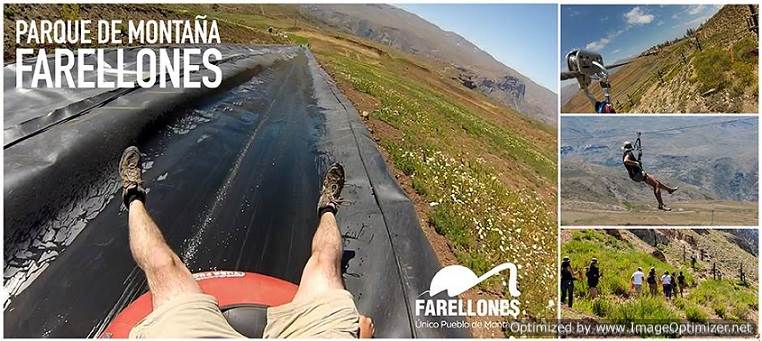 Finally, Valle Nevado Ski Resort offers a variety of activities to enjoy in the mountain in January and February.
Góndola: You can enjoy an unrivaled view of the Andes on a unique ride which transports you to the top of the mountain to revel in the splendor of the region.There are booths for 6 persons, which tours around one kilometer over the trails. Price: $15,000
Horse riding: Depending on how experienced the rider is, Valle Nevado offers different types of riding, which will let you traverse the mountain and appreciate the different landscapes and colors. You can visit the Las Bayas dam, the Cima Lookout, Cerro Plomo and Piuquenes Lagoon, all on horseback.Price: $26,000
Trekking: On a two-hour hike, you can appreciate the natural habitat of the Chilean Condor, walk through the Andean trails and enjoy the local flora and fauna. Price includes mountain guide services, chairlift ticket (if necessary), water bottle and walking poles. Price: $20,000
Related Posts