I Love Chile contacted some locals to learn more about Chile's favorite hobby: camping.
You probably didn't know this, but Chileans are huge camping fans. Chilean camping sites offer an amazing sight: people of all ages equipped with the best tents, sleeping bags and other camping gear. Locals take sleeping in a tent pretty seriously and they are real experts when it comes to getting ready for trips like this.
Camping offers a cheap way to experience some of Chile's most amazing travel destinations. I Love Chile asked a couple of local outdoor enthusiasts to give us tips on how to make the best of an adventure into the wilderness.
Tent
-Before leaving try your tent out at home to detect any problems and to learn how to build it.
-Bring an old an old shower curtain to place on the ground to keep you dry in case it rains.
-Extra tent poles can prevent your camping trip from turning into a nightmare.
-If you're camping on the beach or on the snow, make sure you have long stakes.
-At the camping site make sure to pitch your tent in a shady area. If the sun hits you directly being inside the tent is going to be unbearable. Also, check for stones, rocks, pits or holes: sleeping over a clean space is always better.
What to bring with you
– Choose a sleeping bag that is appropriate for the season. Mummy-shaped sleeping bags are the best: they fit tight around your feet, preserve body heat, and are really easy to pack. The ones that are filled with synthetic fibers will dry quicker and are hypoallergenic. On the other hand, a goose-feather sleeping bag is easier to carry because it's lightweight.
-Ropes and utility knifes are always useful.
-Bring a good flashlight. You can take long walks at night or hang it in the tent as a lamp.
– Clean water is essential. You should carry bottled water everywhere, especially in northern Chile. Packets of iodine are also helpful: they sanitize water in just minutes.
– Pack multiple loose layers of clothing. It's the most practical way to dress when you're travelling.
– For keeping you full and ready to go, be sure to bring energy rich, easily prepared foods and snacks, like pasta, beans, ground beef and chicken.
-The locals favorite brand: Doite. It seems to be the mecca not only for those who are looking a test of true grit, but also for travelers escaping from their fast-paced lifestyles.
Doite offers cheap and good-quality pans and other cooking equipment.
Photo: Paula Bonnet
Best places for camping in Chile
-Valle del Elqui is the first place that comes to mind. It is in the Coquimbo region and pretty close to La Serena, this beautiful valley is surrounded by mountains, rivers and vineyards. The Camping Río Mágico is a great place to stay if you're nearby. There you can visit the Piedra del Guanaco archaeological site and bathe in a cool river.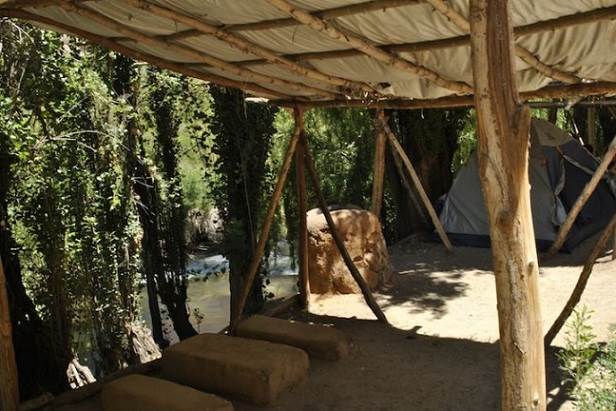 -Picarquín is an iconic parking spot near Santiago. The Mysteryland Festival is located there every year and the place can host up to 400 persons. Each section is equipped with electricity, light, washing areas and hot showers.
-According to locals, Chiloé is "a huge camping site". Located in the Los Lagos Region, this island is a well-known touristic spot and Chileans love to go there to sail in tiny boats, eat seafood and just relax surrounded by the most beautiful sights this country has to offer. You can either stay with a local family and pitch your tent in their backyard or stay at one of the many well-equipped camping sites.
Related Posts