Glistening glaciers, lively city sidewalks and arid deserts are just a few of the phenomenons one can encounter in this long and narrow country.
A tourist may believe that coming to Chile during a particular season means experiencing the same climate throughout the trip, but the 2,653 miles of Chilean soil say otherwise. The unique climates allow for one vacation to turn into three without crossing any borders. From the picturesque region of Patagonia to the Mars-esque desert of San Pedro de Atacama, visiting the extremes of Chile is do-able in 10 days.
Travelers should use Santiago as a base to fly easily to their destinations. Five days and four nights in Patagonia is ample time to enjoy the myriad options within the Torres del Paine National Park. You will need to pack accordingly depending on whether you are camping or staying in one of the hotels in or around the park.
For campers, packing light is key as you have to carry everything with you from day one. Essentials include food, clothes for all temperatures, outdoor gear, cash and most importantly chocolate. The fresh lakes and streams of Torres del Paine will be your drinking water, so do not forget to take a bottle. Some of the refugios inside the park offer tent and sleeping bag rentals, which can take major pounds off your back.
For those not overly-enthused about sleeping outdoors, the option is there to book ahead and stay in a hotel inside or just a few minutes outside the entrance of the park. Each hotel offers different amenities, including all-inclusive packages, guided tours, unique rooms indoors and outdoors, dining, transportation, park fees, spas and more. Those who opt for this have less packing restrictions as they will not have to carry everything. However, coming armed with the essential outdoor hiking gear is a must!
Day One
A three-and-a-half hour early morning flight from Santiago to Punta Arenas allows for a scenic drive to the park. Whether you take a bus, rent a car or arrange for a driver, the incredible scenery cannot fail to catch your attention. A quick stop in Puerto Natales for food, gas or a bathroom break means about one and a half hours remain.
Arriving at about three o'clock means plenty of time to start exploring. The Aonikenk Route is an easy hike where an abundance of guanacos (animals related to camels) roam. The endpoint before you turn around to head back allows you to appreciate paintings of the natives who inhabited the area.
Day Two
Day two will take you along for one of the park's most iconic activities. Base las Torres is a difficult climb, but the view at the top makes it all worthwhile. This 10 to 12 hour day will test your abilities, but offers plenty of places to break along the way. Make sure to pack a lunch, empty water bottles to fill up at the streams, and plenty of layers because you will experience dramatic element and temperature changes throughout the hike!
Day Three
Starting day three off with the Pingo Trail will allow you to recuperate from the previous day's climb. Dress warmly for this morning hike because not much sunlight gets inside the dense forest. The walk along the river, slightly uphill at points, is quiet and peaceful. Eventually you will reach a creek with a waterfall, an ideal spot for a snack before heading back. Depending on the season and your luck, you may even see a salmon run.
In the afternoon, head up to the lookout with one of the best views of the park. Condor Viewpoint is a quick climb to the top, depending how well you move uphill. It's steep, and can take anywhere from 20 minutes to one hour and 30 minutes. No matter how long it takes you to get up there, the view of the massif Paine, lakes, rivers and flora will still go away. On the way down you can get a glimpse of the condor nests, and maybe even one flying overhead!
You cannot leave Patagonia without seeing the notorious glaciers. Hop aboard a three hour navigation on your last full day, with Hotel Lago Grey, to experience Grey Glacier and the icebergs surrounding it. The contrast of colors from the sunlight, mountains and ice create are unforgettable, and make for great photos too. Plus, you can sip on a pisco sour with crushed glacier ice!
Day Four
If you have time after disembarking the navigation, take advantage of it. On your last day you are going to want to be outdoors as much as possible. Whether you want to explore more trails on foot, try to spot a puma or go horseback riding, the options are available through private tour companies, hotels or on your own by pulling out a map.
Day Five
Waking up on day five means saying goodbye to the beauty of Torres del Paine and hello to the five hour drive to the airport. If your flight time allows you, spend some time in Punta Arenas to discover what the southernmost tip of Chile's Patagonia region has to offer, from museums and shipyards to restaurants and shops.
Day Six
On day six you will be back in Santiago — back to reality. Use this time to stock up on chocolate, and more importantly, to HYDRATE before you head up north. San Pedro de Atacama is located on a high plateau of the Andes surrounded by salt flats, desert, volcanoes, geysers and hot springs. It's necessary to take care of yourself to avoid altitude sickness.
Day Seven
An evening flight to Calama (about two hours from Santiago) on day seven will keep you on track for this 10 day adventure. When the sun goes down in the desert the temperature goes down with it – so bring a jacket for when you land! The ride from the airport to a hotel or hostel in San Pedro de Atacama is about one hour and 30 minutes, and remember to keep drinking water!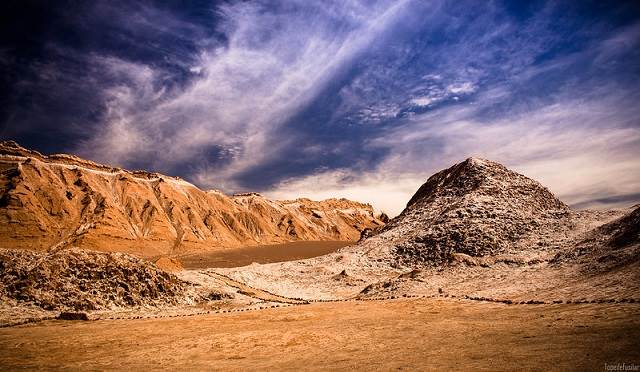 Day Eight
Slap on some sunscreen on day eight as you head to Valle de la Muerte. You will think you've landed on Mars as you walk through the sandy valleys and pass obscure rock formations covered in salt. As the sun starts to set, make your way to Valle de la Luna, one of the most visited places in San Pedro. The textures, formations and colors of the mountains and valleys are extraordinary. Many visitors pack snacks and Chilean wine for a picnic as they watch the sunset reflected on the mountain range, changing the colors of the landscape.
Day Nine
The ninth day of the journey is when that chocolate really comes in handy. 4,320 meters above sea level is where you will find El Tatio, one of the highest elevation geyser fields in the world. Arriving in the early morning is key, between seven and eight o'clock, when the steam fumaroles from the hot temperatures of the geysers are most visible. Although you need to arrive bundled up because of the cold temperatures at this time of day, you will want to have a bathing suit packed as well to bathe in the thermal water pools.
Day Ten
After enjoying a typical Chilean meal and pisco at a restaurant in San Pedro de Atacama, the tenth day arrives. Whether you head to Santiago or back home, you will feel a sense of accomplishment for experiencing the best of such diverse environments all in one country, and in just 10 days!
Related Posts