Do adventure and nature turn you on? Then continue reading, because that is exactly what you are getting when horseback riding in the mountains. It will take your breath away and leave you on a natural high.
REGIÓN METROPOLITANA — Santiago is a breathtaking city: it can be taken-in from above, with plenty of beautiful viewpoints, surrounded by mountains. But a very special perspective is from a horseback. I went on a three-hour-ride and I cannot wait to go again.
Take a few hours, a half or a whole day out, and spend it on a horseback in the mountains feeling free and naturally high.
Enjoy the moment to get out of the city, enjoying the powerful surroundings of the Andes. Whether you decide to take a three-hour day tour, the "moonshine" or a whole day tour, Cabalgatas Santiago will give you some extraordinary memories in return (and some sore thigh muscles, of course).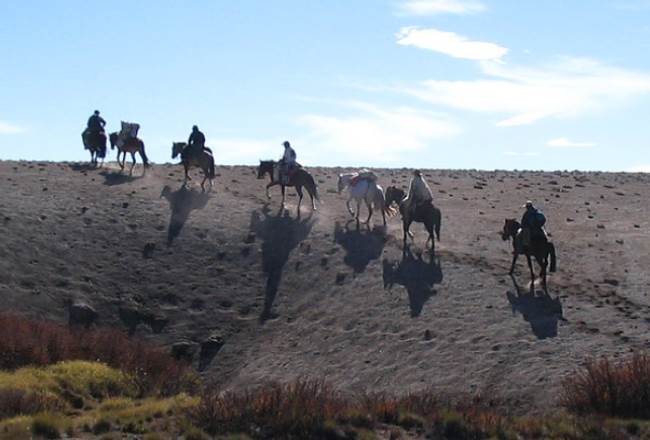 The view of Santiago from the mountains. Photo: Cecilie Antonsen / I Love Chile
The Chilean horses called "criollos" are strong, patient, calm and very beautiful creatures. Beginners will have no problem with riding them.
In the beginning of the tour, I felt a tiny bit nervous, since it's been 15 years from when I was last in a saddle. The owner of Cabalgatas Santiago and the German tour guide Nina Stumph were very informative and calm, telling me to relax. They also explained how a four-legged creature climbs easier than a two-legged. I decided to rely on the horse and go with the flow. I slowly found my former horse-riding skills, and enjoyed every step to fullest.
We were a small group of four horses–surrounded by happy, playing dogs, feeling free and chasing rabbits. The higher-up we got, the smaller Santiago looked. The smog added a grayish filter, looking a bit like a second layer of clouds. It felt so great to get out of the city, listening to the horses breathing, and observing the cows, horses and rabbits ambling freely.
Criollos horses. Photo: Cecilie Antonsen / ILC
During the tour, we took time to gallop too. It was challenging, fun, and something that kicks your adrenaline.
Returning to the farm was a muddy experience. Again I relied on my sweet strong horse Gypsy, who made sure I got down the hill safely.
Afterwards I felt happy and tired, yet very high on the experience. I will be going back for another tour for sure.
Worth knowing:
Anyone can go, even if it's your first time on a horseback.
You have to book in advance.
Languages spoken are: Spanish, English and German.
Wear practical clothes, and be prepared to get mud and dirt on them.
There are several tours, and prices to choose from, which you can find on the Cabalgatas Santiago's website.
Related Posts