Hidrospeed, also known as whitewater streaming, is a new activity with a direct contact with water, full of adventurous, emotional moments. Equipped with a 'water sled' and flippers, you get to feel the thrill of the rapids, swimming the whitewater current and surfing the playful river waves.
PUCÓN — It was one "chilled" Sunday morning, meaning easy and quiet, as well as cold. However, that would not stop me from going out and dipping myself in the cold Río Caburgua and trying hidrospeed for the first time in my life.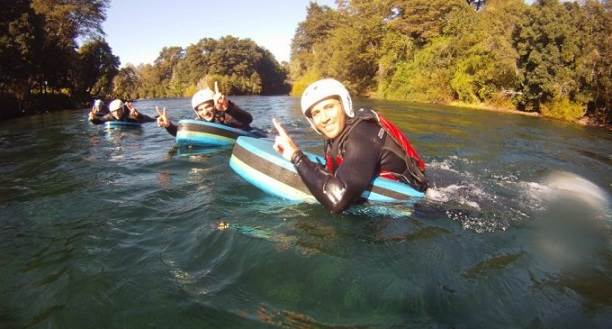 It is a new sport worth a try. Although you might have to forget the comfort of being warm and cozy! Dressed in wet suits, helmets and flippers, we drove to the fast moving Río Caburgua (Class III – IV) and each of us got a 'water sled'. The first moments of shock from the cold water were overcome soon, perhaps thanks to the wetsuit.
Then we took off, floating on our hidrospeeds, following the river downstream. The rapids were the best part, of course! In fact, there was one spot where a huge boulder created a big wave and we could actually surf on it. It was incredible! I would not believe but if you get in the right spot, you can actually ride that wave! I stayed up there for about half a minute.
It is incredible to be able to move around in fast moving water, as if you were a fish, exploring every hidden river bank, chasing each other, playing games. The trick is to keep moving and not letting go of the water sled.
After passing a few more fun rapids, we sooner or later arrived to an end of our trip which was sad on one side, but happy to get changed into warm, dry clothes.
Visiting one of the thermal pools near Pucón can offer a good solution to defrost and enjoy some relaxing time after a half-day full of action and thrill.
Related Posts