The Uyuni Salt Flat is a highlight of many traveler's South America backpacking trips. This is one of the world's most unique landscapes and most important natural landmarks. It has economic, political, cultural, environmental, and spiritual meaning to people both in Bolivia and around the world.
When you visit a place as special as this, you must do one important thing…. a JUMP Shot!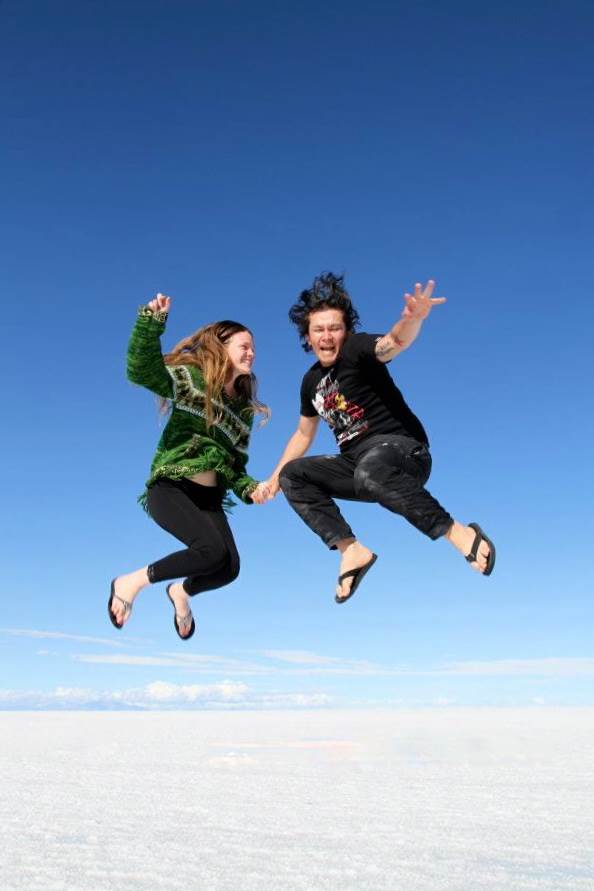 I know, I know… the overdone "jumping pictures" that every travelers seems to have now. But seriously, you will never have a better opportunity to take crazy, fun pictures like this. Here are some great examples of fun, creative pictures to take on the endless white landscape that is the Uyuni Salt Flat.
The Buddha
Here is a creative one I hadn't seen before. You could also try meditating on someones hand or have a giant buddha holding the tour group.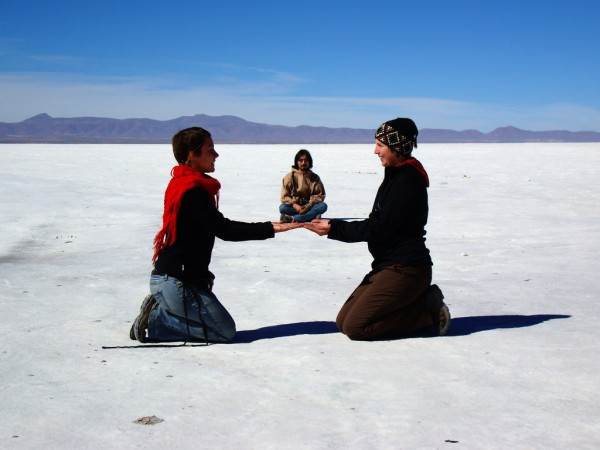 The Group Shot
This is one of the few places in South America where being on a tour is almost mandatory. Visiting the Uyuni Salt Flat without a tour is very, very difficult to do. The tour atmosphere can be really fun though, especially when you have lots of people to help you take a great picture. Jumping shots for groups are not recommended unless you can somehow get 5+ people to jump all at the same time.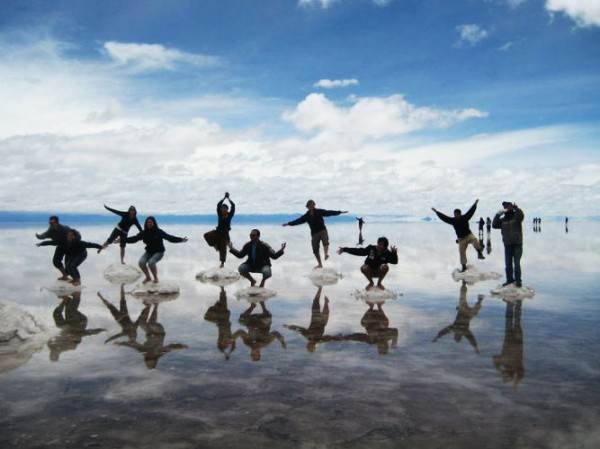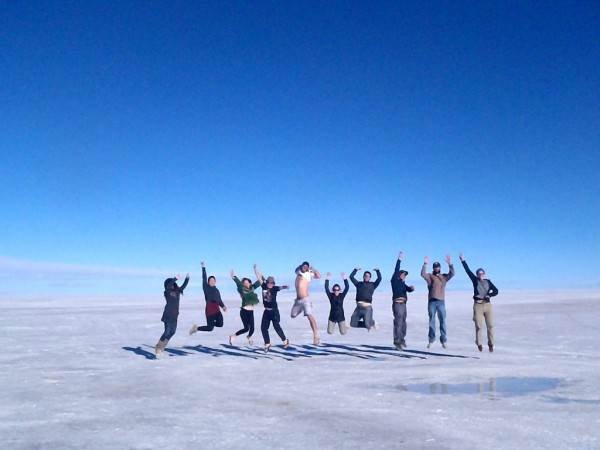 The Giant Picture
Every dream about stomping all over a city like Godzilla? Well, here is your chance. Use the optical illusion caused by the endless salt flat to make yourself appear as a giant, crushing anything from cars to people.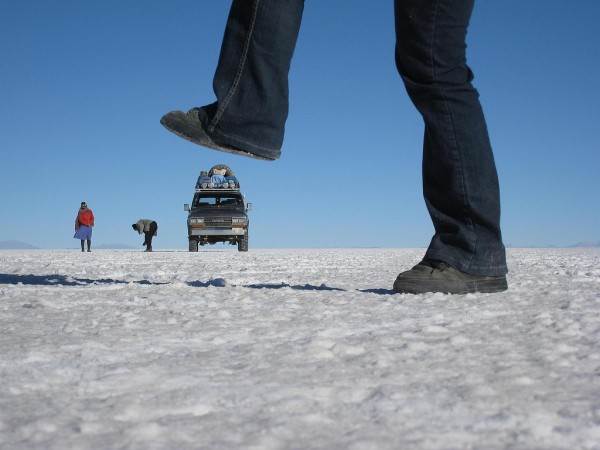 Honey, I shrunk the Backpackers
Little bitty body, big shoes… or how about standing on a water bottle or doing a handstand on a pencil. The possibilities are endless; see what props you can pull out from the bottom of your backpack.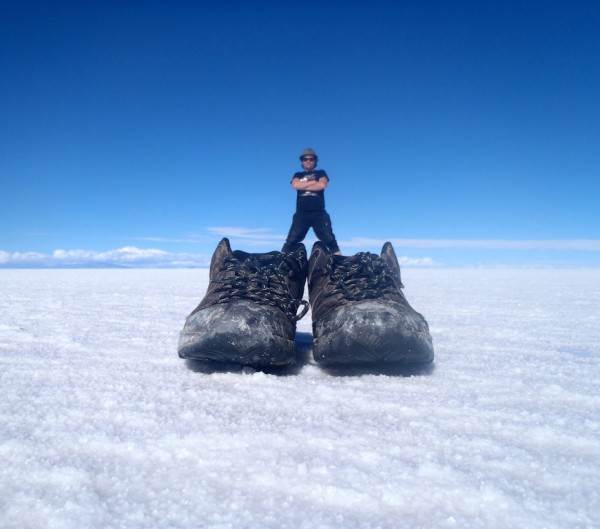 The Slingshot
Here is a creative one that will make people back home laugh and make them even more jealous of your awesome trip.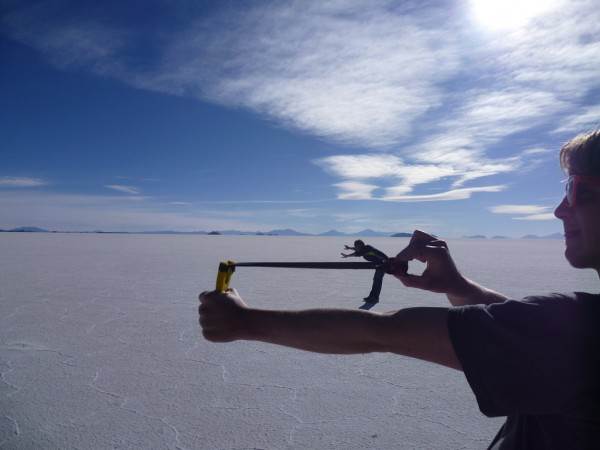 Shadow Figures
Don't miss sunset and the opportunity to create shadow figures on the Salt Flat. You can stand with your back to the sun to create dark outlines or use your body to create shadows on the ground.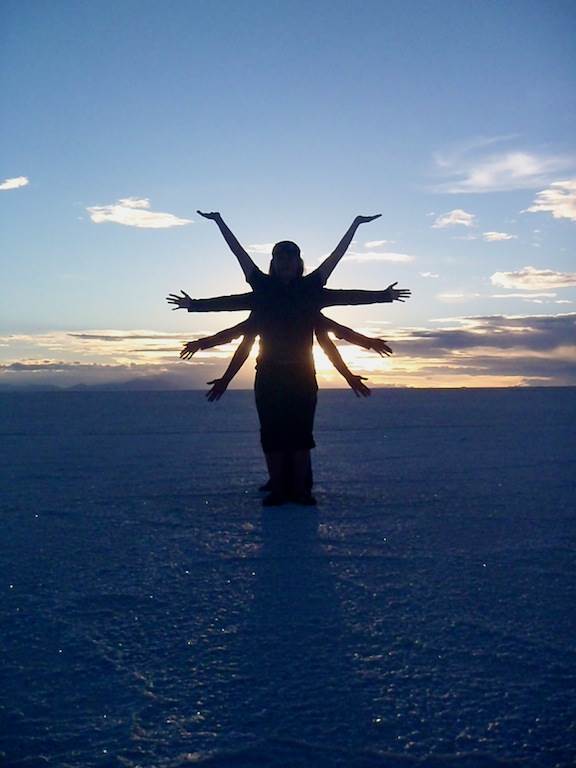 Couple Travel Tips
Keep an eye on what other people are doing to set up their pictures.  It can take some practice to get just the right angle and you might get some good ideas from your fellow travelers.
If it is rainy season, you might want to take an old sweater or rain coat to lay down on the wet salt flat.  A lot of the pictures require you to get down low or even lay on the ground to get the right angle.
Want some of the best pictures of you and your significant other together?  Ask your Bolivian tour guide.  He or she has probably watched hundreds of travelers take these same pictures and many of them have learned the perfect way to get just the right optical illusion.
Related Posts