Chilean poet Pablo Neruda once wrote in Ode to Valparaiso, "Valparaiso, how absurd you are, what a lunatic, crazy port," perfectly summing up the aesthetic of this quirky city by the sea. Ravaged by fire and earthquakes through much of its history, Valparaiso has thrived in the face of adversity, all the while developing a culture unique from the rest of Chile. A feast for the eyes and stomach, nowhere is this more evident than the cuisine. Let's take a look at a few dishes that make Valparaiso the perfect destination for foodies from around the globe.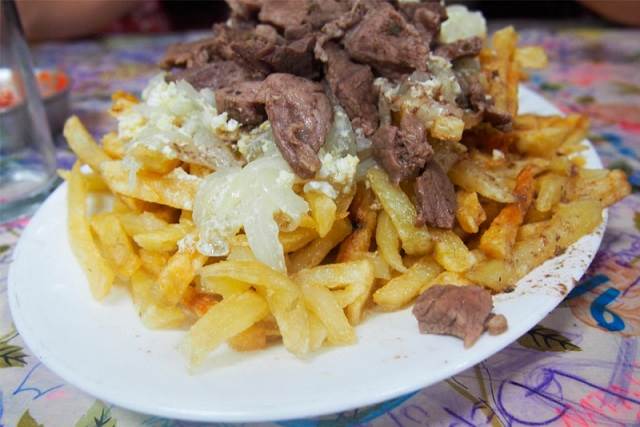 Chorrillana
The ultimate greasy hangover dish, chorrillana starts with a bed of French fries topped with fried or sautéed onions, steak and an egg. Packed with fat and salt, it's a good thing Valparaiso has more than enough hills for you to work off the calories.
Pisco Sour
A clear brandy drink, the pisco sour is the national drink of Chile, made with Chilean Pisco (from Muscat wine grapes), pica limes, and simple syrup. To the discerning palate, a pisco in Valparaiso will be a bit sweeter and more aromatic than you'll find in neighboring Peru. Served at restaurants throughout Valparaiso, we recommend imbibing at the legendary Bar Cinzano.
Completo
If Chicago is home to the hot dog, then Valparaiso is its crazy uncle's house. The completo is what happens when hungry college students get creative. Start with a wiener. Top it with heaps of mayo, guacamole, chopped tomatoes, sauerkraut, and indulge. You won't find any shortage of completo options as vendors are just about everywhere.
Terremoto
Originally crafted in Santiago, this cocktail is the grown-up take on a classic childhood favorite: the ice cream float. As the story goes, two German journalists on assignment requested something cool and refreshing from the local restaurant, El Hoyo. The waiter added a scoop of ice cream to a glass of pipeño and an instant classic was born. But this isn't your typical vanilla ice cream — the base is a pineapple sorbet, giving this drink a distinctly Caribbean flair. We recommend you try a terremoto followed by an Aftershock. We won't ruin that surprise for you.
Caldo de Mariscos
It's only natural that Valparaiso's long maritime history would bleed over into its cuisine. Caldo de mariscos is a relatively simple seafood soup with ingredients that largely depend on the fresh catch of the day. Typical inclusions tend to have clams, shrimp, and a white fish base. Popular with fisherman, this dish has come to represent the past and present of Valparaiso. Grab a bowl near Mercado Cardonal for a fresh take on a Chilean staple.
Leche frita
A Spanish dessert that's taken hold in Valparaiso, lecha frita is relatively easy to make and tastes a lot like French toast. Flour, milk, and sugar are fried into a pastry and cut in squares, sometimes topped with powder sugar, cinnamon, or syrup. Grab them fresh from the fryer and look for one topped with strawberry jam.
Empanada
Beyond pastel de choclo (corn pie), empanadas are likely the next most popular dish in Chile. With regional variations, Chilean empanadas are easily identifiable as they're filled with a mixture called pino. A blend of ground beef, onions, raisins, black olives, and a hard-boiled egg, be careful with your first bite as many of the olives still have pits. Pick some up from Delicias Express in Valparaiso, which are easily the best in Chile.
Fresh Salmon
Chilean Salmon is some of the best in the world and the Valparaiso Fish Market is the perfect place to pick up the day's fresh catch (assuming you have a place to cook it). There's no shortage of ways to prepare, but grilled, ceviched, or sautéed all sound good to us.
Related Posts