CHILE´S Torres del Paine National Park was named the 8th Wonder of the World. That came as no surprise to John Lyons. Three years ago, he did the renowned ´W´ trek in the breathtaking national park. Here he recalls the experience…
AS SOON as you reach Patagonia you can´t avoid it. You meet travellers who have either done ´The W´ or want to do it.
The people who have conquered the famous four or five-day trek in the shape of a ´W´ in Chile´s Torres del Paine National Park can´t stop talking about it and the wannabes seek all the information they can get.
To be honest, I was getting a bit sick of it. What´s wrong, I thought, with going out for a day hike and coming back to your hostel? Why would you want to spend five days plodding around a park with a heavy pack on your back and living on meagre rations? Fun? You must be joking.
But then I reached Puerto Natales, the main stopping off point for people who want to go to Torres del Paine and tackle ´The W´. I confess that I was going to use it as a stepping stone to head further north in time for New Year.
Yet then I found that getting a bus to leave Puerto Natales when you want was virtually impossible. What could I do for New Year instead? And then it dawned on me – ´The W´.
Luckily, I was staying at the Erratic Rock hostel in Puerto Natales. It was fortunate because it was linked to Base Camp next door where you could buy rental gear to do the trek. But, more importantly, there was a daily 3 o´clock talk on ´The W´ and how to tackle it.
If I liked what I heard, I would take the plunge and do my first ever multiple-day hike. I was shocked when Chris, from Base Camp, said his talk would last an hour and a half.
But when it was over I could understand why because it covered everything you needed to know about walking ´The W´. What equipment you needed, the routes to take, the clothes to bring, the food and drink to carry.
I decided I had to take it on. What´s the worst that could happen? I could fall down a mountain and die a grim death. Oh well…
Anyway, I joined up with two fellow guests at Erratic Rock, Ruth from the USA and Philippe from Switzerland. We bought the bus tickets, rented out the equipment and did the supermarket shop.
There was no turning back now. This was either one of my best ever decisions or one of my worst. Time would tell.
I must admit I had my doubts soon after we arrived at the park on New Year´s Eve. Our first experience suggested we could be in for five days of hell.
Before a rollercoaster catamaran ride to the real starting point, we had a 15-minute walk to and from a waterfall at Salto Grande. The wind was so strong it almost blew you over and it was hard to take a forward step.
I remembered someone saying to me they had suffered four days of walking into strong winds doing ´The W´and I feared we were in for the same nightmare treatment. However, we got lucky as, apart from day one, the wind stayed away and left us in peace.
On the first day, we walked from Lago Pehoe to Campamento Los Guardas, about 15km in four-and-a-half hours. It was our first taste of walking with the heavy backpacks and we stopped for plenty of breaks.
But we made it to the free campsite and were rewarded with stunning views of the majestic Glaciar Grey. It made it all worthwhile.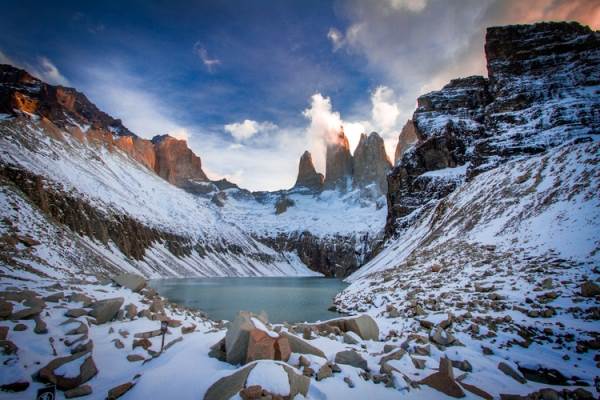 We pitched the tent, heated our rice and lentils on the small stove and then put our feet up to relax. But, for the first time in years, I didn´t see in the New Year. It was dark, it was cold and there was nothing going on at the campsite, so it was off to the warmth of the sleeping bag before midnight.
Day two was the first big test because we would be walking for the full day. We retraced our steps, never much fun, back to Lago Pehoe and then spent two hours walking to Campamento Italiano, another 7.5km away. Tired from a hard day´s effort, we set up camp and had another quiet evening.
Day three provided more highlights. Leaving our heavy backpacks at camp, we were able to take on the difficult walk to the Valle de Frances lookout with renewed enthusiasm.
And when we reached the summit after the 7.5km hike, which included an unplanned detour when we took a wrong turn, we looked out on a view that no camera could do justice.
Wherever you looked there was a stunning view, with snow-capped mountains and gushing waterways taking your breath away.
We breezed back down to Campamento Italiano and then spent two hours on the walk to Campamento Los Cuernos. Putting the rucksack back on was tough after the earlier freedom.
You had to pay to stay at Los Cuernos, but the fact there were showers at the end of day three was a big bonus. I was beginning to feel pretty smelly.
We were then set up for day four. This was going to be a key day as we had to go from Los Cuernos to Campamento Torres, about 20km away.
My legs were beginning to feel heavy, but this was the time to dig deep and, taking advantage of a shortcut, we pressed ahead. The walk was very steep in places, but the marvellous scenery helped you forget the pain and we reached our goal.
The next day, the last, was similar to the first in that it was shorter, but it started early, very early. At 4.30am and in the dark, we made the uphill climb to the lookout point for the famous Torres del Paine.
But our hopes of seeing the towers lit up at sunrise were dashed by clouds. The eventual virtually cloud-free view was a decent consolation prize, though. Another magnificent sight.
After the lung-bursting half-hour dash on the way up, we could take our time on the journey back to camp. We packed up for the last time and made our way to Laguna Amarga.
We had completed ´The W´.
It was tough, it was a slog at times and yet I wouldn´t have missed it for the world. It was one of the biggest challenges I´ve ever faced, a physical and mental test.
At the end of around 90km (60 miles) of walking my feet felt sore, but there was a feeling of contentment, of real satisfaction. I had achieved something I didn´t know I could.
I understood why the people who had done it kept going on about it and why so many others wanted to experience it. And I realised what ´W´stood for. It stood for ´Winner´.
Related Posts