If you must work during this summer and your schedule doesn't allow you to go to the beach for a week or more, here is the solution: discover six beautiful beaches near Santiago to go for a day or for the weekend. A plus: they are off the beaten path!
Las Docas is located 133 km far from Santiago. Although it is near Laguna Verde, the road to get there is not an easy one. You can only arrive there by a rural road where you can park at the top of the road and then you must walk down to the beach. For that reason this beach is quiet and lonely.
Zapallar is a traditional beach located 169 km from Santiago, 80 km from Valparaíso and 71 km from Viña del Mar. It is between Papudo and Cachagua (another two beautiful beaches). Many families visit this beach with their children during the summer, and also you can find an interesting night life, like restaurants and clubs, but in general it is a quiet place. There are many condos and some beautiful houses.
Algarrobo is 114 km from Santiago and it is well-known as "The Nautical Capital of Chile" because all kind of watersports are practiced here, such as, sailing and surfing, among others. The name Algarrobo comes from a native tree located in this area. The town has beautiful architecture and some amazing beaches. Here is the San Alfonso del Mar resort which was rewarded by the Guinness Record for having the biggest pool in the world.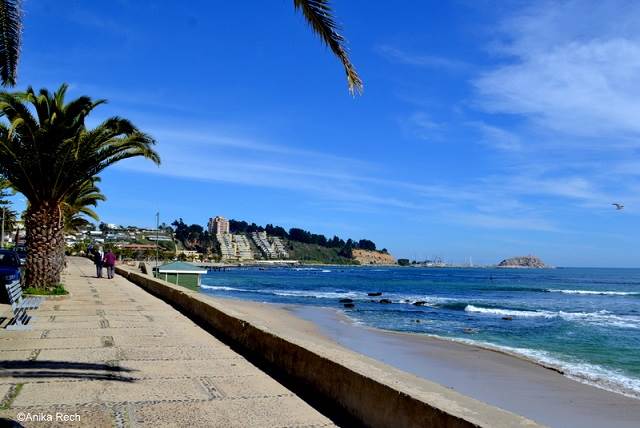 Maitencillo is 164 km from Santiago and it is a perfect mix between beach and country, surrounded by pines and eucalyptus. The sea is quiet and the sand is white. This beach is full of young people and families in summer.
Papudo is located 173 km from Santiago and it is surrounded by hills which protect the south wind, so it is opened to the north, it has a quiet sea for that reason water sports like sailing are perfect in this place. Along the cost you can find restaurants, arcades, yacht club, tennis club, golf club and hotels.
Santo Domingo is 115 km from Santiago. The beach is located on the south shore of the Maipo River. It has beautiful gardens, streets and summer houses. Among its attractions there are the golf club and its quiet beaches in which you can swim.
Related Posts