If you are looking for adventure and the magic of one of the most beautiful and less traveled routes in Chile, in one of the most extreme places on earth, Dientes de Navarino is for you.Known as the southmost trek in the world, this route is located in Navarino island which is part of the Tierra del Fuego archipelago. Very few people can say they have reached this isolated and extreme point of the continent. Even less can say they have done this route. It is an indomitable place, with an unpredictable weather and temperatures that can drop below 0°C even in summer. The challenge promises to be an unforgettable experience.
Access
This adventure starts in Puerto Williams, the southmost city/town in the world (no, its not Ushuaia!). Given the isolated location of this locality (located on Navarino island, in the far south of the country), it is not possible to reach it hitchhiking. You can reach this point by plane or ferry from Punta Arenas in Chile, or from Ushuaia in Argentina. Aerovías DAP (DAP airlines) has daily flights to Puerto Williams from Punta Arenas on a plane with a capacity of 20 passengers, therefore it is advised to make reservations in advance. The Transbordadora Austral Broom ferry company has a weekly voyage to Puerto Williams from Punta Arenas, with a duration of 30 hrs (depending on the weather). One of the most restrictive aspects of this route is the cost of doing it. The most economic alternative to travel from Punta Arenas is to travel by plane. Nonetheless, the plane ticket can cost around CLP 127.000 (round-trip), which can be beyond the budget of many backpackers. In case this is not an impediment, the experiences of navigating through the magellanic canals and flying over the islands of Tierra del Fuergo are great attractions in their own right, adding their quota of adventure to the trip.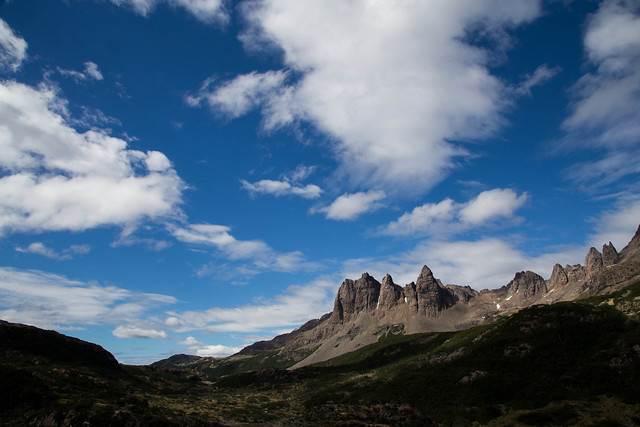 The Route
This route starts and ends in Puerto Williams. It is possible to pay for transportation to the starting point of the trail, located 45 min (walking) away from Puerto Williams. The estimated duration is 5 days through a circular route, which guarantees new landscapes and views each day. The main obstacles of this route are the physical demand, its cold and unpredictable weather and the fact that during long sections of the route there are no clearly marked trails. Therefore it is advised, among other things, to be in good physical condition, travel with someone else or in a group and have experience as a backpacker. More details on recommendations and precautions can be found in the last section of this article.
The Dientes de Navarino route stands out for its beautiful scenery, passing through forests and mountain passes as well as numerous lagoons. It is not rare to have a clear sky, snow and rain during the same day. Given the isolated region in which this route is located, the number of travelers that do it is significantly lower than in other more popular routes, consequently you can enjoy the unique sensation of walking through virgin and unexplored territory. There are no campsites or refuges on this circuit. It is you, your tent and the indomitable and wild nature.
This route has 5 sections:1.- Puerto Williams – Del Salto lagoon
2.- Del Salto lagoon – Escondida lagoon
3.- Escondida lagoon – Martillo lagoon
4.- Martillo lagoon – Los Guanacos lagoon
5.- Los Guanacos lagoon – Puerto Williams
Section N°1
This section has a distance of 6,4 km and an expected time of 4 hrs, in which you will do an ascent of over 550 mt. It starts with a 45 min hike from Puerto Williams to the starting point of the trail, near a waterfall. It then continues to the ascent to Cerro Bandera and the trail through the hillside that leads to an area over the Del Salto lagoon, where you will be able to see (if the weather allows it) an amazing panoramic view of the Dientes de Navarino mountainous formation. This section ends with the descent through steep terrain towards Del Salto lagoon, which has to be done with precaution.
Section N°2
This section covers a distance of 6,7 km and has an expected time of 4 hrs. It stands out, like the first section, for having an important ascent to one of the highest points of the circuit: the Australia pass. The section starts from Del Salto lagoon towards the Primero pass, the first of 3 mountain passes: Primero, Australia and De los Dientes. This section includes an ascent of over 300 mt, the most dangerous part of the section that has to be done with great precaution. It continues with a descent to the valley heading south. The trail passes along a series of lagoons till it reaches Escondida lagoon.
Section N°3
This section of the circuit has a distance of 6,1 km and an expected time of 4 hrs. It is less physically demanding compared to the previous sections, including an ascent of 100 mt. Mountain passes and lagoons conform the landscape along this section, as well as areas of forest where you can see the catastrophic effect that beavers are causing in the local ecosystem. Beavers are an introduced species that, without the presence of a natural predator, construct an endless amount of dams that flood vast areas of native forest.After passing places like the Ventarron pass and the Hermosa lagoon, the section ends near the shores of Martillo lagoon.
Section N°4
This section of 9,6 km has an expected time of 5 hrs, and includes an ascent of over 400 mt. The trail advances from Martillo lagoon to the northwest through the valley, bordering little lagoons till the start of the ascent to the Virginia pass. The passing through the Virginia pass has to be done with great precaution since the occurrence of violent and unpredictable wind gusts is frequent. The route continues along the hillside, where you have to be careful in steep areas of the trail. This section ends with the descent to the Los Guanacos lagoon.
Section N°5
The final section of the Dientes de Navarino route covers a distance of 10,2 km and has an expected time of 5 hrs. From this point, it is all descent to the coast, passing through forests and beaver lagoons till you reach the McLean fishing company installations. From here, you have a 2 hr walk along the vehicle road to Puerto Williams.
Precautions and Recommendations

Given the nature of this route, isolated and with a particularly inhospitable weather, it is very important to have in consideration the following precautions and recommendations:
1. Experience and navigation knowledge: Although the route is marked in some sections (stones and stakes), in general there is no clearly marked trail, existing the possibility of losing the trace of the marks. The weather, and particularly the fog, increase the chance of this scenario. It is recommended to bring a topographic map of the area in order to facilitate navigation. You can buy these maps in Puerto Williams for a low price (around CLP 3.000). Another alternative is to bring a GPS and the guide of the Dientes de Navarino route developed by the Chilean Ministry of National Assets, which has the description and coordinates of milestones present in the route.
2. Best season: Summer, because of the temperature, weather and hours of sunlight.
3. Food: Since this is an isolated route and rarely traveled, it is recommended to bring food for 1 or 2 extra days, in case something unexpected happens.
4. Gear: Cold, rain, snow, strong winds and mud; all of these elements can (and probably will) be a part o the journey, even if you do it in summer. Therefore, it is of vital importance to bring adequate gear for backpacking in these conditions. Bring thermal and waterproof clothing, specially boots. Sunscreen and sunglasses are a necessity as well since this is a region with strong exposure to UV rays.
5. Company: It is recommended to do this route with someone else or as a group, regardless of our experience as backpackers. It is a route where accidents can happen, and in such an isolated place having a companion that can help you or get assistance can make the difference.
6. Physical condition: This is a challenging route because of the weather as well as its physical demand. There are multiple ascents and descents through mountain passes, where there is no trail. If we additionally consider the heavy backpacks on our shoulders, we have a challenge that should not be underestimated. It is recommended to prepare for this route by doing treks on mountains or hills, and evaluate our capacity of doing the ascents described in the different sections.
7. Trash and Fire: DON'T leave any kind of trash or garbage in the route, nor make a campfire under any circumstances (for cooking use a portable gas stove). Also don't interfere in any way with the local flora and fauna. Be a responsible backpacker and contribute to make sure nature is well cared for!
Related Posts