Culture Go Go is a program that "inspires you to travel using your English rather than money."
As a traveler, you pay your stay in English lessons to a family, couple, or individual, that hosts you for your chosen amount of time, all expenses covered. And there isn't a catch!
"The traveler becomes one of the family, not just a paying guest, and is quickly immersed in local life," says Francesca Luke, co-founder of Culture Go Go. "It's a brilliant way for people to travel on a budget as they don't have to spend a cent on accommodation or food, unlike other homestays which can be expensive."
The idea began four years after Francesca and Tim Luke, a British couple, came to Spain with "a couple of backpacks and a Spanish phrasebook with the intention of exploring for six months," says Francesca.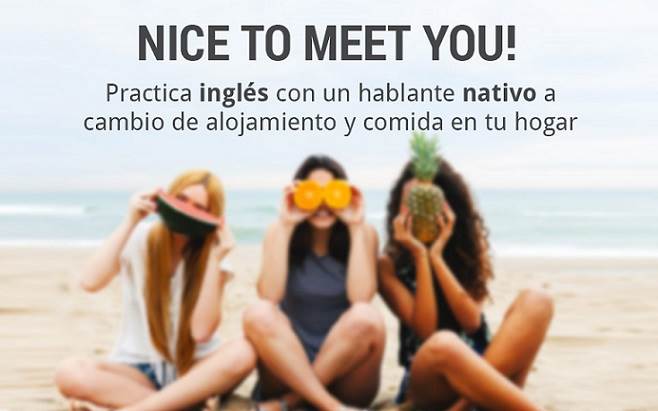 In 2012, the couple was still in Spain, working as English teachers at various camps, while simultaneously running private classes. "We found ourselves captivated by Spanish life and our jobs as English teachers," says Francesca, but they wanted to engage with more people, and learn more.
"Through our work as English teachers we saw the need to create a new, more exciting way for people to learn English. We also found that we wanted to connect with our students beyond the classroom. We wanted to get to know their friends, family, customs and culture, and see the real Spain."
With the idea of innovation on the table, Culture Go Go was born.
The program was pitched where Francesca first started in Spain, in Madrid, with her previous host family. The couple personally placed over 40 English speakers, from the United States and United Kingdom, with Spanish host families in the capital city.
"We visited the hosts in their homes and got to know them. We then interviewed the travelers by phone and matched them with a host," says Francesca. "Then we did a welcome reception when they arrived to Spain and introduced them to their host families and the fun began!"
Once the original pairings had been successful, the couple knew they were cleared to set up an online platform to allow the hosts and travelers to connect on their own. So in 2014, the company amped up its web presence which aided the expansion of Culture Go Go throughout Spain, as well as across the Atlantic to parts of Latin America.
The company currently has around 50 hosts in Argentina, Chile, Colombia, Costa Rica, Ecuador and Mexico, with a particular interest in increasing the number of hosts in Chile.
"We think it's a key destination for travelers with the amazing diversity in landscapes, great food and friendly locals," says Francesca. "Plus, we understand there is a demand to learn English in Chile."
So far, Culture Go Go has over 500 registered hosts and 1000 registered travelers in their database.
Travelers, like Ashleigh from California, feel like they became a part of their host family: "I stayed with my beautiful, warm, adventurous, yet laid-back, family in Pozuelo. I worked with the children, traveled with the family, learned to use the metro, dined (delicious food) with their friends and I was accepted into their lives."
And hosts like Virginia Gutierrez in Madrid who describe a rewarding journey of learning: "The experience with Aida was impressive in every way… in three months we have learned and practiced a lot of English, nonstop. But the best thing was to get to know an amazing person. For her the doors of our house and heart are always open."
In a generation where wanderlust is seemingly contagious, international and affordable travel trends have taken over the web. From Airbnb, to Worldwide Opportunities on Organic Farms (WWOOF), to Couchsurfing, travel has never been as economically diverse as it is today.
However, what makes Culture Go Go unique is its name. It's about the exchange of culture for experience. Essentially, you become a local while helping a local.
"We strongly believe that as there is no monetary exchange between host and traveler it makes it a more natural and rewarding experience all round."
Related Posts