Located just over an hour from the Northern border of Argentina, Tupiza is a typical small Bolivian town but with a few unique touches that will make you think you've somehow stumbled into the American Southwest – cowboys and all.
Most people come here just to leave again as soon as they have booked a Uyuni Salt Flat tour but the town actually has a number of other interesting places to visit.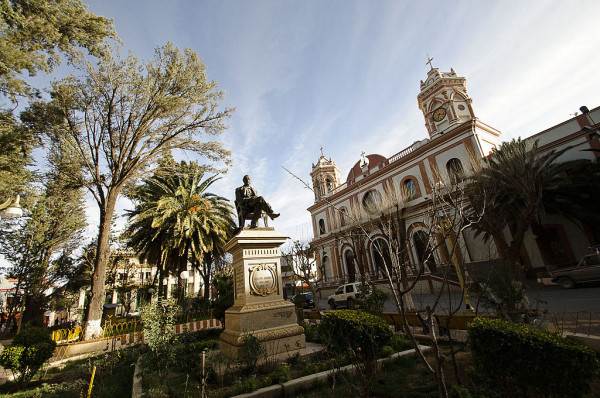 Natural Beauty
urrounded by gorgeous red mountains and deep canyons, Tupiza offers up some great outdoor activities for travelers. The whole area feels a bit like the US Southwest – Arizona or Nevada – with beautiful desert scenery and plenty of cacti.
Local tour companies lead horseback riding trips into the mountains but you can also opt to hike or even mountain bike. The surrounding area is safe and as long as you are back before dark, you shouldn't have any problems hiking alone or with a small group. Be careful during rainy season and watch out for flash floods and mudslides. It is also a good idea to let your hostel know where you are hiking and when you plan to be back.
You can also take 4×4 jeep trips to local villages and farms where you can see a more traditional side to Bolivian life. If you don't speak Spanish well, try and book a tour with an English speaking guide (easier said than done). You'll learn a lot more about the area, the typical small town Bolivian lifestyle, and the areas interesting history.
Butch Cassidy & the Sundance Kid
Speaking of history, Tupiza and the surrounding area actually has another connection to the American Southwest. Besides looking similar, Tupiza and the US Southwest share the story of two of the world's greatest Wild West bank robbers – Butch Cassidy & the Sundance Kid.
Butch Cassidy & the Sundance Kid came to South America after gaining plenty of fame in the US. With a huge price on their heads and bounty hunters at their heels, the two fled to Argentina where they settled down into a "normal, law-abiding" lifestyle… at least for awhile. Once a bank robber, always a bank robber though and soon enough they were in Bolivia, making plans to steal from the rich mining companies that were enjoying a bit of a "gold/silver rush" there.
Tupiza was their headquarters but it was the nearby town of San Vicente that the story of the two comes to an unfortunate and unexpected end. After years and years of robbing the biggest banks in the America's, Butch Cassidy & the Sundance Kid made a fatal mistake and the Bolivian military caught up with them. There are a shootout and the two ended up dead, whether by the bullets of the Bolivian army of their own in a double suicide is still debated.
You can book a "Butch Cassidy & the Sundance Kid" tour at any of the local hostels but if it's rainy season, you might not actually get to see the unmarked graves in San Vicente (the road washes out frequently). You can also just ask locals around town to point out the highlights for you – the last bank there were planning to rob, the home where they stayed, etc.
Couple Travel Tips
Tupiza is a great place to buy Bolivian souvenirs like alpaca sweaters. They are cheaper here than in Uyuni and of better quality in most cases.
The weather in Tupiza is pretty mild year round but during the rainy season, the roads are prone to mudslides. Be sure you give yourself a few extra days of travel time in case you get stuck in town.
For a delicious, cheap lunch head to the local market in the center of town. Upstairs is a food court where you can get a nice set lunch.
Related Posts