You've probably read about the dangers of Copacabana Beach in Rio de Janeiro or the massive crowds that storm the city on the weekend, but don't let the rumors scare you off. Conquering Copacabana beach is easy, if you follow a few key guidelines, and of course remember to have fun during your Brazil travel adventures.
Bring as little as possible to the beach
You don't want to make yourself a target. There are plenty of police on the beaches of Rio, but the more you bring with you the more you have to watch over. Bring a few dollars to get lunch, a sarong to lay out on and a good book to read.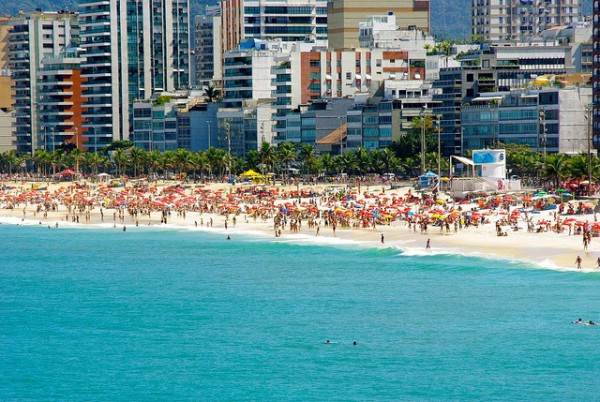 Wear as little as possible in Brazil
Men and women in Brazil wear much less fabric to the beach than their American counterparts. Women, this is a chance to wear a new style of bikini, specifically the Brazilian cut. Don't be embarrassed to bare more skin than usual, you will see every age and body type sporting the itsy bitsy bikini. Men, you won't find baggy board shorts on the beach. Only speedos, all colors and styles. If you wear much more you will most definitely stick out as a tourist.
Support the Local Rio Community
Stay hydrated, it's hot! Even in the winter the heat reaches 25 degrees celcius. Instead of lugging liters of water and a picnic for lunch, support the local vendors. Purchase the drinks and empanadas they are selling on the beaches, they work hard and are usually very pleasant to spend a minute getting to know.
Find a beach spot early
The beaches get crowded beyond belief on the weekends. Part of the magic of Rio's beaches is the festive beach culture. The crowds fill every grain of sand and in order for you to enjoy your beach day I suggest you arrive before 11 am to claim a good beach location early. The vendors will offer you lounge chairs and umbrellas or just throw out your sarong and lay in the sand.
Stay Active on Rio Beaches
Run, walk, kick a volleyball or play paddle ball, but get moving. Everyone on the beach is active. All day long men will be running barefoot on the beaches and all ages will be kicking a soccer ball around. Don't just lay out and get tan, but walk the length and width of the beaches to get a true Brazil travel experience.
Couples Travel Tips:
Research your hotel and book early, accommodation along the beaches of Rio is expensive and it fills up quickly, especially on the weekends.
Be cautious in the early mornings prior to the police arriving at the beach. If you go for a morning run, leave your iPod at home and pay attention to your surroundings.
If you decide it's important to bring your camera and other gear, the advantage of having two people is that one can swim while the other stands guard.  It's not as much fun though.
Remember Brazil is sexy, so not only dress sexy and skimpy to fit in, do it for each other.  There is lots of romance to be found in Rio.
Related Posts