Another trip with Evoluzion led to an incredible weekend filled with skiing, horseback riding, and exploring new cultures in Lonquimay.
LONQUIMAY — If you've never heard of Lonquimay, Chile, you're probably not alone. It is a small town in the Araucanía region, about 30 minutes from the Argentine border.
If you were to go to Lonquimay on your own, you probably would not know what to do there. Fortunately, I booked my trip through Evoluzion and had the time of my life.
I was lucky enough that my Santiago roommate Erika is an intern at Evoluzion, an organization that specializes in unique travel experiences that show you what you could never find in a tour book. We just wanted to book a trip so we could say that we went skiing in the Andes, but what was in store was unlike anything we could have anticipated.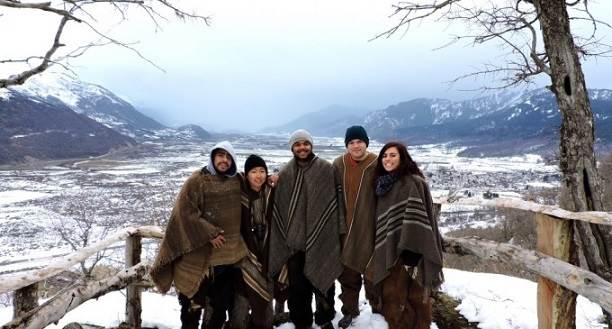 Marcelo Muñoz, CEO and co-founder of Evoluzion, essentially took three friends and me on a private tour of Lonquimay. We stayed at Rustiko, a cabin-esque hostel run by Hector, or "Baby" as he went by, and his family.
Baby is an entrepreneur who started running his hostel/restaurant/ski rental lodge through the help of Balloon Chile, which is how him and Marcelo met a few years back. Rustiko was one of the nicest hostels I've ever stayed in, and the food was impeccable.
In the first few hours, Baby took us to this amazing waterfall called Cascada Alaska. It was a rough trek through about two feet of snow, so hidden we would never have been able to find it otherwise.
On Saturday, Baby's son Lorenzo took us for private ski and snowboard lessons! Of course, I did not venture off the bunny hill and wipeouts were a common occurrence, but we had lots of laughs.
After we were snowed-out, we were welcomed into a Mapuche Ruka for an amazing meal, concluded by a Mate circle around the fire. In return, we painted a sign for these people to tell the government to come plow out their land.
Sunday did not disappoint either. We had no idea what was in store, but the beautiful thing about traveling with Evoluzion is that everything is already planned out for you.
Marcelo took us to a horse ranch of the Huasos, who are the Chilean version of cowboys. We were decked in fur chaps and thick ponchos and told to pick out a horse. For the next two hours, we were guided through the Andes on horseback—completely off trail!
The Huasos also invited us into their home after the horseback ride. They had a giant pig roast and plenty of wine! It was delicious to say the least.
My weekend in Lonquimay, a place I would have never gone to on my own, was one of the highlights of my Chilean experience. It goes to show that the highly rated "tourist" experiences are not always the way to travel.
Seeing undiscovered attractions and meeting the people who live on the land is an undeniable luxury that Evoluzion provides. I am forever grateful that I got the chance to travel with this amazing organization.
Related Posts