Entering through the longitudinal cross of Zapahuira, on the Ch-11 route and taking Route A-35 to the south, one reaches Belen. It is 70 miles away from Arica, inside the area of the Lauca National Park, where they get visitors from all over the world, attracted by the emerald mirage of the Chungara Lake.
With an altitude of 3,500 yards it is the only enclave on the Chilean heights that was founded by Spaniards who, in 1625, chose it for its good weather and its strategic position in the so called Silver Route, through which this metal was transported, from Potosi to the port of Arica, through the Azapa valley. A narrow road, full of curves that border a cliff, it takes us to a town surrounded by pasturing fields, oregano cultivations and dry hills where they grow eucalyptus, cactuses and "queña", a typical bush which blooms during summer with an intense red color. In its streets, some made of stone and with a channel at the middle, there are aligned the adobe houses. The central square has three levels.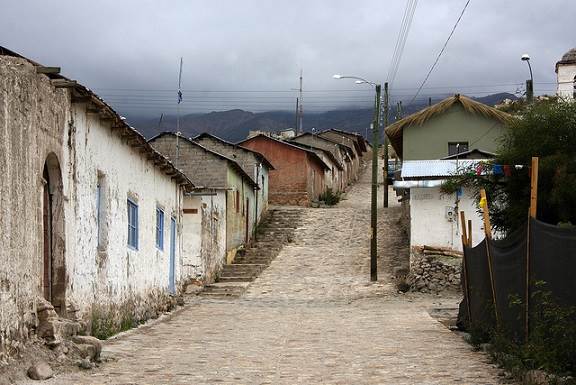 With only 148 inhabitants, Belen has two churches built in a Colonial-Andean style. The smallest and oldest is the Church of Our Lady of Belen, with an outside bell tower. The Church of Our Lady of Carmen, larger, was built during the 18th Century and has a central nave made of adobe and a bell tower. There highlights an altarpiece made of valuable fragments of polychrome carved wood.
Its main entrance of carved stone, on a Baroque-style, is probably one of the region's most valuable. It is completely carved, with circular pillars and a superior frieze with figures. Of its isolated tower, made out of adobe and crowned with a stone pavillion there hang three bronze bells. More than twenty sacred images adorn the inside, among which there is Virgin de la Silla, an engraved Christ and a beautiful fragment of a polychrome wood altarpiece.
Because of its altitude, this was considered a high-rank sacred place on the Andean Cosmo vision; Belen receives hundreds of devoted visitors from several towns. They all walk to the main church during the San Santiago holiday, July 25th. A patronal celebration with a rite defined by the Indian-Catholic syncretism.
Agricultors and guano collectors
Nearby Belen there are remains of the great amount of pre-Hispanic settlements, generally associated to cultivation terraces, called "andanerías". Some formed the Ancopachane "pukará", placed on a wide terrace front of Belen's cemetery. It had almost one hundred circular fields, some rectangular. Beside, there is the Chajpa pukará, made out of rectangular spaces with internal divisions. It is connected with the Huaihuarani pukará, named as National Monument, which conservates the cobbles and the lateral "pircado" that originally bounded it. Southwest of the pukará there is an eave with drawings.
A mile away of Belén there is the Incahullo pukará, also declared a Monument and the most elaborated of those built around Arica. It has contiguous rectangular fields, with walls that are carved on the outside.
On these terraces the old agricultural and guano collector populations made their cultivations. Their traces reached the sea. Mounted over mules they would descend on groups till the border of the coastal cliffs to look for the guano that they used as fertilizer. The testimonies tell that they went down walking to fill their sacks, which they transported over their shoulders to where the mules were. They would stay there for months looking for more guano. If this was scarce, they would have to reach the most dangerous areas, hanging by ropes over the cliff. Today, one can see the crosses that honor all those that died in this task.
The invitation is now made for anyone who wants to be included in the very selective list of travelers who choose to stay more than a few hours in Belen. The only hostel there are a couple of beds at the house of Mrs. Maria Martinez. It will surely be an unforgettable experience.
Related Posts