If you arrived in Chile on a tourist visa, you will have been given 90 days to explore the country. But what if 90 days just isn't enough? Resident visas are often very pricey and can take a lot of paperwork and time. There is another way around this- the Visa Run!
By leaving the country- doesn't matter whether it's for a day, month or year, when you enter again you will be granted another 90-day tourist visa. You can repeat this process as much as you like. The easiest and cheapest option from Santiago is a trip to Mendoza, Argentina. This trip is roughly around 7 hours (give yourself another hour for the customs line at the border) and buses leave Santiago at various times, daily.
But before you get started: When you first arrive into Chile, you would've been given a form to fill out, which then gets stamped and handed back to you at the airport along with your passport. You must hold onto this vital piece of paper in order to leave the country again. No huge drama if you lost it, you'll just have to head along to a local police station to get a new form stamped, but be ready for a queue!
With that being said.. you're good to go!
1: Booking a ticket.
The most common bus companies are Cata, Turbus and Andesmar. If you are flexible with time you can just walk into the bus station, purchase a ticket and be on a bus within the next two hours.
If you would rather confirm an exact time and seat prior to the day you leave, you can purchase tickets online. Note: Some Chilean websites can be very difficult with foreign credit cards.
Another option is to go to the bus station and buy a ticket for the day you choose. Bus companies also have various offices around the city where you can purchase tickets as well. Turbus has a convenient location inside the Tobalaba Metro station where you can buy all the same bus tickets as at the station.
A ticket should cost around 20,000 CLP (around 32 USD) one-way. You can choose whether you would like to buy a one-way or return ticket.
If you choose a day bus, you get the most beautiful tour of the Andes mountains through the long winding roads on both the Chilean and Argentinian side.
If you choose a night bus, you are saving money on one night at a hostel.
2. The Journey.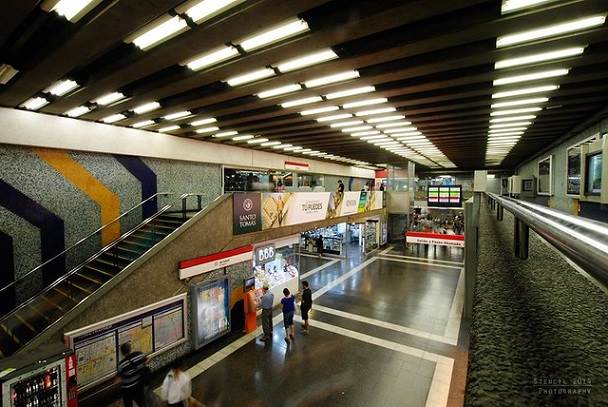 The bus station is located at Metro Universidad de Santiago on Line 1 (red line).
You only need to arrive to the gate 20 mins before your bus is scheduled to leave. Anytime before that and the bus probably won't have arrived either.
Before boarding the bus, the driver will ask to see that vital, stamped form and your passport.
Remember! You are crossing an international border! It is fine to eat food on the way there, but don't have a bag of fruit that you forgot about at the bottom of your luggage, or else your looking at upwards of a $200 fine. Check your bags before you leave.
It takes around 3 hours to the border from Santiago and depending on the time of day (and time of year), there will be a wait. Here you will hop off the bus and go to one line to present your vital piece of paper to Chilean immigration, then you will go to a second line to the Argentinian immigration and give them a form (which you will have been given on the bus). This is your visa for Argentina. Once its stamped, hold onto that one as well, and jump back onto the bus.
3. Experience Mendoza!
Mendoza is a beautiful, small Argentine city, surrounded by plains and plains of stunning wine country. Most famously known for its wine, you can enjoy amazing tours of vineyards at a very reasonable price.
If you are looking for a bus back to Santiago, there are several companies at the bus station offering daily trips. The same bus companies (plus many more) are in Argentina – Andesmar, Turbus, Cata.
4. Upon returning.
At the border, you will repeat the same process in reverse at immigration, and you will be given a new vital, stamped piece of paper once entering Chile again.
5. Enjoy your next 90 days in Chile!
Related Posts