SANTIAGO — Carlos Sousa just founded new start-up company called Chile Premium Services for tourism in Chile, and even though he is new to the business, he still provides a professional and personal service. This is the second time we have used his tourism services, and I can assure you, it won't be the last.
The first time we used Chile Premium Services we took a trip to Cajón del Maipo to do White Water Rafting, and it was so well-organised that we wanted to do another trip with them again.
Saturday May 9: bright and early we all got picked up individually from our houses, on time and with no trouble. Once we had all been picked up, the driver handed around some goodie bags with a milkshake and snacks inside, and provided us with water and juice for the journey.
The driver has always been really good for us, he knows a lot about the area and so he advised us to pick up some food from the shop to take with us up to the Andes, as it is expensive to eat at Valle Nevado. So we stopped off briefly at a supermarket to pick up lunch and then we continued our journey.
It was a beautiful journey and Andrés was such a considerate driver. On the way up the mountains we stopped a couple of times as a few of us were feeling a little sick from the altitude and windy roads, we stopped to get a breath of the fresh mountain air and for a cup of coca tea to help with the altitude sickness before continuing higher and higher.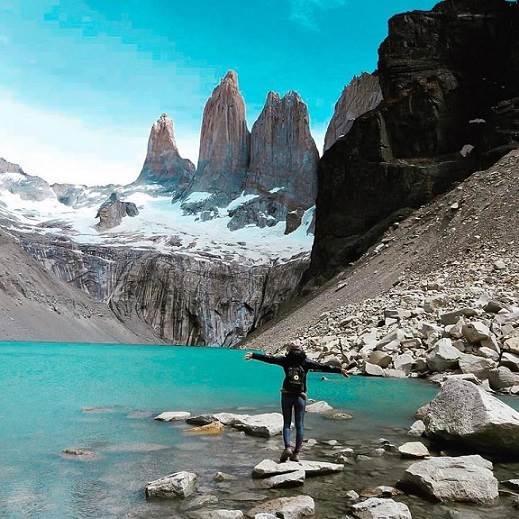 Once we arrived at the ski resort of Valle Nevado, we had reached 3,000 meters of altitude so we got out of the van to admire the views, and to have some lunch. It was so cold though, but we had come well prepared and the scenery was well-worth the slightly numb toes.
After we had something to eat and drink, we went for a little hike to make the most of the views. It was a perfect day, the sky was blue, there were no clouds in sight and the sun was out and keeping us warm, but what really made our day, was seeing nature before our eyes.
Flying around in the distance were several Cóndor birds, these ones in particular are called the Andean Cóndors. It was amazing seeing them for the first time, then suddenly, out of nowhere, a huge one came flying gracefully and extremely low over our heads.
It was spectacular, so cool, amazing, I cannot describe it. The bird was huge and we couldn't believe what we had just seen.
After getting over what we just saw we made our way back to the van where our driver was waiting for us. We were all a little tired by this point, so instead of seeing more of the "Cordillera" we decided to head back home, and of course that was no problem for Andrés. He was so kind, informative and patient. We could not have wished for a better tour guide. When the tour was over Andrés dropped us all off at our homes again.
I cannot wait for another adventure, and it will 100 percent be through this company. They offer so much and the service is so personal; if you have a preference of where to go, what to do and when, Chile Premium Services will make it happen, and all at a decent price too.
Chile Premium Services is all about customer satisfaction, and they really do aim to please. The team is friendly, well-organised and they know a lot about what they are talking about. I can guarantee that you will not be disappointed.
Chile Premium Services offer The Andes Tour, a Wine Tasting Tours, Costal Town Tours, and much more and with Spanish, English and Portuguese speaking tour guides.
For more information or to get a quote, contact Chile Premium Services.
Related Posts