– Food and Eating Out: There are several dishes that are favoured amongst the Chilean people. Pastel de choclo, a corn casserole topped with butter and sugar and filled with chicken, raisins, hardboiled eggs, ground beef and olives is a delicious and filling dinner choice. Empanadas are quite popular, as is Cazuelea, a soup made with either beef, turkey, or chicken and corn, rice and squash. There are also several popular seafood dishes and raw shellfish is a local favourite. Locally grown fruits and vegetables are also in abundance.

– Entertainment and Nightlife: Chile produces some excellent wines especially Cabernet Savignon and Carmenere. These are served in the local bars and restaurants in just about any city. The Chileans love the arts and plays, ballets, and other theatre entertainment can be found nightly in just about any large city. Nightclubs and discos are also quite popular, as are casinos in some of the resort towns.

– Accommodation: Most of the prominent hotel chains are located in the major cities of Chile. Hostels are quite popular with young people backpacking their way through this country and can be found in just about any town or hamlet. There are also plenty of budget motels, guesthouses and cottages available. Many of the national parks also allow camping. For hotel deals in Chile, try Booking.com.
CHILE WEATHER – When to Go
In winter, May through August the weather is mostly rainy and cold. Only the Andes actually get snow. Average temperatures at night are around 0 degrees Celsius with high during the day around 4-5 degrees Celsius. Summers, November through February, are usually quite dry but will get humid occasionally. Average daytime temperatures average 20 degrees Celsius but can get as got as 30 degrees Celsius. Spring, September through August is the best time of year to visit Chile as there is little rain and the temperatures are quite tolerable.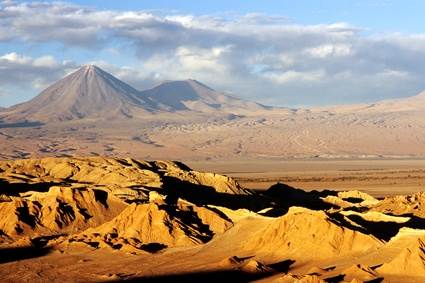 Chile stretches over 5,000km along the west coast of South America. The capital city, Santiago, is a modern metropolis with impressive museums, a playful nightlife, and cultural events. Best known for its majestic Andes Mountains, Chile is actually a veritable mosaic of Eco-systems from deserts to swampland. Travellers come to this delightful country to experience all kinds of activities from kayaking to skiing. Chile also lays claim to the famed Easter Island and a small portion of Antarctica.
CHILE FLIGHTS – Flying from the UK
Santiago's Arturo Merino Benitez International Airport is the chief gateway to the country and the means by which the vast majority of foreign visitors arrive.
It is unlikely you will find a direct flight to Santiago from the UK, so your best options are flying via Madrid with Iberia or get a connecting flight via the USA.
For flight options from the UK to Chile, try Expedia.co.uk, ebookers or Skyscanner.
Related Posts