What better place to be inspired that in front of a fire in a camp site in Chiloé? Pigs, sheep and cows are walking around me. My boyfriend is searching for wood and I'm waiting for him wearing four layers of clothes to avoid the cold. However, our trip started much earlier.
CHILOÉ — We took a 14-hour bus ride from Santiago to Puerto Montt, the port city where it's easier to cross over to Chiloé Island. There, we took a bus to Ancud. It drives for 45 minutes and then it's carried by a ferry for another 20. It's a beautiful ride: the passengers are allowed to leave the bus and enjoy the breath-taking view of the Pacific Ocean, the Andes and Chiloé.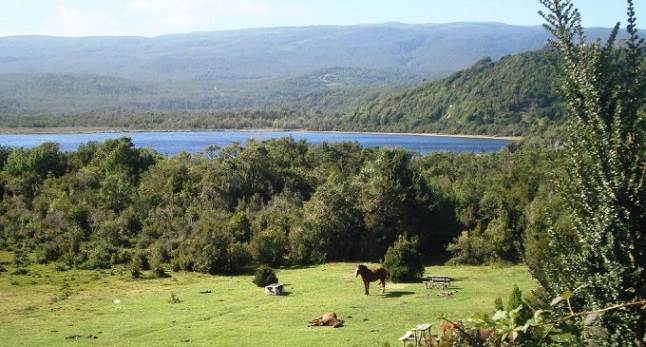 When we got to the island, we hopped off the bus before it entered Ancud and there – only to save some cash – we hitchhiked. In less than five minutes Castro-native Sandro was driving us to his home town. It was a beautiful drive: Chiloé seems so different from the rest of Patagonia. Its amazing shores and jungle-like flora make for a unique landscape. The snowy tips from the Andes in the distance took my breath away.
An hour later we arrive in Castro, the capital city of the Chiloé province. It looks like no city I've ever seen before. The colorful houses on the shore (called palafitos) and the pink and purple church by the town square look like a portrait.
From there we took a bus to Cucao, a hot spot for young backpackers in the summer but no so much in the rain season. My boyfriend knew about a popular campsite on the beach but when we actually got there, it looked like Lollapalooza had been there the night before. There were millions of bottles, cans, feces from diverse animals and my boyfriend didn't let me check out the bathroom: "I will leave it to your imagination", he said. So I imagine it must have been disgusting.
Leaving that place was the best decision we could have made: because of that we found Camping La Papa. Hostess Carmela, a 79-year-old woman lives alone on a 40-hectare terrain and runs a camp site since 2000. There were no other campers so she let us pitch out tent inside a small house where she keeps the potatoes she harvests.
Everything was ideal: we had a dry place to sleep in, a corner to start a fire and were surrounded by cute farm animals. The beginning of our trip was amazing.
Cucao in the Rain Season
Discovering Chiloé in the rain season is very peaceful. We were the only tourists in Cucao and that allowed to enjoy some amazing landscapes by ourselves.
CUCAO — After eating some bread made by Carmela's daughter with avocado and cheese, my boyfriend and I decided to head to the beach.
We walked on an empty road for 30 minutes and crossed a field of Chilean rhubarb, the weird plants that fill Chiloé Island and are used to prepare Curanto. We were suddenly by the sea and the sight was beautiful. Kilometers and kilometers of empty sandy beaches. We were the only ones there. I had to ask myself why. How can we be the only ones enjoying this?
We spent a couple of hours just lying there in silence, enjoying the sound of the waves against the shore and eating chocolate.
After a while we decided to find and follow the Sendero de Chile, a path that goes throughout the whole country. It took us to Lake Huelde, which looks almost like a secret in the middle of a forest. It is there, hidden for people who want to find it.
We continued walking through a narrow path in the forest. Suddenly we reached a river with a not so stable looking bridge and Herbert, a German guy who was travelling across Patagonia on his bike. We decided that it was the end of the road for us and headed back to our camping site.
We started a small fire and cooked some insipid rice. A while later Herbert showed up looking for a place to stay the night. We brought our rice and some tuna and shared it with him at Carmela's house. Our hostess was chatting with her granddaughter and her family. After our humble dinner we all watched Carmela as she threaded some black wool she had taken from one of her sheep.
Related Posts