Cajon del Maipo is one of the most attractive areas for backpackers and travelers in Central Chile. This Andean canyon stands out for being the entrance point to the Cordillera de los Andes mountain range as well as having something for everyone: amazing landscapes, thermal springs, glaciers, trekking trails and much more.Only an hour away from Santiago, this is an ideal place to spend a weekend relaxing and getting in touch with nature in one of several camping areas, or explore emblematic trekking trails like the El Morado Hanging Glacier or Plantat Refuge. You can enjoy more days discovering its innumerable hidden corners. In this article we will cover some of the most outstanding places and trails in Cajon del Maipo, both with free and paid entrance.
Mobilization and Accommodation
Cajon del Maipo is a wide area, where you can find several localities and points of interest. Its main locality is San Jose de Maipo, which is located 1 hour from Santiago, and its main road is Route G-25 which passes through the canyon and most of its localities. Although it is possible to get to some places in public transport, many others are only accesible in private vehicle or hitchhiking. Since this is a mountainous canyon, roads are affected during the year (mainly in winter); snow can make some places virtually inaccesible. Here you will find information regarding accessibility of each destination.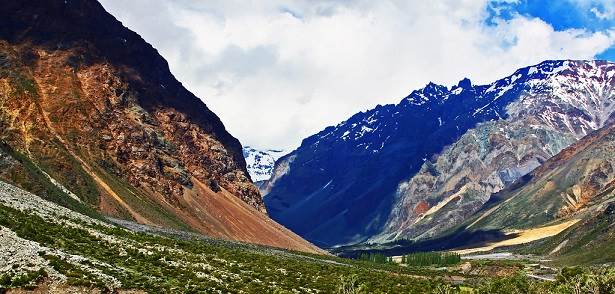 Buses: It is possible to get to Cajon del Maipo in public transport, taking the MB-72 buses (they have the poster "San Alfonso" or "San Gabriel") which get to several points in the canyon along Route G-25. There are two options to take these buses. The first one is to take Metro subway line 5 heading to Vicente Valdes, and leaving in Bellavista of la Florida station. MB-72 buses leave from the Terminal Intermodal de Bellavista de la Florida bus terminal located here, where the "Conexion Intermodal" sign is placed.
The second option is to take Metro subway line 4 heading to Plaza Puente Alto, and leaving in the last station and take the MB-72 bus. Alternatively, the bus can also be taken at Las Mercedes station. MB-72 buses runs every 30 minutes and it rate depends on the starting point. One important fact is that this kind of buses are rural so that you can't pay with the Bip card, card from the public transport used in Santiago and you have to pay with cash. For more rates, routes and buses schedules information, check the following page: www.turmaipo.cl.
Taxis-collectives: Another option, faster and a little more expensive, is to take a taxi-collective. This taxis have the numbers 4010, 4014 and 4029 and the direction is Puente Alto-Cajon del Maipo. You can take this taxis at Metro stations Las Mercedes (number 4029) and Plaza Puente Alto (numbers 4010 and 4014). The journeys are up to San Gabriel.
Private vehicle: The G-25 Route is the main road that crosses the valley and passes through the locations of San Jose de Maipo, San Alfonso and San Gabriel, among others. The paved road reaches to San Gabriel.
With respect to the accommodation alternatives, it can be found varied camping areas, hostels, cabins and some hotels along Cajon del Maipo and their locations. The web site www.cajondelmaipo.com is a page with excellent information respect to the different accommodation alternatives and offers.
San Jose de Maipo
This place is located 48 km from Santiago and it's ideal to go to relax, disconnected and have a nice time too. It's historic center has been declared National Monument highlighting for it's colonial constructions made of adobe and straw. In this town are the main services of the commune, such as the town hall, the local police court, the municipal library, among others. The town plaza is the higher attraction since all weekends it installs a craft fair in addition to stands with activities for grown people and kids. Delicious empanadas or a tasty homemade bread can be enjoyed in this place.
Access
MB-72 bus must be taken to Cajon del Maipo, with a rate of CLP 1.000. The taxi-collective has a rate of CLP 1.400.
Cascada de las Animas
Cascada de las Animas is a private Nature Sanctuary, located 50 km from Santiago, at San Alfonso town, at the beautiful Cajon del Maipo valley. In this place, it can be appreciate the Cordillera mountains, valleys, slopes, waterfalls and the tipical flora and fauna from the sector. Here it can be made many activities such as rafting, canopy/tirolesa, trekkings, among others, The trekkings are not self-guided, having a cost that includes the entrance to de sanctuary and a guide who goes to the trekking with you.
There are 3 different hikes that stands here: Cascada Hike, Meseta Hike and Pangal Hike. The first one it's performed on a good path and it has a low grade of difficulty, ending in a waterfall. The trail can be continued and it can be reached to a second waterfall that is three times larger than the first one, being the view even better. The lenght of this hike is from 30 minutes to 1 hour.The Meseta Hike is a beautiful route where it can be observed condores and waterfalls in the middle of an espectacular mountainous scenery. The hike it's through a plateau until the Manzanito ravine is reached. Here, the view of the valleys and mountains is amazing. The lenght of this hike es between 2 and 3 hours and the level of difficulty is medium-low.The Pangal Hike it's the largest and most difficult of the three hikes. In the ravine, it continues ascending to La Campana, a beatiful mountain where it can be appreciate a great view of the valleys of Nature Sanctuary and the Maipo river. It continues ascending up to te Cruce de los Maquis (2.000 mt), place with a mountain estuary and native forests. The lenght of this hike is between 4 and 5 hours and the level of difficulty is medium-high
Access
MB-72 bus must me taken, with a cost of CLP 1.000 and ask the conductor to leave at the Cascada de las Animas door. It can be reached also by taxi-collective, which rate is CLP 1.700.
Reservoir El Yeso
This is a water natural reserve located right in Cordillera de los Andes. While in winter the surrounding mountains are covered with snow, in summer, this mountains are dry and the reservoir acquires a beautiful emerald color. The entrance is free and it's allowed to camp near the road, but with caution, because, for being a mountainous area, the nights are very cold. Abother thing it must take into account is that there aren't any bathrooms or garbage collector services.
Access
First, you must reach the location of San Gabriel. One alternative is to take de MB-72 bus to this point, with a cost of CLP 1.700. Another alternative is going in a private vehicle. From San Gabriel, you have to take the deviation to the left in direction to the reservoir, which is well signposted. They are 24 km of gravel road until the reservoir. There isn't any public transport that arrives directly, so in case of having no private vehicle, you can hitchhike in the summer months, when the number of visitors is high.
Natural Monument El Morado
This Natural Monument is located in the sector of Baños Morales, commune of San Jose de Maipo and it's administered by CONAF (Corporacion Nacional Forestal). This zone it's one of the major tourist attractions because of it's beautiful natural environment, it's diverse wild flora and fauna and the diverses activities that can be performed such as trekking, horse rides, mountaineering, climbing and hiking, among others. It is here where also lies the beautiful Glacier San Francisco.
The route to Glacier San Francisco, that begins in the location of Baños Morales, covers a distance of approximately 7 km (outward) and an average time of 4-5 hours to the glacier viewpoint zone (the average time back less because the hiking is in declining. This route has a medium level of difficulty. The first hiking tract is until the Aguas Panimavidas, a vega mineral water wells. It last 1 hour approximately. Continuing the journey and after 2 hours of hiking, you get to the Lagoon de Morales (not to be confused with the El Morado Lagoon), where the hills Morado and San Francisco can be seen. From the lagoon, the hiking continues 1 hour to the lookout zone.The entrance rate is CLP 2.500 for national adults and CLP 5.000 for foreign adults. The rate's price can be review in the monument web site, www.conaf.cl/parques/monumento-natural-el-morado, where you can also find information about entrance schedules, instructions and regulations.
Access
Since January 1° and till the fisrt week of March, MB-72 buses depart from monday to sunday at 7:30 AM with destiny to Baños Morales and the return is at 18:30. The cost of the round trip is CLP 8.000. Since September 15 and till December 31, the buses trips are made only on saturdays, sundays and festive days, at 7:30 AM and the retunr is at 18:30 with a cost of CLP 8.000. During March to September, the isn't any bus service.In private vehicle you should take the G-25 route, paved up to San Gabriel, and then continue 22 kms through gravel road to Baños Morales.
Colgante El Morado Glacier
Usually confused with the San Francisco Glacier, because the latter is located in Natural Monument El Morado, this glacier is other of the outstanding points in Cajon del Maipo. Located in the middle of a mountainous drawer, the trekking to this glacier presents spectacular views. The trekking to Laguna del Morado, located on the base of the namesake glacier, has low level of intensity a covers a distance of 4,7 km (outward) from the parking area. The ascent to de lagoon has an expected time of 3 hours, while the descent takes around 2,5 hours (the time varies depending on the physical condition.The entrance is free (for now), but you need to ask permission to the following e-mail adress: vallelasarenas@gmail.com. This because these lands are owned by Parque Natural Privado Valle Las Arenas. It's possible to hire a horse-ride service which rates are approximately CLP 12.000 for one horse and it's also possible to hire a guide service in different tourism agencies. You can camp for free, taking care not to leave garbage on the road (there isn't bathrooms or garbage collector services).
Access
To reach by public transport and hitch-hike, you have to reach first to the location of Baños Morales in the MB-72 bus, just like the instructions given to reach to Natural Monument El Morado. From the location, you can easily hitch-hike to El Cabrerio, place where you have to take a detour to the parking area, where the trekking starts. El Cabrerio is a simple shelter frequented by drovers, which is 6 km from Baños Morales continuing along the main road, shortly after crossing the bridge of the Colina river. From El Cabrerio es more complicated to arrive to the parking area if you do not go by car, even though is possible to hitch-hike in summer weekends. You must take into account that they are over 8 km from El Cabrerio to the parking area.In private vehicle, you have to take the road to Baños Morales by the G-25 Route, then you have to continue to El Cabrerio and take the detour on the left. The road advances ascending by the side of a hill. This segment od the road can be found in very bad conditions, so it's advisable to go in a high vehicle. The parking area is a sector visibly wider from the road.
Plantat Refuge
This is low difficulty trekking in which you get to the emblematic Plantat refuge, one of the most surprising sites of Cajon del Maipo. The refuge is a little stone house located more than 3.000 meters of altitud, literally in the middle of nowhere. It was constructed by Enrique Plantat, counting with many facilities and shortly after his inauguration was sacked, it's now open to the public. Nowadays is is kept by the mountainee comunity. It has cabins inside and a camping area outside.The trekking covers a distance of 6 km (outward) and has an estimated lenght of 3-4 hours to the refuge. It starts surrounding the Morro Negro Hill. After 30 minutes of hiking, you have the beautiful view of the San Jose Volcano. After another 2 hours hiking, you reach to Plantar Refuge. If time permits, you can walk 1 more hour from the refuge to the Lookout of San Jose Volcano. It's asked to the visitors to caretaking the refuge for the future visitors and to keep it open to the public. To enter the route (and later to Plantat Refuge) it's required to pay CLP 1.000 in El Cabrerio sector, where this trekking starts.
Access
First, you have to reach to El Cabrerio sector. The access to this sector it's detailed in the access instructions to the Colgante El Morado Glacier trail. From El Cabrerio, you have to advance 200 mts through the road that leads to Valle de las Arenas, then, you have to leave the road, turning to the right where there is a visible path moving toward the northeast.
Baths
As if that were not enough with the multiple trails, incredible landscapes and activities that can be performed in Cajon del Maipo, there are also many places where you can enjoy a relaxing thermal water bath. Those that stand out are Termas Baños Morales, Termas Baños Colina y Termas del Plomo.Baños Morales location is located 92 km from Santiago and it's a little village surrounded by hills. It's the ideal place for people who are looking for rest, relaxation and be disconnected from everything. You can enjoy the Centro Termal Baños Morales with it's two pools with termal waters rich in sodium, iodine, chloride and potassium, with temperatures over 28°C. The entrance price to the pools is CLP 4.000 per person. The access to Baños Morales it's completely detailed in the Natural Monument El Morado access instructions.
Termas Baños Colina are located 104 km from Santiago, at the foot of the Andes Mountain. This baths consists of outdoor natural pools, with temperatures up to 70°C. Here you can enjoy a therapeutic bath with minerals waters and mud, meanwhile you observe the fascinating natural environment surrounded by mountains and next to the river. It has a camping area and a restaurant that at night is a restobar too. The access to the baths has a cost of CLP 8.000 per person and gives the right to use unlimitedly the baths and the camping area. You can also accommodate in the hostel, which rate is CLP 30.000 pero night for two persons.To reach Baños Colina, you have to pass through Baños Colina location and then continue by the principal road about 11 km until the end of the road, where the baths are located.
Termas del Plomo are rustic baths located in the middle of the Andes Mountain in Parque Valle el Yeso. These have warm waters that goes from 20°C to 30°C. The entrance to Parque Valle del Yeso has a cost of CLP 5.000 per person. There are bathrooms with showers with cold water and you can also camp, but you have to be careful because of the nights are very cold. The road to the baths is especially beautiful, passing through the green waters from the El Yeso river and also from El Yeso Reservoir. After after passing the reservoir, you have to continue the road along the river until you get to a bifurcation where you have to turn right. The park and the baths are possible to visit only in spring or summer, because in autumn or winter, the place is covered with snow.
Precautions and Recommendations

1. Best Season The best temperatures and the less levels of rainfall are in the period November-March, ideal season to go camping. Many places, like El Yeso reservoir and the Natural Monument El Morado are inaccessible in winter beacause of the snow and the roads' bad conditions. However, this season (winter) is ideal to enjoy the Lagunillas ski center, located in Cajon del Maipo.
2. Water: There are many rivers and watersheds that cross Cajon del Maipo and, in general, there is access to water en many of the trekkings paths. It's always advisable to carry a bottle of water.
3. Food: There are many alternatives of places to eat for all budgets in Cajon del Maipo. If you want to camp or you go for the day, you have the alternative of buying food in Santiago.
4. Gear and clothing: Cajon del Maipo is located in a mountain zone, so it's important to go sheltered, especially in winter months when the rainfalls increases and the temperature decrease. In winter, waterproof clothing is essential because it's likely rain or snow. Also essential is carry good trekking shoes if you plan to do some trail, and alway carry sun block, independent of the time of year.
5. Physical condition: You don't need an excellent physical condition to enjor Cajon del Maipo. The difficulty of many of the trails mentioned here are medium o low. Cajon del Maipo is a great place to relax, rest and being in contact with nature.
6. Emergency numbers: It's very important to write down and carry with you the following numbers in case of any unforeseen. Bomberos San Jose: 228611523, San Jose de Maipo Police: 229223295, Safe Complaint: 6004000101, Emergencies: Police 133 – Conaf: 130.
7. Trash and Fire: ¡DON'T leave any kind of trash! It's important to take all the trash in bags. It's also very important never set fire in unauthorized places. Neither interfere the flora and fauna of the place. Be a responsible backpacker and helps to care for our parks and nature.
Related Posts