Colombia's coffee region is one of the most popular places for foreign tourists visiting the country. The paisa, a nickname for people from this region, are said to be some of the most friendly and welcoming people in all of Colombia. They open their doors to outsiders, giving an intimate look into the region's coffee farms, history, and unique environment.
The coffee "triangle" encompasses a number of small towns and cities spread out over 3 Colombian states or departments. At the center of this region, sitting comfortably between Colombia's 3 major cities (Bogota, Medellin, and Cali) is the small city of Armenia, capital of Quindío. This city is often overlooked by travelers despite it being the jumping off point for most of the coffee region's greatest highlights.
The Earthquake of 1999
Armenia is not a pretty city. It doesn't have the gorgeous colonial buildings of Bogota's La Candelaria district nor does it have the nightlife of Cali. The "touristy" sites of the city can be counted on one hand and hostels are a rare site. Despite that, Armenia sees thousands of travelers passing through each year. Sadly, many are doing just that – passing through.
A likely reason for travelers skipping the city, or only staying long enough to catch the next bus, has to do with the devastating earthquake of 1999. Armenia was founded in 1889 and was an important city for both travelers and for merchants transporting coffee, plantains, and bananas to the country's major cities. It was a city with history and beauty. That all changed in 1999.
On Monday, January 25, 1999 Armenia and the greater Quindío state was hit by a 5.9 earthquake. While not as strong as other earthquakes seen in the region, this earthquake was centered almost right under Armenia. The location and strength of the quake, combined with the rather weak construction methods of the city's old buildings, caused incredible destruction. Over a thousand people were killed, 50% of the city's population displaced, and close to a quarter of the city destroyed. The historical sites of Armenia crumbled in an instant.
Despite the city of Armenia literally crumbling down less than 20 years ago, it is now once again a center of commerce and trade in Colombia's coffee region. Nicknamed the "Miracle City," Armenia has grown more powerful out of its ashes. The city is now the gateway for thousands of tourists each year looking to visit the sites of Quindío.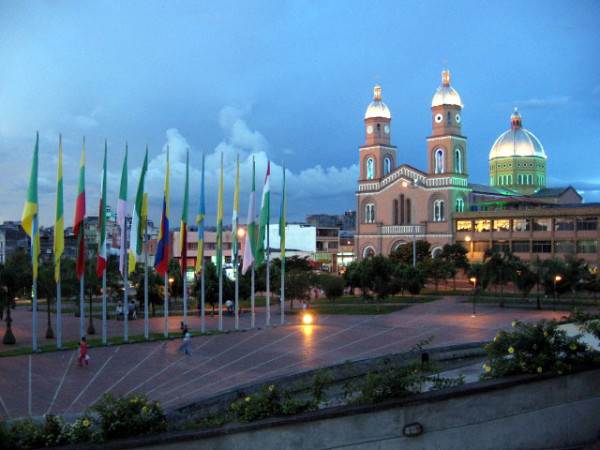 Salento & the Cocora Valley
This picturesque small town has held on to its traditions and is the perfect place to see traditional paisa living. From its small town pace to the famous fresh water trout served in just about every home and restaurant, Salento is the coffee region's little piece of paradise. It is also the starting point for visits to the Cocora Valley, where you can see Colombia's famous wax palm trees and can be reached by daily buses from Armenia.
Los Nevados National Park
The northern region of Quindío, and another short bus ride from Armenia, holds central Colombia's highest peaks and one of the country's best national parks. Here you can truly hike into the heart of Colombia and up into snow capped mountains. The Nevado del Ruiz volcano dominates the area but there are another half dozen volcanoes to visit as well.
Eco-Lodges and Coffee Farms
For anyone looking for a more relaxing vacation, Armenia is also the gateway to the country's most popular eco-lodge region. In recent years, as the price of coffee has fluctuated, traditional coffee farms have opened their doors to visitors. Both small coffee fincas (farms) and larger family haciendas have set up bed and breakfast type arrangements where you can literally have your morning coffee while overlooking the fields where your beans were picked.
Couple Travel Tips
Armenia seems to get overlooked by the big guidebook companies so don't expect an updated chapter on the city. There aren't many hostels in Armenia and the ones listed in the guidebooks are usually not very good or closed.
Everyone is in such a hurry to get out of town but Armenia does have a few interesting sights itself. The local Gold Museum is a great place to learn more about the native people of this region and has surprisingly good artifacts (most regions sent the best stuff to the national museum in Bogota).
Booking a romantic getaway with your partner on one of the small, coffee farms? If you're not married, you might want to pretend you are. This is a very conservative and traditional area of Colombia and many of the eco-lodges are run by the grandmothers of the family.
Related Posts